May 2019 Notable Employees

Posted by Netmatters

It's the beginning of June which means only one thing here at Netmatters - announcing the winner of "Notable of Notable Employees" for May 2019. This award is given to a single employee who has exceeded expectations in their day to day role or has been influential in the company's success during the previous month.
Every department manager is asked to nominate an employee from their department, who they feel has done exceptionally well during the course of the previous month. Each one of these employees is then considered as a candidate for this award.

The Notable of Notables is presented to a member of staff who has been been doing an excellent job all round working on a demanding project. This month's Notable of Notables is awarded to Matt Chapman.
The Most Notable of Notable Employees
Matt Chapman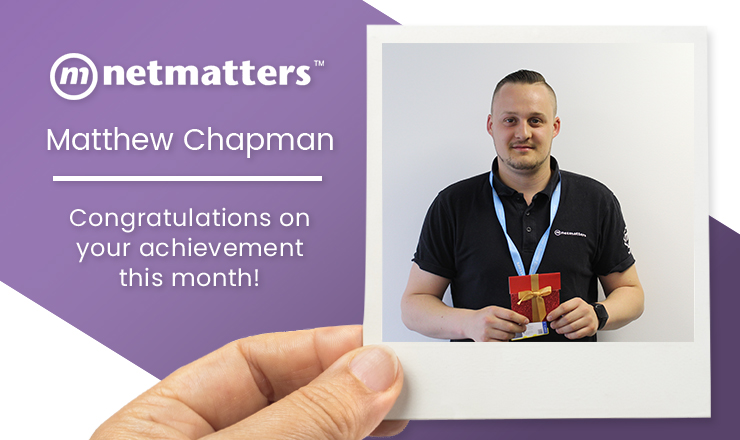 Safe pair of hands with a large infrastructural change, completed works within time frame (under budget) and out of hours to minimise disruption to the client. The client has today signed up for Netmatters support going forward, which would not have happened without the excellent service that Matt provided. – Chris Gulliver
Matt Chapman - 'Only hear good stuff about Matt's work and general input. He has a very pragmatics Attitude to issues and delivers a high standard of work consistently.' – James Gulliver
This Month's Other Notable Employee Nominations:
Chris Waldie – I am always impressed by the standards Chris works to, but also his dedication and efforts in going the extra mile for clients. His experience and expertise are really valuable in the remedy of client issues and providing solutions, and his willingness to assist colleagues in times of need are really notable and appreciated. – Elliott Peacock
---
Holly & Sanchia – Both doing very well in the Digital Marketing team. Embracing our culture and working hard. - James Gulliver
---
Holly Leech – Holly has cemented herself as a key member of the team and is an asset in supporting Lewie managing the internal marketing for Netmatters. Holly has created a number of articles for Netmatters which have captured not only the businesses ethos but also brand and personality really well. – Lydia Whitney
---
Emily Mackley – Emily has been doing a fantastic job of managing ongoing projects for some of our biggest web customers, her proactive communication, attention to detail and eagerness to understand the projects being worked on has lead to building a strong relationship between herself, the customer and the technical team. – Tom Lancaster
---
Bethany Shakespeare – I would like to nominate Bethany as a notable employee for May due to her willingness to go above and beyond and help out with other departments, her attitude towards tasks outside of her day to day is excellent and she always completes them to a high standard. – Tom Lancaster
---
Chris Waldie - Has been extremely helpful with preparing the new telecoms proposition and bringing together some technically excellent offerings whilst keeping it simple for the client at the same time, input on estimates templates which provide a straight forward approach to providing telecoms solutions to clients (simple). - Chris Gulliver
---
Adam Burns - For his work on a new client on-boarding process, taking the lead on the back up provision, using initiative to get a roll back plan in place for the client pre-change over which made the actual swap really easy. Client was gripped. – Chris Gulliver
---
Ashley Ward – This week has seen the launch of the new True Instinct website for Natures Menu. This has been 9 months of hard work from the team with Ash putting in a tremendous amount of effort, including a couple of very long days this week! Well done Ash! – Adam Greer

---
Ashley Ward – Completely owning his role. I hear nothing but good things about his attitude to work, and he's always open to new challenges whilst keeping customer objectives in mind. – Josh Ralph
---
We like to show our appreciation to all nominees of this month's Notables award! A huge congratulations to all of those nominated for May, keep up the brilliant standard of work! The Notable Employee Scheme is just one of a range of benefits here at Netmatters, available to all employees.

If you would like to be a part of our fantastic team and be in the running for some extra treats each month, view our open job vacancies today; we're always on the scout for intelligent, motivated individuals to join our ever-increasing team! You can always contact us via the form below, or ring us on 01603 515007 today.