March 2020 Notable Employee

Posted by Netmatters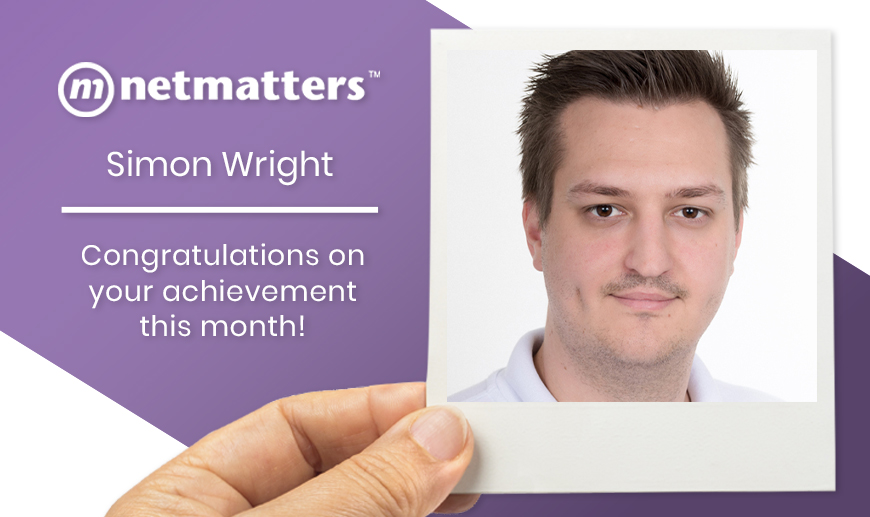 It's the beginning of April which means only one thing here at Netmatters - announcing the winner of "Notable of Notable Employees" for March 2020. This award is given to a single employee who has exceeded expectations in their day to day role or has been influential in the company's success during the previous month.

Every department manager is asked to nominate an employee from their department, who they feel has done exceptionally well during the course of the previous month. Each one of these employees is then considered as a candidate for this award. This month, things are a little different to usual but it was important that we still recognised the hard work of our employees.
The Notable of Notables is presented to a member of staff who has been been doing an excellent job all round working hard throughout. This month's Notable of Notables is awarded to Simon Wright!
The Most Notable of Notable Employees
Simon Wright!
"Simon is delivering way above the call of duty" - Elliott Peacock
Simon Wright - 'Simon has been putting in an unbelievable amount of work recently helping one of our largest clients, in dealing with the orders they've received recently. This includes working until midnight on several occasions to ensure their customers get the correct notifications and the staff have everything they need to start their day. Excellent work Simon! ' – Adam Greer
"Doing a solid job keeping up with the ever changing landscape of one our biggest accounts, whilst still making sure he has time for team his team. Positive feedback from guys in the team" - Josh Ralph

"Simon has been working hard to keep one of our largest client's ordering and logistics to a manageable level as people have been panic buying stock. Simon has been required to work a lot of late nights and disruption to his evenings and weekends. As if that wasn't enough he also received the news that he had to postpone his wedding in the middle of this which must have been tough. Sprinkle on home schooling of a couple of kids and you have a full day!. Thank you Simon for your continued exceptional effort". - James Gulliver

Well done Simon for all of your hard work throughout February!
This Month's Other Notable Employee Nominations:
Everyone- I would like to nominate everyone for how they have responded to the situation we are currently facing. We have definitely risen to the challenge and dealt with issues in a very British fashion. I have seen a lot of selfless acts and we have received many bright ideas and suggestions that have been of great help. People have been checking in on each other to ensure everyone is well and coping which is great to see and personally receive. I am very proud of the whole team – James Gulliver.
---
Dieter Harper, Chris Waldie and Matt Chapman – All 3 - exemplary efforts consistently showcased – absolute workhorses, going above and beyond with everything they do. – Elliott Peacock
---
Rebecca Brine- Rebecca has done a really good job keeping projects moving along on a positive track, and has ensured good communication to clients. – Tom Lancaster
---
Matt Hurst – Matt has been consistency helpful and is doing a great job of ensuring internal communication on projects remains consistent and concise – Tom Lancaster
---
Kayleigh Hall – Kayleigh has been doing a great job with her dev work whilst dealing with some challenging deadlines on projects, alongside this she's working closely with the Scions to ensure they've got everything they need to continue their development remotely. – Tom Lancaster
---
Taylor Kern - Taylor has been absolutely smashing it since he joined us. He has hit the ground running and is producing great quality work across the projects he's been working on. Heard nothing but good things from the team. Keep up the great work Taylor. - Josh Ralph
---
Lewis Wilby - As usual the quality of Lewis' work continues to be excellent, even with the added challenges of remote working. He's been picking up tasks from projects he wouldn't usually have much involvement in and is doing it with a great attitude and approach, meaning we're able to continue to deliver great service to customers. - Josh Ralph
---
James Mackay - James has been working from home and looking after two kids whilst his wife (NHS Nurse) is at work doing long shifts. He is juggling his Squad leader responsibilities whilst maintaining our longest standing customers systems fitting work in around tantrums and colouring sessions. He has had to look after the kids too ???? Thank you James for your efforts – James Gulliver
---
Amanda Sharp - Amanda has been a great help in IT with getting our stock under control, assisting the IT team on 1st line along with putting forward recommendations to help improve our processes. Amanda has been a welcome addition to the team. - Rob George
---
Ruth Edwards - Over the past couple of months Ruth has really developed with her knowledge and handling of various IT issues. Ruth has become a valuable member of the team and I'm excited to see her progress at Netmatters. – Rob George
---
Entire digital marketing team - Last month was tough for the department. However, the team have continued to go above and beyond to ensure that all clients, are receiving the same high-quality support they need during this difficult time. We have continued to receive positive feedback from clients and can take this time to prepare for a busy few months ahead. Thank you to the digital team for their continued dedication to the cause. Keep up the good work! –Lydia Whitney
---
Chris Waldie - Excellent work completed for MWW – has implemented some changes to their systems which is providing immediate benefit. Chris has also been leaning into Netmatters, he offered his help in all areas and is happy to do what's needed to help us get through these challenging times. – Chris Gulliver.
---
Matt Chapman- Excellent consistent work as normal, working hard to make sure the clients he looks after have what they need. – Chris Gulliver.
---
Adam Burns - Answered the call to take part in the split site setup at Gorleston, has also implemented the Take Control Plus rollout process for the Beach Boys to pick up and run with. – Chris Gulliver.
---
Sean Fulcher - Sean and his team have taken up the challenge to fully adopt the new remote agent software, tricky to do when the team is all working remotely of each other. It was quite a large change which has been adopted without drama. – Chris Gulliver.
---
Bethany Shakespeare - For being on hand and getting things done to assist those staff who are working from remote locations. Excellent work with defining the new procedures. – Chris Gulliver.
---
Charlotte Gubbin - Cracking on, managing the accounts – getting the month end ready. Helping with many cost saving initiates and debt chasing. –Chris Gulliver.
---
Amanda Sharp - For taking on the stock management process to allow Elliott to focus on technical work. Amanda has also made some solid suggestions on how to improve the IT stock management system – its great having her input which is looking at things like a developer. - Chris Gulliver
We like to show our appreciation to all nominees of this month's Notables award! A huge congratulations to all of those nominated for March, keep up the brilliant standard of work! The Notable Employee Scheme is just one of a range of benefits here at Netmatters, available to all employees.

If you would like to be a part of our fantastic team and be in the running for some extra treats each month, view our open job vacancies today; we're always on the scout for intelligent, motivated individuals to join our ever-increasing team! You can always contact us via the form below, or ring us on 01603 515007 today.