LucidView Enforcer: Complete Home Internet Safety

Posted by Netmatters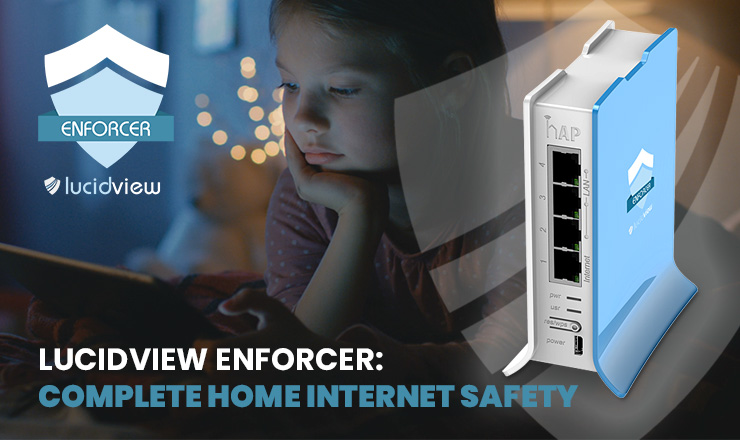 At Netmatters, we always have our eyes open and ears to the ground when it comes to new technology.
Earlier this year, Netmatters agreed to work in conjunction with LucidView to bring a complete home and business internet safety device to the market. The product in question is the LucidView Enforcer.
What is the LucidView Enforcer?
LucidView Enforcer is an innovative new product that guarantees clean and safe internet. Essentially, the Enforcer plugs into your existing router, it filters content and provides clean, safe internet to any device that is connected to it.
The LucidView Enforcer is a smart and straightforward way to monitor and control internet usage across multiple devices. All you need to do is plug it into your router and activate your personal online portal. LucidView handles the rest, identifying inappropriate or explicit websites and blocking access.
Using the LucidView Enforcer gives you the ability to adjust access however you please. Whether you want to block social media for an evening, or have multiple access settings in your home or business, you remain in full control.
What does LucidView Enforcer allow me to do?
LucidView Enforcer comes with an array of features, each allowing you to do different things.
Once plugged in, log into your Online Portal. The online portal is the hub from which you control what is and what isn't allowed to be accessed through the Enforcer router.
Here you have access to change and customise the following:
Advanced Content Filtering
Allow or Disallow any site
Covers all of your devices connected through LucidView
Set Device Time Limits and Restrictions
Social Media Time Management
Online Dashboard for Full Monitoring and Reporting
Built-In Firewall and Torrent Blocking
FairShare Bandwidth Control
If you want any further information on what any of these features are or what they do, you can find out here at: https://www.lucidview.co.uk
How much does it cost and what's included?
There is an upfront cost of £29.99, then a monthly subscription of £2.99 per month.
This cost covers the LucidView Enforcer and the access to the Online Portal.
If you cancel your monthly subscription, you will no longer be able to access the Online Portal and your LucidView Enforcer will supply regular unsafe internet.
When you receive your Lucidview Enforcer, you will find the following in the box:
Lucidview Enforcer router
An ethernet cable


A handy quick start guide – On the packaging sleeve
A code for you to register and access the online portal
A power cable
So if you are looking for the ultimate internet safety and time control device, whether it be for your business or for use at home to keep your children protected, look no further than the LucidView Enforcer. For as little as 10p per day you can provide safe, clean internet for your home and/or business. Our easy to install device is your one stop solution for all your internet safety and time control needs.
If you have any questions, you can contact us via the form below, or ring us on 01603 515007 today.