Kayleigh Hall's DevelopHER Award Nomination

Posted by Netmatters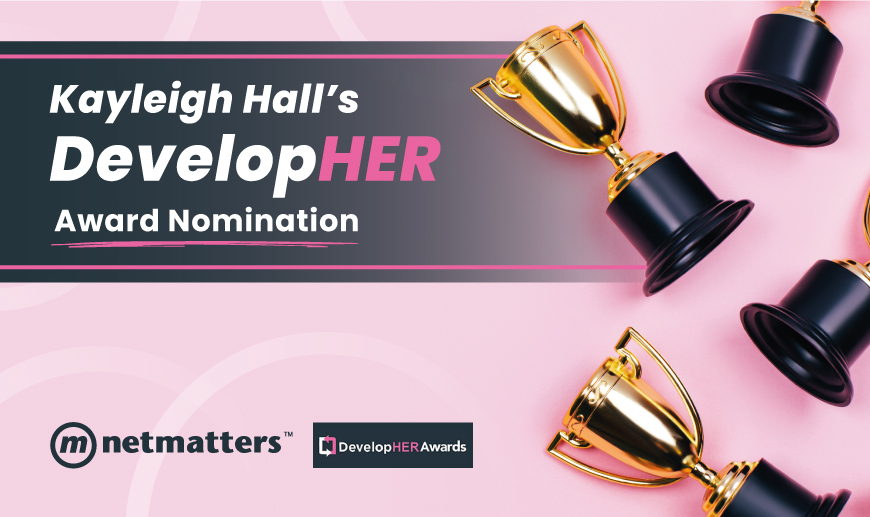 We are very happy to announce that our very own Kayleigh Hall has been shortlisted at the DevelopHER Awards for the Inspiration Award!

As a non-profit awards ceremony, DevelopHER recognise the talented women that are working within the technology sector. They look to raise the profile of these women and create role models to encourage others to follow in their path. The event has grown to cover Norwich, Ipswich and Cambridge, slowly growing to cover more and more of East Anglia.
At Netmatters we believe in equal opportunities for all, and couldn't be happier that a member of our team has been recognised for her talents. This is an excellent award to promote gender equality within the technology industry.
The Inspiration Award itself is to award the most inspirational women working within the technology sector, and her nomination for this award comes from just that.
With our Scion scheme, we mentor many young adults within Web Development, Digital Marketing and IT Support. Kayleigh has helped to mentor just under fifty students, reviewing each individual piece of code they produce to ensure all of her students are reaching the highest industry standard. Alongside this, she meets all of her students to discuss their personal goals and ensures this is aligned with their tutorage here at Netmatters – we think that's pretty inspirational!
Follow Kayleigh's progress as the awards are announced on the 25th of November, we wish her luck for this great award!
The Scion Coalition Scheme is going from strength to strength, and building on the success in the Eastern region we are now rolling out the scheme across the whole of the UK. If you are interested in applying for the scheme, please visit our website and get in contact!