Kayleigh Achieves the Long Service Award

Posted by Netmatters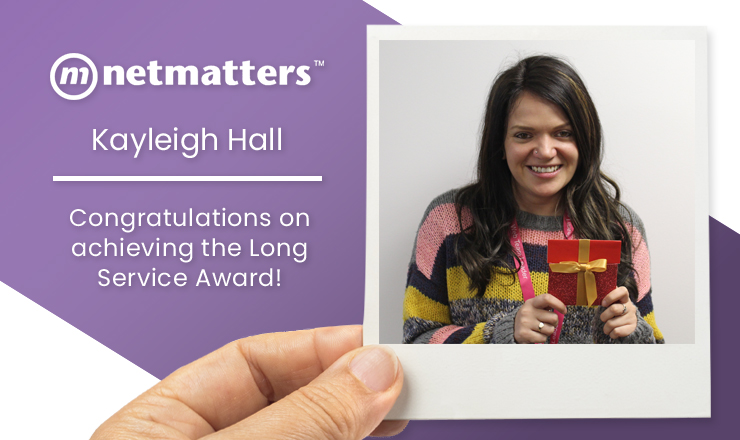 Netmatters would like to take this time to congratulate one of our most experienced Web Developers, Kayleigh Hall, on gaining the 'Long Service Award'!

Kayleighs's name will now be added proudly to the ever growing list of employees who have worked for the company for 5 years. She is an outstanding member of the team who's knowledge of web development has helped us push the department forward.
Kayleigh joined us in December 2014, as a web developer. Since then, her enthusiasm, positive attitude and work ethic have shined through whilst her skills continue to grow. Kayleigh is always on hand to help, sharing her understanding with other members of the team to assist the web development department in delivering more to our customers. Kayleigh is also heavily involved in our Scion scheme, overseeing their progress, boosting their confidence and being on hand to assist them whenever they need it.
We feel very lucky to have Kayleigh and we look forward to the next 5 years with her!
"Kayleigh has gone from strength to strength within the team. Joining us as a Junior Web Developer, she's grown into an extremely talented Senior Developer, Team Leader and training our next generation of developers via the Scion programme " – Adam Greer, Technical Director
The 'Long Service Award' is just one of the ways that we ensure that all of our employees feel valued for their hard work and dedication.
Are you interested in joining a company that can provide you with a great career opportunity? Maybe you could be a recipient for the award in years to come…
Netmatters are always looking to hire bright and talented individuals so if you'd like an informal chat – even if we're not advertising for your specific role – don't hesitate to send your CV and cover letter here. Find out if you'd be suitable for any current vacancies today!