Posted by Netmatters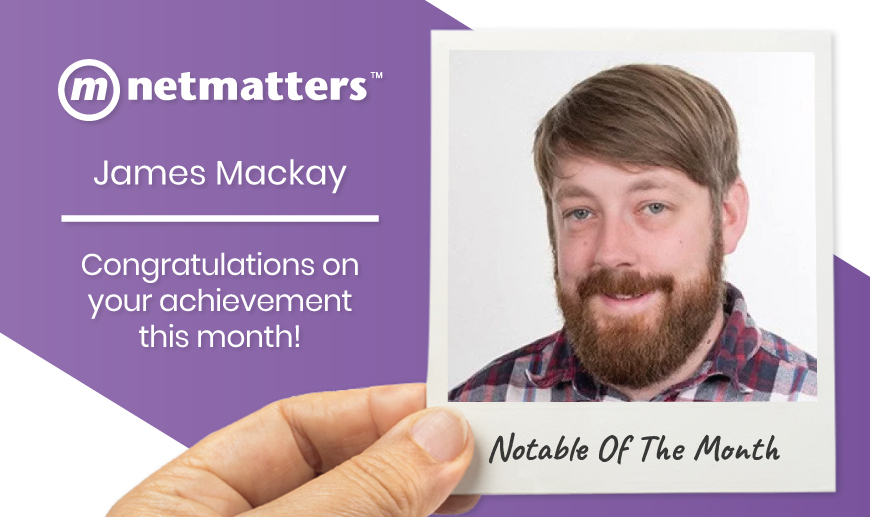 Every month we celebrate the most notable of employees here at Netmatters. Each department head is asked to nominate individuals they feel have gone above and beyond in the previous month. We have continued to see some fantastic examples of notable worthy behaviour again this month with staff doing their utmost to continue to deliver at every turn.

We saw some fantastic work in June and particularly from our most notable of employees who has had an amazing 2021 so far. This month we celebrate a team member who works hard to keep his existing clients happy as well as working with a number of new clients that he is bringing on board, going above and beyond to deliver beyond expectations.
The Most Notable of Notable Employees
James Mackay
Managing the department in my absence, keeping on top of the KPI's and the additional workload with ease. Providing valuable feedback on processes from a fresh perspective. Thank you James! - Simon Wright
He's spent the last week covering the Web Manager role and has taken it on with real attention to detail. James made sure to put some good effort into the KPIs and dig into what they represent. Each one was approached with the goal of solving the problem they highlight and even offered suggestions on how we can improve 1 or 2! Excellent work Macca! – Adam Greer
Congratulations on your achievement James!
This month's other notable employees are:
Josh Gladman – Has had an excellent run of form, delivering both quantity and quality opportunities – Elliott Peacock

---
Lewis Wilby – Always impresses me not just with the quality of his work, but his customer-facing prowess and how he listens. He understands and gets across challenges and opportunities to the best effect of the client. – Elliott Peacock
---
Matt Wastell – Stepping up to new challenges and being the consummate professional – James Gulliver
---
Adam Burns - Volunteering to be Technical lead for the Cambridge office and showing a pragmatic approach to the challenges this will pose logistically - James Gulliver

---
Rebecca Reynolds – Rebecca has continued to be a reliable and dedicated digital team member, providing valuable support and guidance to the team to maximise client results. Rebecca's also been instrumental in leading the marketing around the Cambridgeshire office launch. – Lydia Whitney
---
Amanda Sharp – A real team player that is always looking for ways to improve our processes along with supporting the Technical Team and ensuring the stock is managed to a high standard - Robert George
---
Andrei Rogozin – The "silent assassin" Andrei is always happy to help his colleagues in dealing with a range of issues. If ever I need to get a tech in front of something he is always happy to help. Real team player! - Robert George
---
Craig Ward – Have attended a couple of review meetings that Craig has run and not only has he built a great relationship with the clients but follows the process in front of him ensuring we are discussing the key objectives in the meeting - Robert George
---
Bethany Shakespeare – Doing a great job in managing the recruitment process, not just for IT but across the company. With multiple roles open it can be a logistical nightmare but is doing a great job in ensuring it runs smoothly – Although she did bring a DM Trial day into IT. - Robert George

---
Gabriel Hamilton – Received multiple positive feedback from clients about the excellent support he has provided – most notably The Diocese of Norwich. - Robert George
---
Matt Harrop - Matt's done a great job recently in stepping up and covering the service management role in Rob's absence. Additionally, he's given some good feedback on how we can better improve our process for IT review meetings and a pitch training session he did with me and James on IT review meetings showed that he has a real understanding of what we're trying to achieve from them. – Tom Lancaster
---
Zach Gilbert - Progressing at a rapid pace, producing quality work with minimal assistance and growing into a real asset to the team. Excellent work! – Simon Wright
---
Maxwell Jermy – Smashing through TVC and keeping the customer happy in Kayleigh's absence. Attending customer meetings and getting a lot more involved with the project, quickly becoming a safe pair of hands! – Simon Wright
---
Eleanor Smith – Has fitted into the digital team really well and has really stepped up when it comes to managing and leading accounts. The internal feedback for Eleanor has only been praise too – keep it up! – Jim Palmer
---
Lydia Whitney - Lydia has done an amazing job managing her team and coping with the increased workloads due to recent wins, you can keep loading her with work and she never buckles. She's not called the pack mule for nothing! – Jim Palmer
---
Elliot Tarling - Impressed with Elliott Tarling's handling of the setup of the new Cambridge office. He is a very versatile technician with solid IT knowledge and applies it in a practical way. Great Job Elliott, thanks for your help with the new office, we had a few challenges but your approach to overcoming them was excellent. – Chris Gulliver
We would like to show our appreciation to all nominees of this month's Notables award! A huge congratulations to all of those nominated for June, keep up the brilliant standard of work! The Notable Employee Scheme is just one of a range of benefits here at Netmatters, available to all employees.
If you would like to be a part of our fantastic team and be in the running for some extra treats each month, view our open job vacancies today; We're always on the lookout for intelligent, motivated individuals to join our ever-increasing team! You can always contact us via the form below, or ring us on 01603 704020 today.