June 2019 Notables Employee

Posted by Netmatters

It's the beginning of July which means only one thing here at Netmatters - announcing the winner of "Notable of Notable Employees" for June 2019. This award is given to a single employee who has exceeded expectations in their day to day role or has been influential in the company's success during the previous month.
Every department manager is asked to nominate an employee from their department, who they feel has done exceptionally well during the course of the previous month. Each one of these employees is then considered as a candidate for this award.
The Notable of Notables is presented to a member of staff who has been been doing an excellent job all round working on a demanding project. This month's Notable of Notables is awarded to Adam Burns
The Most Notable of Notable Employees
Adam Burns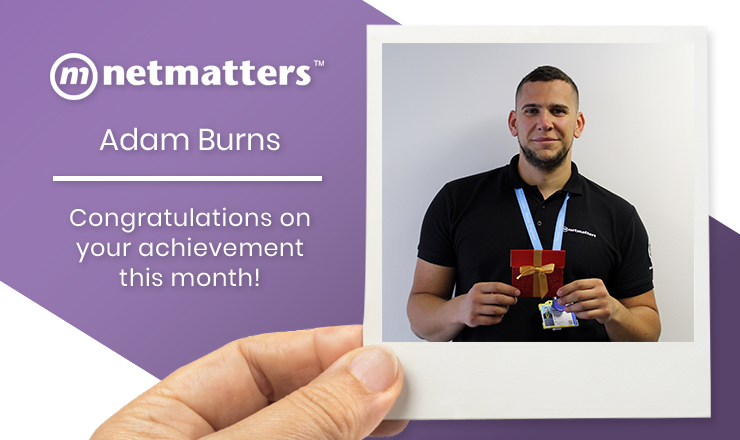 Brilliant work with a newly on-boarded client, represented the company at a very high standard and between him and Chris Waldie they have produced an excellent initial IT report in how they identified and explained a sizable number of key recommendations. This report is supportive of the work we have completed so far and puts the business in a very good light in terms of us being able to grip and manage out their complex IT systems. A- Game performance.– Chris Gulliver
Adam Burns - 'Doing a brilliant job in on-boarding new clients along with highlighting areas for department improvements to make us as efficient as possible'' – Rob George
This Month's Other Notable Employee Nominations:
Jimmy Wright – Really impressed with how Jimmy has stepped up to be our go-to on WordPress related issues. I can already see him using his knowledge to help others within the department. No doubt this will help to streamline our WordPress related workload in order to provide better value to customers. Great work Jim! – Josh Ralph
---
Amanda Sharp – Amanda has only recently joined Macca's team, but I'm already hearing great things. Really impressed with her attention to detail on the recent concept she has built, and the way in which she is getting involved with the team. - Josh Ralph
---
Kayleigh Hall– Working very hard with the Scion Scheme ensuring we continue to see the levels of success required. She has embraced this role and acts on feedback in an efficient manner. - James Gulliver
---
Tom Lancaster – Doing a great job of managing the projects department. Improving standards and solving problems. He is very commercially aware and ensures all projects being initiated are fully understood and likely to deliver value for the customer.- James Gulliver
---
Michael Grimshaw – For his excellent work on migrating Crowshall across to a new server and framework, out of hours and with minimal impact on their customers. – Josh Ralph
---
Samantha Lupton- Doing an exceptional job managing a number of new clients, whilst maintaining and managing existing client projects and expectations with alacrity!– Elliot Peacock
---
Elliot Tarling - Done a great job managing our new stock process and always putting his hand up to help team when needed. Great team ethic! - Rob George
---
Elliot Tarling - Has taken up the new responsibility of managing the IT stock for NM, a lot to do and get in place. However we are already starting to see the benefits of this. Good Work Elliott. – Chris Gulliver
---
Matt Hird Takes constructive feedback well, puts actions in place to continually improve what him and the department are doing. - Elliot Peacock

---
Richard Dent – Excellent performance within two recent IT review meetings with long standing clients. Richard has a good rapport with clients, is professional and very credible. A- Game performance. - Chris Gulliver
---
Chris Waldie Extension work completed on a Network Assessment for a new client, working with Adam Burns to produce a recommendation solution which will bring many advantages to the client in terms of security, reliability & supportability. A- Game performance. – Chris Gulliver

---
Matt Hurst Gripping of his Product Specialist Role for workstations & Laptops. Matt has produced some really solid and well put together estimate templates, all items that have been added are very considered and there is no doubt Matt has some real expertise in this area. Great Asset to the NM team. A- Game Performance. - Chris Gulliver

We like to show our appreciation to all nominees of this month's Notables award! A huge congratulations to all of those nominated for June, keep up the brilliant standard of work! The Notable Employee Scheme is just one of a range of benefits here at Netmatters, available to all employees.

If you would like to be a part of our fantastic team and be in the running for some extra treats each month, view our open job vacancies today; we're always on the scout for intelligent, motivated individuals to join our ever-increasing team! You can always contact us via the form below, or ring us on 01603 515007 today.