July 2019 Notable Employee

Posted by Netmatters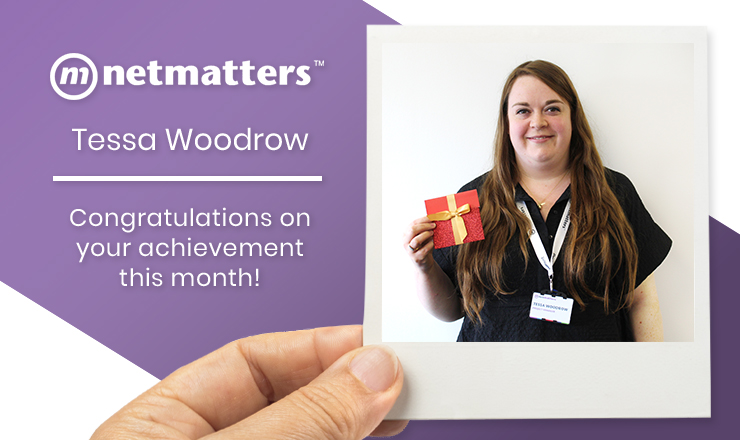 It's the beginning of August which means only one thing here at Netmatters - announcing the winner of "Notable of Notable Employees" for July 2019. This award is given to a single employee who has exceeded expectations in their day to day role or has been influential in the company's success during the previous month.
Every department manager is asked to nominate an employee from their department, who they feel has done exceptionally well during the course of the previous month. Each one of these employees is then considered as a candidate for this award.
The Notable of Notables is presented to a member of staff who has been been doing an excellent job all round working on a demanding project. This month's Notable of Notables is awarded to Tessa Woodrow
The Most Notable of Notable Employees
Tessa Woodrow
Tessa has settled in fantastically in the short time she has been here and very quickly gotten up to speed with the scion programme and is providing a assuring presence to those currently on the journey to becoming web developers. She has taken on a variety of different projects each with their own challenges and is managing them superbly. – Tom Lancaster

Tessa Woodrow - 'Excellent performance from our newest Project Manager across the board. Tessa has picked up the management of our newest web squad with no drama and is pushing the Scion Scheme forward as well'' – James Gulliver
This Month's Other Notable Employee Nominations:
Kati Leeson - Kati has grown into the IT PM role, she is bringing in process improvements to make us more efficient, which includes the use of MS forms to collect data from new clients (assisting with Audit and client- on-boarding) MS forms also being used as part of Telecoms projects to ascertain the clients programming requirements (which was previously a task completed by the technical team). Kati has been working the initial client communication process with a focus on driving the client to the customer portal and making key information always available within the portal (responding to client feedback). Keep up the good work! – Chris Gulliver.

---
Lewie Carton & Holly Leech – Both have worked exceptionally well together to smash James' target of 34 leads by achieving 42 this month (and there are still a few more working days to go!). With Lewie being new to managing the account and Holly new to the company and Netmatters ways, they have both worked hard to understand the client and implementing the relevant marketing channels to ensure they achieve the clients primary objective. Well done team! Target of 50 leads in August?! – Lydia Whitney
---
Amanda Sharp - I'd like to nominate Amanda Sharp for notable. Amanda has recently moved from the SCS over to Netmatters and has been fitting in excellently! She has a great attitude, not afraid to ask questions and I've only been hearing good things from those who work with her. Well done Amanda! - Adam Greer
---
Dave McLean – Doing a great job in highlighting improvements on our Hosting platform and presenting then to Directors for approval. This along with numerous procedure improvements, we are looking at making Hosting a well-rounded efficient area to manage. – Rob George
---
Leon Burnham – Each day Leon comes to work with a smile and is happy to get in front of the job's put in front of him. Leon has a great work ethic and his efforts in working out of hours for department reshuffles doesn't go unnoticed. – Rob George
---
Scott Andrews - Has joined the Scion scheme and is definitely going above and beyond in terms of effort. He has displayed a positive attitude to the work and made valid suggestions of improvements already. He has taken the time to embrace the Netmatters culture and integrate himself into the team. – James Gulliver
---
Chris Raby – I've been really impressed with Chris' approach recently. He's taking good ownership of his projects and is being proactive in getting in front of potential issues. – Josh Ralph
---
Sean Bosley – Sean's been a great help recently getting a few teething issues with the new web laptops resolved quickly and effectively. – Josh Ralph
---
Henry Hardwell – Has taken to his new role like a duck to water, already producing high quality work and taking on feedback well. Lots of potential here – Josh Ralph

---
Rob George – service levels are at an all-time high, and this is in no doubt down to the efforts that Rob and the team are putting in. Combined with record invoicing in July, Rob is doing an exceptional job. – Elliott Peacock
---
We like to show our appreciation to all nominees of this month's Notables award! A huge congratulations to all of those nominated for July, keep up the brilliant standard of work! The Notable Employee Scheme is just one of a range of benefits here at Netmatters, available to all employees.

If you would like to be a part of our fantastic team and be in the running for some extra treats each month, view our open job vacancies today; we're always on the scout for intelligent, motivated individuals to join our ever-increasing team! You can always contact us via the form below, or ring us on 01603 515007 today.