Posted by Netmatters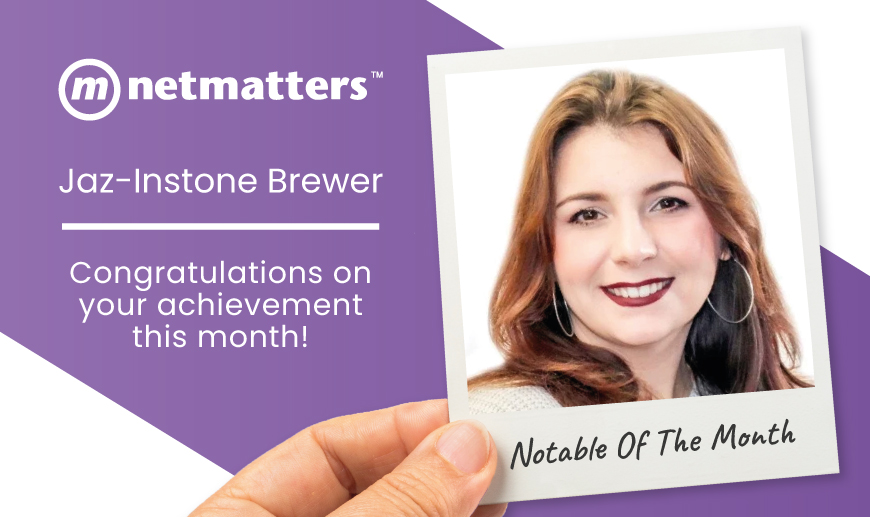 At the very start of the year, it's always a pleasure to see our team members make an impact from the get-go. January saw some fantastic work from the Netmatters team, and we are always proud to share our thoughts on the most notable team members every month. Every department recognises those who have gone above and beyond to deliver excellence within their work and helping Netmatters deliver the best services for our clients.

We've seen some fantastic feedback from each department head throughout the start of 2022, see our January notables below.
Jaz Instone-Brewer

Jaz has been working incredibly hard lately due to some late notice changes in plan meaning she had to arrange a handover of her entire pod whilst taking on a new pod at the same time, throughout this she's really gone above and beyond and even with this extra workload has still been offering her assistance to other team members wherever she can be of help. – Tom Lancaster
Emily Mackley & Jaz Instone-Brewer - have had a very tough month balancing and covering projects across multiple web squads and customers. Both have done an excellent job considering the circumstances, delivering a great service with our very limited resource. – Adam Greer
Congratulations on your achievement this month Jaz!
This month's other notable employees are:
Jim Palmer – working exceptionally hard shaping up our digital and web offering, well done - James Gulliver
---
Mark Reilly – Building a solid NBO team with exceptional results – James Gulliver
---
Gary Cullen – had a flying start to the year, surpassing all targets and on boarding some fantastic new clients. Really progressed and improved his knowledge and confidence when presenting and managing clients ongoing. – Elliott Peacock
---
Josh Gladman – delivering an absolutely sterling performance of late. Has really honed his craft, and is demonstrating considerably improved and consistent results. – Elliott Peacock
---
Emily Mackley – picking up extra responsibilities, go above and beyond and really pitching in with team members departing on maternity, whilst delivering her own role consistently to the highest standards. – Elliott Peacock
---
James Binding - James has been producing some really good work on his projects lately and is very clear in his communications to PM's which makes the role much easier, good work James! – Tom Lancaster
---
Jordan McDowall, Rob Edmonds, Ashley Readman-Thorley and Luke Youngman - These Guys really knocked it out of the park with a deadline we had on a project pre-Christmas, all of them put in a massive shift in the final few working days up to the Christmas break that meant we achieved delivering a site which looked very slim that we could meet the expectation flip on it's head and deliver a quality product to go to the next stages with the customer by the 24th. Great work all round on this and real solid team effort. – Tom Lancaster
---
Matt Hurst – Done a great job in managing a client handover from their losing provider. Very calm and professional in the meeting. – Robert George

---
Dylan Stevenson – He's producing some great work and accepts everything that's being thrown at him and will have a go and look at it to understand things before asking questions. – Simon Wright
---
Rebecca Wyatt – Is very clear and considered with her updates and when she puts forward problems she normally does so with a suggested solution, or she picks up things she thinks should be changed and explains them clearly with reasoning– Simon Wright
---
Keenan Teolis – Hit the ground running with project work, adaptable, knowledgeable, and flexible, an excellent start! – Simon Wright
---
Sam Driver - has been doing a great Job taking on the role of tech lead! Working well to assist developers and triage the tasks in an understandable way – Simon Wright
---
Jasmin Rusted – Jasmin has been instrumental in completing a 40+ hour project in January. The works completed have helped provide an overview of the keywords the client should be optimising on their website – a key task requested by the client as part of their new site build. – Lydia Whitney
---
Charlotte Brooks – Good management of pending leave for Maternity and handover of projects and work(s), I have been pleased with the level of detail and process involved in the handover prior to Mat leave. Charlotte's diligence to get things tidied up and in a nice shape to aid a smoother handover has been managed with professionalism. Great work Charlotte - Chris Gulliver

We would like to show our appreciation to all the nominees of this month's Notables award! A huge congratulations to all of those nominated for January, keep up the brilliant standard of work! The notable employee scheme is just one of a range of benefits here at Netmatters, available to all employees.
If you would like to be a part of our fantastic team and be in the running for some extra treats each month, view our open job vacancies today; We're always on the lookout for intelligent, motivated individuals to join our ever-increasing team! You can always contact us via the form below, or ring us on 01603 704020 today.