Is Your Coding Optimised for Success?

Posted by Jasmin Rusted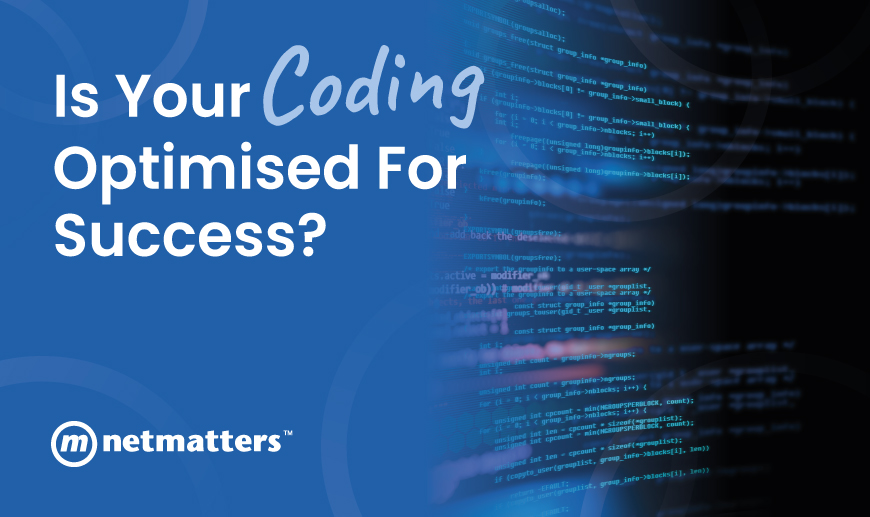 As the online world takes over, it is almost expected that your business should have a high-quality website, providing further information on your services to potential new clients and aid in sourcing higher quality leads. We're going to cover how a website with bespoke coding can be optimised for success.

Bespoke coding – what is it and why should you opt for this when creating your website? In a nutshell, this is a unique set of code used to design your website, tailored to your specific needs. It is worth noting that this does have a few other names, such as custom software and tailored software which you may have come across before.
At Netmatters we are leading experts in using tailored coding when it comes to website design, and we highly recommend this option for a number of the following reasons.
THE BENEFITS
Security
Using bespoke code when designing your website allows for this to be built absolutely custom to you. It's easy to go with the simpler option – choosing software that offers templated websites that can be designed and published easily. We understand the allure. However these can come with some consequences later on down the line.
A tailored software system is a unique piece of code. A templated service, on the other hand, is a coding format that can easily be studied and used by potential hackers which increases the risk of data being illegally shared from your site. The difference in this when using a custom set of code, therefore, provides your site with far tighter security that you can rely on where data is a lot less easily accessible to hackers.
Safety is one of the most critical aspects an online business should consider, and the risk of using a templated service that is easily accessible through hackers is simply not worth it.
Growth
As a business you will be aiming to see plenty of growth, and with that your online presence really needs to be able to grow with you.
When using a pre-created set of code, your website will be confined to certain limits that you will struggle to expand outside of. Often the styling will be locked into, along with only a certain number of extra features that you will be to add to the site.
If you have longevity in mind custom code really is the option you should be considering. Allow yourself some breathing room, where your online presence can truly develop. The online world is everchanging and you don't want to cage yourself early on.
Rather than be confined to the limitations of a pre-set website, allow yourself some breathing room. Bespoke code can develop and fit all of the needs that your growing business will require.
Optimisation
An important note for anyone building a website is how SEO (Search Engine Optimisation) friendly your website is. You want your website to ideally rank on the first page of Google so that when your services are searched for, users will come directly to your website.
Coding your website with a bespoke set rather than a pre-set, better understands the key requirements needed to optimise your site and allows Google a better understanding of just how good your services are.
A clean custom made code improves your site speed, over that of a clunky pre-set. As your site grows, more and more code is added, and when a team like ours is managing your bespoke code we can ensure that this is kept tidy and efficient. The same guarantee cannot be made when using a templated service that is not so regularly maintained.
You can find out more about specific SEO practices by getting in touch with our digital marketing department.
TO CONCLUDE
At Netmatters, our team are experts in designing and implementing true bespoke code. We want to aid in creating the highest quality website for you and your business that is well optimised, has room to grow and develop, as well as remaining truly secure.
If you are interested in these services, you can find more information about bespoke code here, or fill out the form below and get in touch with us. We would love to chat with you today and get an idea of how our services will be able to really benefit you.