Is the UK Experiencing a Digital Skills Shortage?

Posted by Jasmin Rusted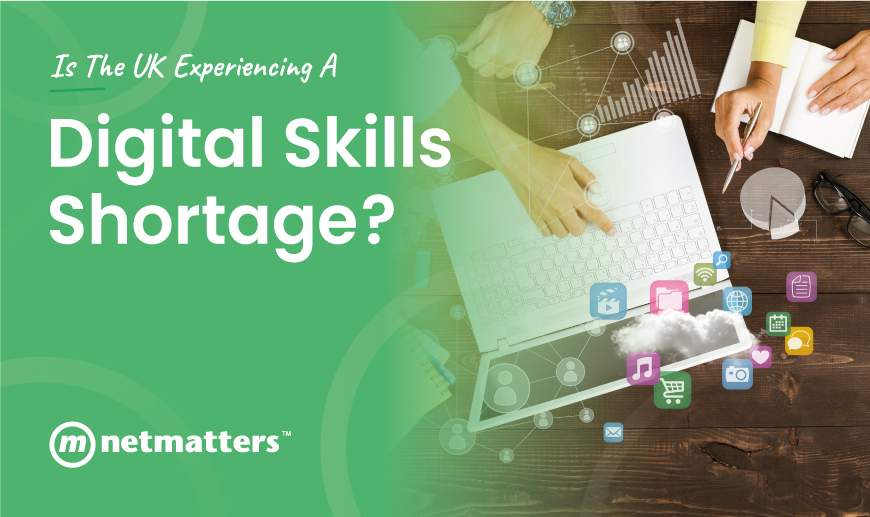 One of the positives that has emerged from the difficult year the world has faced is the strides that businesses have taken in embracing the digital world. Companies have made remote working the norm when before 2020 it was much further along the road map. Online shopping has moved forward in leaps and bounds and the world is, technologically, in a great place.

The downside of this, however, is that as the BBC reported earlier this year, the UK is facing a significant skills shortage coming in the near future. The demand for digital skills is rapidly outstripping supply. Research undertaken by The Learning & Work Institute has found that the number of young people taking IT subjects at GCSE has dropped 40% since 2015. Students expect that they will be taught the digital skills that they need once they are in employment – with businesses expecting this generation of digital natives not to need any further training in this area.
At this time of year, it's always important for students of all ages to consider their next steps going ahead into the new year, understanding their career/educational goals for 2022. The Netmatters Scion Coalition Scheme (SCS) gives digitally-minded individuals the opportunity to train for a career in technology in a completely unique way.
Hands-on training
Here at Netmatters, we noticed a gap in the skills market in Norfolk some years ago when trying to fill a number of web and software development roles. Our SCS was created to provide the hands-on training necessary to help individuals not only understand how to become a developer but also to help them secure a role at the end of their course. Over the years we have expanded the training opportunity to cover both web and software development as well as digital marketing careers. We are also looking at how we can offer the same opportunity to individuals wanting a career in IT Support.
Life Changing Opportunity
Working within the Tech industry provides you with some fantastic transferrable skills. Businesses in every industry will need to work with developers and marketers over the coming years in some capacity, whether bringing them in-house or working with agencies.
The SCS provides a basic grounding across the board and then participants are encouraged to tailor their training based on the kind of role that they want to secure at the end. There is no experience necessary, we are simply looking for dedication and a willingness to learn. In the years since the course began we have taken on individuals from a wide variety of backgrounds, including retail, construction, and the NHS. Our training program boasts a 97% success rate – and success for us means landing a paid role when you finish.
The earning opportunities for software developers are fairly limitless, as your knowledge and skills grow, so will your career options. The Scion Coalition Scheme offers a chance to start a rewarding, lifelong career.
We always recognise and celebrate the success of our 50+ graduates, read more in our latest graduation article here.
Remote Working
We moved our training to be available online during 2020, which has opened up the opportunities even further. Everything still works in the same way, students are expected to log time and work in the same manner as Netmatters employees, but we are now able to train you from anywhere in the country and are rolling out the scheme accordingly.
As more businesses make plans to embrace remote-working permanently, being able to demonstrate your ability to work from home will help you to secure your future role too.
Next Steps
The digital skills gap is a very real problem faced by the UK, and the Scion Coalition Scheme is an opportunity for us to address this. If you know someone that would be interested in undertaking the training they should contact us on 01603 704020 to get in touch.
Are you a self-motivated lover of all things technical? Are you looking for a springboard into a challenging and exciting career? Like we said, our Scion Coalition Scheme is growing, and you could be a part of it with the right skills and attitude. Submit your SCS Application Form below.
Netmatters Scion Scheme Application Form