How you can collaborate successfully across your business with 3CX telephone software

Posted by Netmatters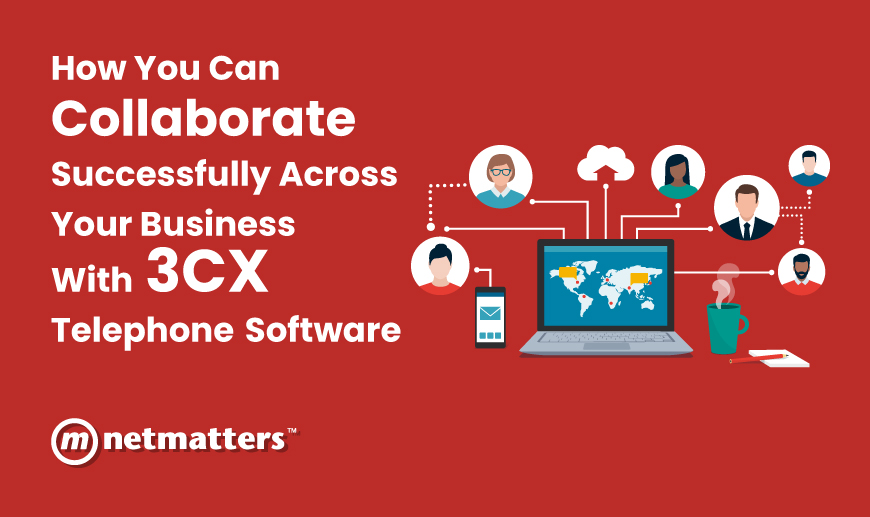 If 2020 has shown us anything, it is the value of strong, reliable communication – in particular for businesses. Technology has enabled many businesses to keep staff safe at home whilst maintaining fantastic levels of service for their customers.
A number of tools have emerged over the last few months to help with communication – we've all taken part in the latest craze of "zoom quizzes" and Microsoft teams has become team collaboration software within many businesses, almost by default.
As we move away from the lockdown conditions that we have been living in, and start thinking about a return to normality we have heard that many organisations are considering continuing to allow remote working for their people, either part-time or in some cases businesses are getting rid of their office spaces completely.
According to the annual Population Survey around 1.7 million people were already working remotely before March 2020, and as we say, it seems likely that this option will be expected going forward.
Many businesses have "made it work" for the period of the lockdown, but for more remote working to become a reality, for businesses and their employees to be able to reap the benefits of this, then solutions will need to be found for the communication issue – especially between colleagues so that teamwork remains a positive.
In many cases, businesses have made use of the free version of Microsoft teams to help them keep staff in contact with each other. However, the free version of Microsoft Teams has limited functionality – and in order to do more the cost can feel prohibitive.
There is another option though.
As both platinum partners and users of 3CX ourselves we have first-hand experience of using the software for collaboration purposes. 3CX is a communications platform, primarily, and has been built with teamwork in mind.
Not only does 3CX provide businesses with first-rate telephony services as standard, including:
The ability to use the software on over 100 devices
Extensive reporting functionality
Unlimited extensions
Advanced call flow application
However, it also provides outstanding collaboration tools. From the video meeting functionality to the inbuilt chat system and the web client to see availability – 3CX does what Microsoft teams does and more. Let's look at the differences:
Price
One of the important areas for any business is that of price. Very few businesses will resent paying a fair price for a product that does the job they expect from it and the basic entry level of teams is actually free. However, once you start looking at adding on the functionality that you need to make it a fully functioning communications product the price rises and makes the product a serious investment, especially if you need a large number of "seats".
On the other hand, the base price of 3CX remains competitive and there are no add-ons needed – all of the functionality is included as standard. The transparent pricing makes it useful for budgeting purposes and means that you can fully explore the functionality that makes collaboration possible in your organisation.
Stability
Whilst ongoing development and improvement are both positives, over the years, teams has undergone a number of changes and iterations. This has led to a number of pricing changes and the discontinuation of various useful features. Technology is constantly evolving so your communication software absolutely must keep up, but it shouldn't be at the detriment of stability. You need to be able to count on the software that you invest in.
3CX is under constant evaluation and improvement, like any good software platform. Updates are released regularly, but here at Netmatters we ensure these are rigorously tested before being rolled out to our customers systems. Importantly though, these changes are made without dramatic price changes or compatibility issues with live systems. Meaning that the tool you have will continue to work for you – but it will also be regularly improved and updated.
Integration
3CX is built to be integrated with the other software that you use within your business. Here at Netmatters we have extensive experience of integrating 3CX to make it truly useable for your organisation and we have made use of the integrations with our own systems too.
By integrating the call reporting systems with our own bespoke admin system we are able to feed information about call duration, frequency and more into our measures of success. Equally, we can share client information for a joined-up service across the business without the need for multiple touch points.
Reporting
As we have already mentioned, the reporting functionality that comes as standard with 3CX is outstanding. The types and number of reports available from 3CX is extensive. As a business owner, you can understand the use of your communication tool and easily analyse the data. At last count, there were over 30 activity reports that could be used to inform your decision making.
Calling
Whilst you may not be looking to use teams for its calling functionality in the beginning, it is a paid for add on to the free base package. Conversely, 3CX has calling functionality at its core. When it comes to communication with remote staff, voice and video chat are a vital part of good communication. It is also essential that your customers are able to make contact by phone should they need to. With 3CX staff have the same extension number wherever they are.
We previously talked about how Netmatters are using 3CX in our own remote working journey. Here we are, a few months on from this original post, and remote working is the norm. Staff are able to speak to each other and their clients wherever they are working from and the collaboration tools are helping maintain team morale and communication.
3CX could be the answer to all of your remote working communication needs in one well-priced package. It includes video conferencing facilities, a chat functionality, collaboration tools and the ability to use any smartphone or handset to call your customers and people as if you are in the office.
If you would like to talk to one of our experts about the 3CX package and learn the options available to you and your business, you can contact us via the form below or call us on 01603 515007.