Posted by Netmatters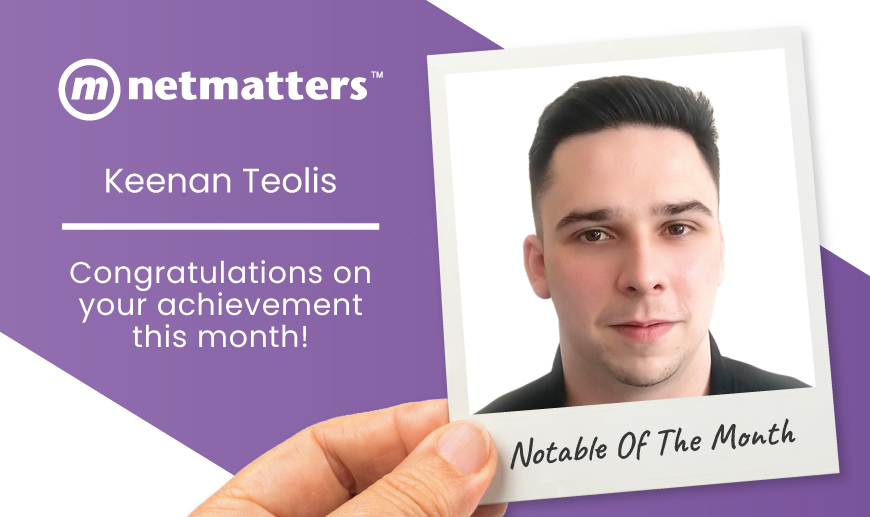 Every month, we take great pleasure in celebrating the success of our notable employees. So far this year, we've seen some fantastic results across all departments, fuelling the engine of Netmatters to ensure our services can be delivered to the highest standard. It's important for our growing team to be recognised for their accomplishments and showing our gratitude for meeting the T.R.U.E values of Netmatters.

February was yet another fantastic month for our team, see our February notables below:
Keenan Teolis

Having recently joined the team, Keenan has jumped into some very complicated projects and exceeded expectations every time! This has come at the perfect time as a large project is coming close to deadline, and would be impossible to hit without him. – Adam Greer
Keenan Teolis - Taking everything in his stride and completing all his tasks to a very high standard. He uses his initiative and demonstrates his understanding well. – Simon Wright
Keenan Teolis – Keenan has recently joined the web team and has been doing a great job on a project he's working on with me and Simon, he's really quickly got himself up to speed and is smashing through tasks now which is really helping us work towards some challenging deadlines. – Tom Lancaster
Congratulations on your achievement this month Keenan!

This month's other notable employees are:
Jake Tuley – doing an excellent job managing the marketing for Netmatters and generating an ever-growing number of leads. Takes feedback well and is always positive. – James Gulliver
---
Jasmin Rusted – Jasmin passed her probation in February and we couldn't be happier with her progression and dedication to achieving clients' key measures of success. – Lydia Whitney
---
Matthew Harrop – Matt has been really great at supporting the fast paced HR projects being sent IT's way, ensuring items are being shipped, ordered, and user accounts set up in preparation for all new starters! HR works closely with IT to ensure the best possible onboarding process for all new team members, and Matt is instrumental in helping this happen! – Bethany Shakespeare

---
Sam Driver – Stepping up to help his Squad Leader with difficult solutions and queries, providing an excellent resource for assisting the team during a period when we've had several members on leave. – Simon Wright

---
Zach Gilbert – Growing his skillset at an exceptional rate to become an integral member of the team. – Simon Wright
---
Veronika Simonova – Veronika is the product specialist for Social Media and has been leading the charge in getting procedures/processes updated, as well as taking ownership of social management for client accounts. – Lydia Whitney
---
Peter Holmes – Taking ownership of a complex platform upgrade and working through all the associated issues with the changes. – Simon Wright
---
Jaz Instone-Brewer – has done a remarkable job picking up the project management of the Scions Scheme. Well done! - James Gulliver

---
Bethany Shakespeare – Last year Bethany stepped into the HR role and started to play a major part in our recruitment process. This year has seen a massive shift in our process as we look to grow all of our teams. Bethany has put in a tremendous amount of effort to establish a process, improve upon it, and rapidly change to make us more efficient. Well done! – Adam Greer
---
Michael Grimshaw – Mike is always pushing to learn new skills and get involved in multiple initiatives across the company. Not only has he taken very well to the squad leader role, but he's also taking on more and more hosting jobs, helping with out of hours issues, and wanting to push forward with future plans for the teams. – Adam Greer
---
Zach Gilbert – Zach has been doing a really good job working on a large e-commerce project. Feedback from his PM demonstrates that he's always happy to jump onto anything and help out. – Tom Lancaster
---
Andrew Murphy – Receiving positive feedback with the level of customer service provided to clients, along with sound technical advice and resolutions. – Robert George
---
Chris Waldie – Workingt tirelessly with IPRS to help bring their systems in line, along with numerous accreditations and complex documentation relating to their IT Infrastructure. - Robert George

---
Richard Phillips & Jake Seaman – Both are picking up a lot of work in the POD to help ensure we are on top of client's tasks and supporting them in the best way possible - Robert George
---
Bethany Shakespeare – Doing a great job in managing a lot of recruitment for all departments, and managing her workload in a positive way - Robert George
We would like to show our appreciation to all the nominees of this month's Notables award! A huge congratulations to all of those nominated for February, keep up the brilliant standard of work! The notable employee scheme is just one of a range of benefits here at Netmatters, available to all employees.
If you would like to be a part of our fantastic team and be in the running for some extra treats each month, view our open job vacancies today; We're always on the lookout for intelligent, motivated individuals to join our ever-increasing team! You can always contact us via the form below, or ring us on 01603 704020 today.