Faizel is promoted to Commercial Head of Web

Posted by James Gulliver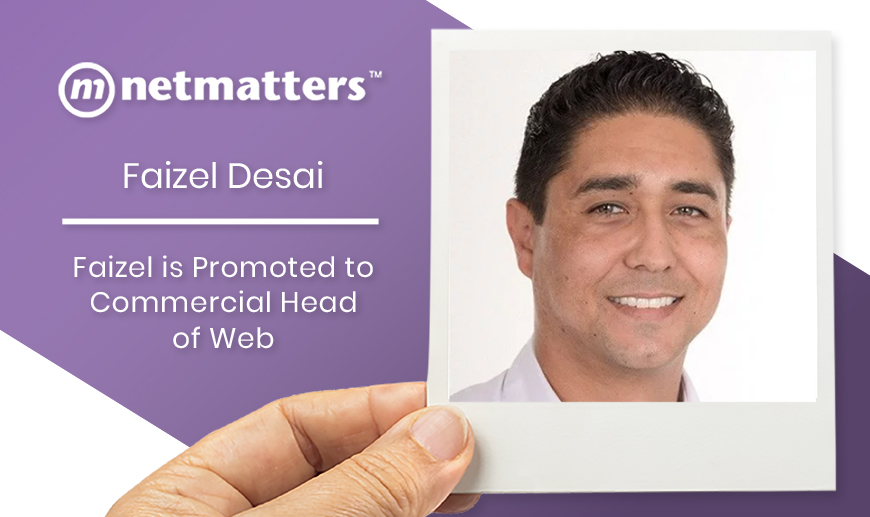 Here at Netmatters we are continuing to grow and develop our business, and our people. We are proud of our track record of rewarding hard work and are pleased today to announce the promotion of Faizel Desai, aka Frank, to Commercial Head of Web.
"Frank has been with Netmatters almost 5 years, in which time he has showcased nothing but a positive and determined attitude towards surpassing customers' expectations. He has been tasked with picking up a number of additional responsibilities throughout his tenure – including an instrumental role in the ongoing success of the Scion programme – which he takes on with real ownership and enthusiasm. Frank will be tasked with continuing to grow and develop our website development services, ensuring we offer best advice to new and existing customers alike – I am really pleased to be able to promote him to this new role." – Elliott Peacock, Director
Faizel joined Netmatters in 2015 and has continually demonstrated his commitment and desire to grow and improve within his role. His new role will see Faizel take responsibility for the commercial success of our website development services and will work closely with the team to ensure we continue to deliver a high-quality, market-leading offering.

Over the last (almost) 5 years, I have learned an enormous amount at Netmatters and the team's input and company ethos has allowed me to hone my craft exponentially. When I joined the company, we had approximately 20 staff and now we are on 84 - and still recruiting, which is testament to the way we work and the staff we employ.

I am honoured to accept my new position and look forward to my future in this role as part of Netmatters finest! Our T.R.U.E values are at the forefront of everything we do and are instrumental in our plans for growth moving forward. Exciting times lay ahead!" - Faizel Desai, Commercial Head of Web
We would like to congratulate Frank for his hard work and commitment and wish him every success in his new role.
We provide a wide range of services overall as a company. We can help with various technology business needs and solutions such as, Website Development, Software Development, Digital Marketing, IT Support, Telecoms. If you are interested in any of these services, please do get in contact via the form below, or by ringing 01603 515007 .