Drew Halls Achieves Long Service Award

Posted by Netmatters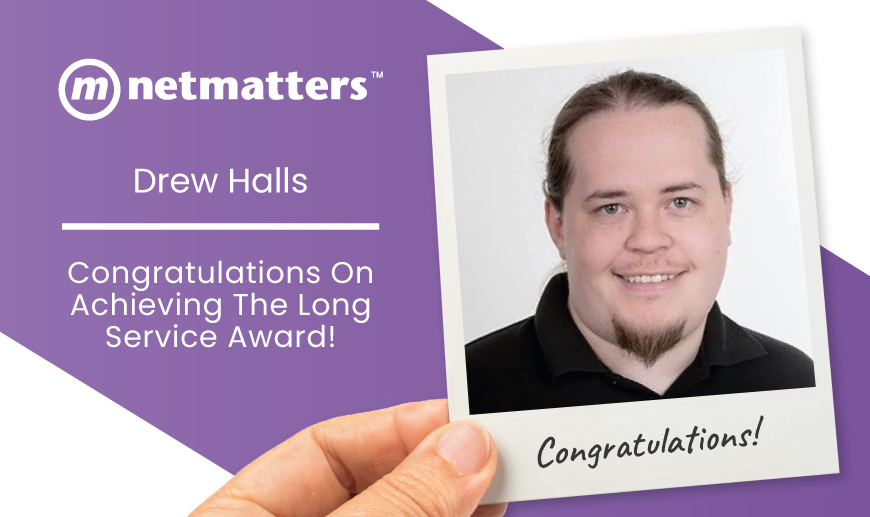 We're celebrating Drew Halls this month for surpassing 'Legend' status, as he levels up to a Netmatters 'Hero' for his 10 years of service!
Joining as a junior, Drew came from a design and arts background, focusing mostly on front end work. Now, as a Systems Architect (the highest level we have for development itself), he looks after most of our shared hosting with the team in IT and Web – a very different role moving from arts and design, to looking at matrix screens and code.
Over the last 10 years, he has managed a large customer ecommerce platform, whilst still managing hosting products and his own customers and workloads. On many occasions he has gone above and beyond, making himself available out of hours and working through problems in a considered way.
Drew is a big character around the office and has grown in confidence during his time at Netmatters, as he recalls being shy and quiet in his early days. He has even influenced a once sceptical James Gulliver to get involved with eSports!
"Drew truly is a Netmatters hero. He's been a valuable member of the team from his first day and is incredibly supportive of all team members. He is very knowledgeable and a pleasure to work with. I am ever grateful he is part of the team." - James Gulliver
"Drew has been a core member of the team since he joined us 10 years ago. He's been involved in architecting some of our biggest products and systems, provided technical assistance on even more systems internally and externally and is never afraid to get his hands dirty and get involved in a crisis.
In or out of hours, he's a powerhouse of knowledge that the team can call upon and an excellent sounding board for ideas, able to play devil's advocate and help formulate solid plans for improving processes or products. Thank you for all your years of service Drew, you are exceptional!" - Simon Wright
As with our Legends, Drew's 10-year Hero status means we plant another 250 trees to our Ecologi forest to help improve our carbon footprint! You can see the latest progress of our Ecologi scheme here.
The 'Long Service Award' is just one of the ways that we ensure that all of our employees feel valued for their hard work and dedication.
Netmatters are always looking to hire bright and talented individuals so if you'd like an informal chat – even if we're not advertising for your specific role – don't hesitate to send your CV and cover letter here. Find out if you'd be suitable for any current vacancies today!