Don't Neglect the Cyber Security Basics

Posted by Netmatters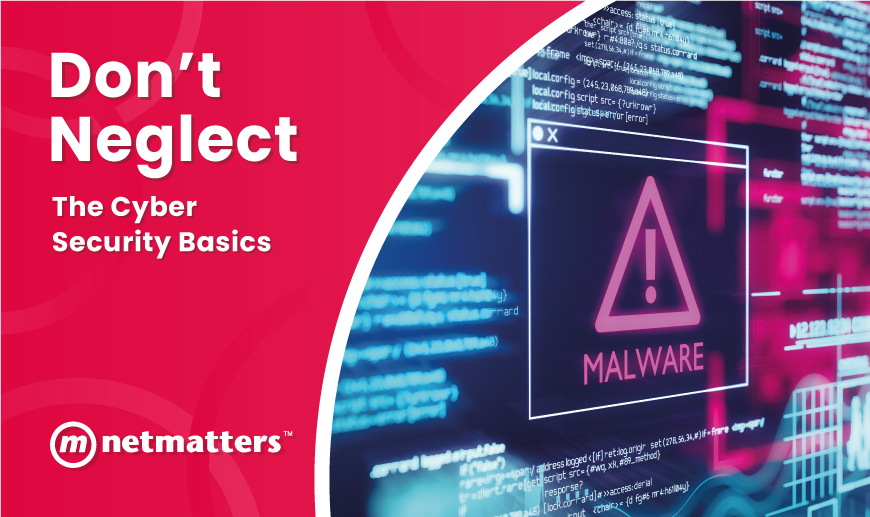 As you may have seen earlier in the year, Ireland's Health Service Executive (HSE) had to shut down its entire IT network as a precaution to a suspected ransomware attack. Ransomware is malicious software that will block access to a workstation, piece of software or system until a ransom is paid to the attacker and is a common tactic for hackers.
Be Vigilant
If you are responsible for the IT systems within your business, it is important that you remain vigilant at all times.
No matter how big or small the business can be, even the most secure and advanced protection systems are at risk. For many, the source of each threat finds themselves in the same boat - neglecting the essentials.
What is the risk?
It comes as no surprise that in 2020, we saw the busiest year on record for cyber-attacks in the UK totaling 686,961. 88% of UK businesses suffered a cyber-attack over the last 12 months and the average number of days it takes for a retail business in the UK to realise they have been compromised is 197.
Cyber-attacks are becoming more and more common as technology continues to become a bigger part of lives and businesses.
Cyber Security Options
There are many methods to protect your personal and professional data from attacks, from firewalls to more in-depth and expensive options such as data encryption. Matt Chapman, our Cyber Security Product Specialist, has some very simple words of advice:
"Always be vigilant for potential phishing and cyber-attacks. Don't neglect the basics."
What that means is that even with the most powerful protection, there's always a chance that something could slip through the net due to a simple error - such as opening the wrong email or clicking on the wrong link.

Netmatters has been building an exceptional reputation for supporting local businesses in their online success and maintaining the finest levels of protection. Simply keeping a firm grip on the foundations, you can ensure your business runs smoothly without security risks.
Our Top Tips
To give yourself the best chance of avoiding potential attacks, remember these tips:
Think before you click – Don't click on links from emails you don't recognise. Is it in a pop-up or coming from a suspicious source? Always check the website and the email sender.
Is this site secure? – You can verify some basic security of a website by checking if the URL starts with "https" and if there is a closed padlock icon in the address bar.
Keep it secret, keep it safe – Don't share your personal information or passwords with anyone over the internet, and ensure you are using strong passwords. It is also best to use different passwords for each service you use.
The first line of defence – Make sure you have a spam filter on your email inbox, a firewall, and anti-virus software.
Up to date is better than left behind – Ensure your workstation is updated with the latest security patches.
Authentication is a factor – Use 2-factor authentication (2FA) for extra security for your accounts where possible. This authentication method can be through things such as 2FA apps, SMS to a confirmed phone number or fingerprint scan.
Know the Difference
Understanding the numerous varieties of Cyber Security attacks can help you can identify a potential issue when you see one. As technology continues to grow rapidly day after day, this forces malicious hackers to find alternative solutions. Some of the most popular current examples include:
Spear Phishing: Unfortunately, this is a threat many of us have identified on our business or personal accounts. This is where the email or link is designed to look official, to trick you into believing it. An email like this or similar is designed to get the user into clicking the link. Always verify the URL for legitimacy or get in contact with a trusted contact for proof.
Trojan Malware: similar to Spear Phishing, a trojan malware risk portrays itself as another 'legitimate' person or business. Always sense check the email or text. If you are unsure, never take the risk.
Ransomware: Not only is ransomware highly dangerous to your personal data and information, which can put your details at major risk, it can also be financially threatening too. This is where the cyber attacker accesses your accounts and data (potentially from weak passwords or from shared protected data) and will not take their hands off it until a ransom is paid.
Combining our fundamental top-tips for maintaining the cyber basics and being able to identify potential risks is the winning combination for keeping your data online protected.
Netmatters On Your Side
Of course, there is no fool-proof way to avoid phishing and cyber-attacks but ensuring you always keep the basics in the back of your mind while using the internet can help to reduce the likelihood of an attack happening for you and your business. On top of these tips, we also offer protections that can greatly including antivirus software, advanced spam filters, patch management, and more.
Our welcoming team is always on hand to help answer any of your enquiries regarding Cyber Security. Our specialist expertise is ready for you.
We work efficiently via a 3-step security approach. This includes a professional:
Our team implements the necessary fixes and routinely monitors your systems, to ensure those that are active complete the work efficiently, as expected, and with minimal disruption.
If you have any questions or would like to discuss your business' security, please don't hesitate to contact us.