Considering VoIP for your business? 10 Questions You Need To Ask

Posted by Netmatters

VoIP is the new buzz word in business telecoms and is widely agreed to be the way forward for companies of all sizes.
Short for 'Voice over Internet Protocol', simply defined it is a phone system that operates through the internet, as opposed to a traditional phone line designated to your premises.
No two systems or providers are the same so, a business should carefully consider all options before making a selection.
Whatever the driving force behind your decision to change, we recommend 10 things to consider to ensure you make the right choice.
1. Why do you want to move?
With so many options on the market, each with their own list of features and benefits, initial research can become overwhelming.
To stop your business from becoming blinded by this, first determine the reasons you want to change. Creating a list of pain points will allow you to identify how a prospective new provider could give you the solution to solve them.
Our tips will assist you in creating this list, however, you may well have some concerns that are unique to your business.
Having a thorough understanding of what you are looking for can save you time and headaches in the future. Make the list of requirements a working document you can use with each potential supplier to collate the answers and add more as they become apparent.

2. Have you considered a Leased Line?
Unfortunately, every business will suffer from the loss of internet at some point, halting your operations at one or all of your premises. A lack of backup plan for when this happens, will leave you without a vital communications channel.
The main problem with standard business broadband is that it's not covered by any service level agreement. In short, this means that when a problem with the physical wires to your premises arises, the infrastructure provider isn't working to any deadline in terms of restoring the service.
Enter leased lines - essentially internet connections with two main differences.
The first being that in the event of an issue, the provider is working against a legal service agreement that ensures they will be working on a fix within a short time. The usual SLA for a leased line is around 4 hours, but, we advise on the edge of caution as there's no guarantee of a fix in that time. However, the majority of faults are minor, getting you back online as soon as possible.
The second difference is that a leased line offers guaranteed speeds and bandwidths. You will hear terminology like 100MB on a 100MB bearer or 100MB on a 1GB bearer. The former is often cheaper but the latter gives you scope to increase your bandwidth at a later date if needed.
Leased Line costs have greatly reduced in the last few months, making it a good avenue to explore.
3. What are the options when the internet is lost?
Even if you have chosen a Leased Line, you could still experience internet outages at one or all of your business premises so the solution you choose needs to have options to cover the crisis.
A valid option here is to have a 4G backup connection on the premises network that can prioritise VOIP traffic when needed. This solution is more about your general network resilience than the options provided by the telecoms system itself.
For example, if the telecoms system has a mobile app then calls can be directed to mobile in the event of an outage.
As the VOIP system is likely to be cloud hosted you can also relocate key staff to different premises in the event of issues. One point to consider with this is that the Telecoms system you select allows for people to log into the same system from different offices.
4. What does the contract look like?
Switching to a new provider is a big step and ideally, you want to keep yourself as flexible as possible when it comes to contract lengths.
VOIP systems more often than not require new hardware. This could be due to compatibility issues but usually it's so businesses gain the increased functionality from the new handsets.
It is usual for this to be rolled up into a monthly costs so as to not burden a business with a large capital outlay. By doing this the provider will need to lock you into a contract length to cover the finance.
In an ideal world the business would buy the hardware upfront and then seek a rolling 30-day contract for the system from the provider, however, this is a rarity. A 3 year contract is fairly standard but more commonly now, certain providers are offering 5 year contracts, allowing them to amortise the hardware costs over a longer period, making them appear more competitive.
This means the business is effectively paying more for the finance over the longer term whilst also locking you in for a longer period.
Alongside contract length, you need to be mindful of how providers react to additional lines and hardware that is added as your business grows.
Although not as common, in the past, providers have been guilty of increasing costs and contract lengths based on any add-ons that come as you require them.
Whilst this was prevalent in days-of-old, it is still worth asking the questions to ensure you are not having to increase your contract length thus locking yourself in forever as your business requires additional items.
A good provider will allow you to increase and reduce your system specifics with an adjusted monthly cost without increasing the length of the original contract.
5. Is the proposed system scalable?
Some businesses are trying to grow whereas others are trying to maintain current levels. One of the biggest points to consider when selecting a telecoms system is how scalable it is. As your requirements change, you don't want to have to replace your system because of a hard limit on capacity.
Most VOIP systems will allow for changes in requirements with the main issue being around limitation imposed through the contract. You are likely to be using the selected telephone system for up to 5 years so you need to ensure it will support the growth you are planning within that timeframe.
6. Are you paying for usage or user?
A lot of VOIP systems are charged on a per-user, per-month basis with bundled minutes attached to some users and not others. This can lead to complicated billing that never seems to benefit the business and to ever-increasing monthly costs as users are added.
We recommend paying on a usage basis where a system is seen as a single entity with bundled minutes that can be used by anyone. A usage based system is limited only by the number of concurrent calls that can be made at any one time. This limit is imposed by the number of SIP trunks (lines) you have allocated to your system.
In the "per user" costing model a business is always reluctant to increase the number of users because of the increased costs associated, so, staff that don't often make outbound calls are not issued with a seat.
This is severely limiting on the usefulness of the system.
The "usage" model creates the ideal solution in that it allows for increases in the number of lines when needed but with no costs attached for additional hardware.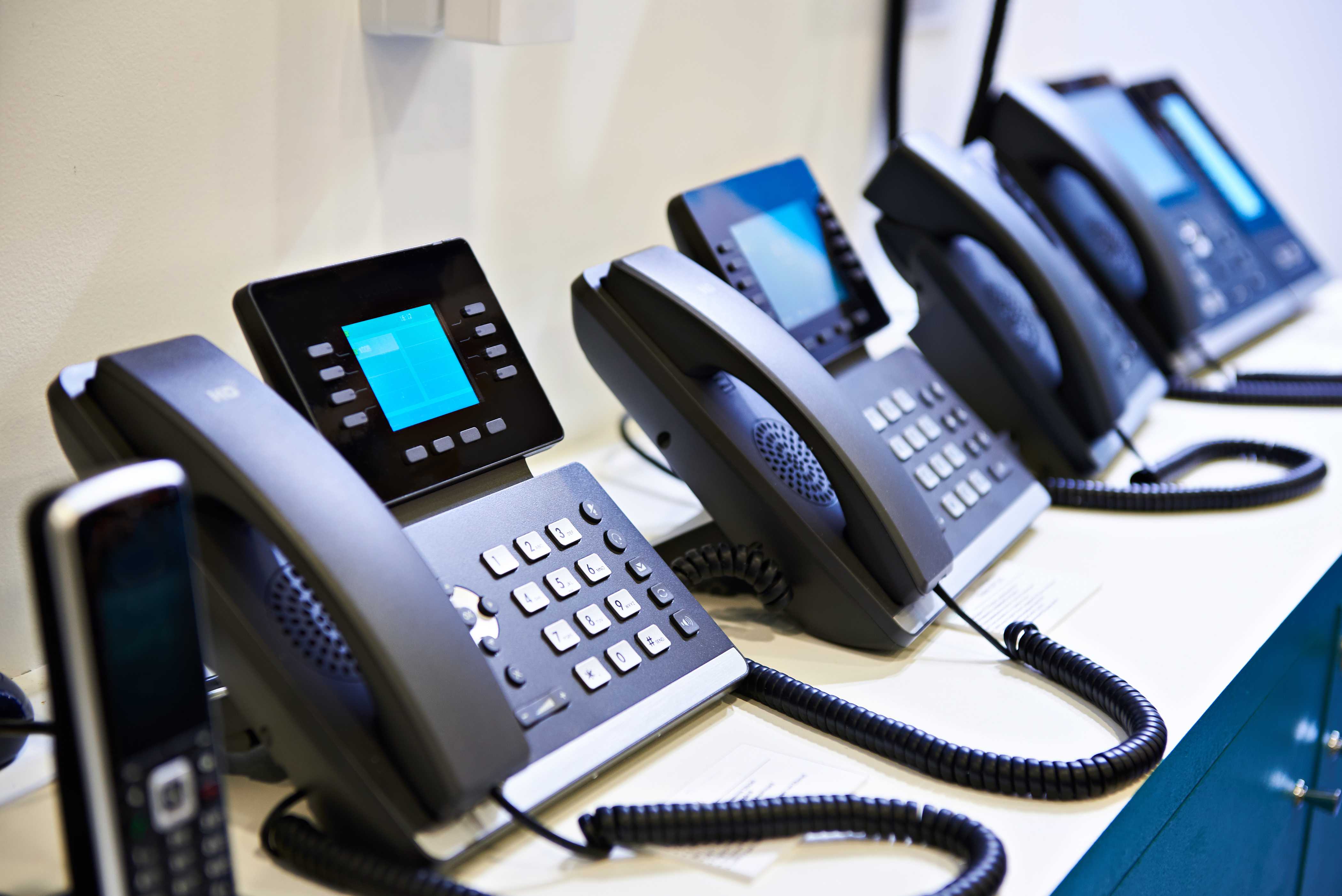 7. Who's actually supporting your telecoms system?
Telecoms providers are tiered in terms of service providers and resellers.

The majority of telecoms providers are simply reselling someone else's system and don't have a great deal of in-house expertise. This can lead to the ever common excuse "there is a problem with the upstream provider" when an issue is experienced. This means the buck of the problem is passed to someone further up the chain.
All telecoms providers do eventually lead back to a handful of large players who manage the SIP Trunks (lines) so sometimes it genuinely is a problem at this level. However, if you have partners with a low level reseller, you will hear this a lot.
The ideal is to find a Telecoms provider who offers a hosted VOIP system that they have complete authority over and support properly. This means they are in full control and as you are their direct customer, more care is provided.
8. Is there adequate redundancy if something breaks?
As with the above, it is better to be dealing with a telecoms provider who runs the hosted system on your behalf, allowing you to ask them the question directly about system failure, if it happens.
The answer you should expect to hear is that the system is fully backed up and mirrored onto another platform so in the event of an issue, it is automatically switched over with the absolute minimum amount of downtime.
Outside of this, you need to ensure you have the training and capability to redirect calls where the need arises. False promises can be made about minimal problems, but being prepared is a must for any business concerned with customer service.
9. How useable is the software?
VoIP systems come with web-based interfaces, Apps and soft phones. This means that in some instances you won't even need any hardware to access and use the phone system.
You need to ensure the software driving your selected options is intuitive and easy to use. Many systems boast a long list of features but the usability of the software varies massively.
The key point is to ensure the provider offers training and access to a demo system to ensure you can "try before you buy".
10. Can you integrate with other systems?
The final point to cover is integration.
Software is advancing in all areas of business and the need to be able to report centrally and in real time is now a must.
Any solution selected needs to be tested for integration capabilities. Most VoIP telephony software has the option to do this but the ideal provider will offer you full access to all data directly through an API or to the database behind the system directly.
The goal is to find a telecoms provider that hosts the system themselves with in-house software development resources, creating access to any or all information held within the system.
How can we help?
Netmatters are a self-hosting Telecoms provider with packages we have developed to meet the needs of our clients.
We offer short contract lengths and work hard to ensure we retain customers through clear billing and exceptional customer service as opposed to contractual obligations.
If you are considering a new telecoms system or just have a question then please get in touch as we are only too happy to help. You can call us on 01603 515007 or fill in the form below.