Posted by Netmatters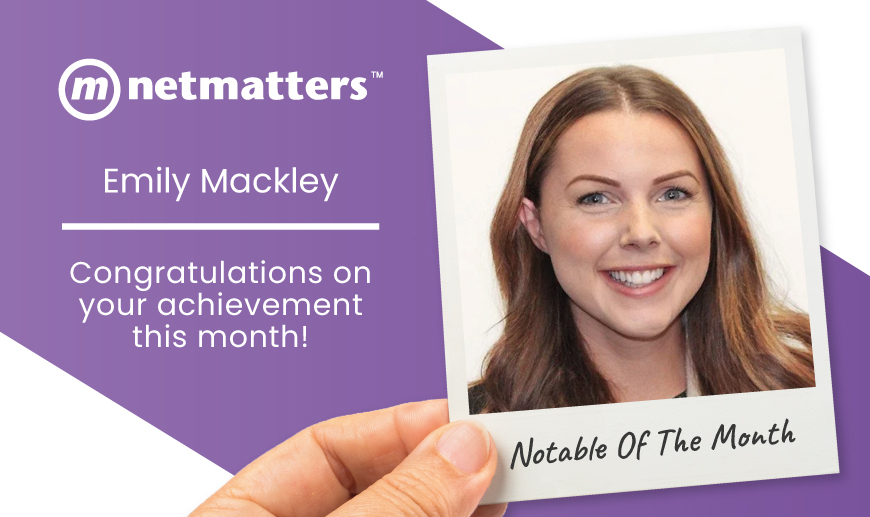 Each month, various departments recognize those employees who have excelled in their work and helped Netmatters deliver excellent service to our clients. Our T.R.U.E values are how we started as a company, and we continue to strive to uphold these values as we continue to grow. August was another busy month for us, and this month we celebrate our notable employees for their hard work and dedication.
Our teams have continued to meet and exceed our expectations, driving results both internally and externally. As a company, we love to celebrate each success to ensure that every employee gets the recognition they deserve.
Congratulations Emily Mackley
Managed a series of very challenging projects with alacrity whilst offering excellent cover during the holiday period – always instills confidence when you know she is running a project - Elliott Peacock
Our August 2022 Notables
Kieran Sprouse - Kieran is a consummate professional, every interaction I have had with him has been efficient, to the point and well thought out. Great member of the team, and gets things completed to a high standard. A safe pair of hands who projects confidence in a calm and polite manner. - Chris Gulliver

---
Courtney Noel - She has a great attitude, happy to take on new things, and always available to get stuck in and lend a hand. A team player. – Chris Gulliver
---
James Street - James is great, methodical, courteous and tenacious in getting things done within the operations department. Always happy to help and takes ownership and manages his responsibilities really well. – Chris Gulliver
---
Jay Horton – Jay is incredibly hardworking, positive, and one of the smartest dressed people I know! Always happy to help out new starters, and working hard on his targets, what more could we ask for? Keep it up Jay! – Bethany Shakespeare

---
Rebecca Moore – Becky quickly picked up the main responsibilities of the Receptionist role with little training and has been willing to turn her hand to any task required by the team. Thank you for the support Becky – James Street
---
Dieter Harper – very knowledgeable and a pleasure to work with. – James Gulliver

---
Elliot Norman – doing a great job picking up new responsibilities and managing large accounts – James Gulliver

---
Emily Mackley - Emily has been working really closely with Mike to deliver a large project and between the two of them they really went above and beyond with early starts and late finishes to help achieve a customer's planned site launch in their non-peak times. – Tom Lancaster

---
Jim Palmer – doing an excellent job managing the digital department. – Elliott Peacock

---
Matt Wastell – doing an excellent job growing and steering the Cambridge office. Keen to learn, takes feedback well and strives to do the best for all his clients with a can-do attitude. – Elliott Peacock
---
Michael Grimshaw – A challenging month for Michael, juggling his teams needs, a complex project with limited time constraints and changing priorities. Mike has risen to the challenge and worked incredibly hard to deliver a solid result for all! – Simon Wright

---
A huge congratulations to all of those nominated for our August notables - keep up the brilliant standard of work! The Notable Employee Scheme is just one of a range of benefits here at Netmatters, available to all employees.

If you would like to be a part of our fantastic team and be in the running for some extra treats each month, view our open job vacancies today; We're currently on the lookout for intelligent, motivated individuals to join our ever-growing team!
You can always contact us via the form below, or ring us on 01603 704020 today.