August 2019 Notable Employee

Posted by Netmatters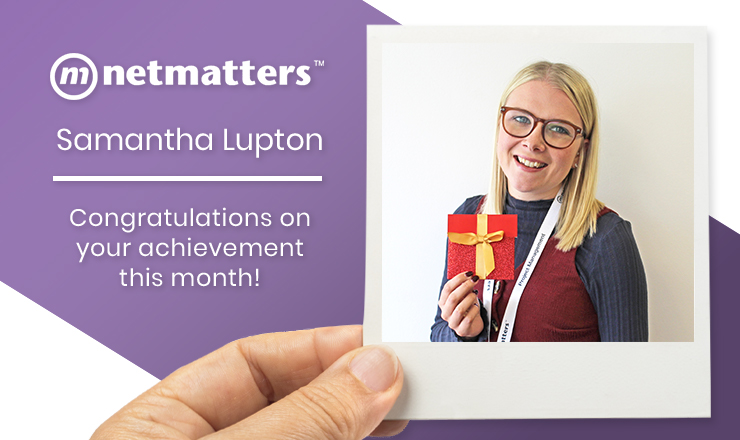 It's the beginning of September which means only one thing here at Netmatters - announcing the winner of "Notable of Notable Employees" for August 2019. This award is given to a single employee who has exceeded expectations in their day to day role or has been influential in the company's success during the previous month.
Every department manager is asked to nominate an employee from their department, who they feel has done exceptionally well during the course of the previous month. Each one of these employees is then considered as a candidate for this award.
The Notable of Notables is presented to a member of staff who has been been doing an excellent job all round working on a demanding project. This month's Notable of Notables is awarded to Samantha Lupton
The Most Notable of Notable Employees
Samantha Lupton
Sam is an asset to the PM department, she has successfully picked up the reigns when covering for Tom. Good team player and effective Project Manager :) - Chris Gulliver

Samantha Lupton - 'Sam continues to excel at managing some very large projects with finesse and alacrity' – James Gulliver
This Month's Other Notable Employee Nominations:
Lewis Wilby - He's done an amazing job making himself available to help new guys in the team get up to speed and run up on the projects they're working on. He's always willing to help, and does so in such an effective way. – Josh Ralph

---
Lewie Carton & Holly Leech – doing a fantastic job of managing our marketing. The results keep coming and a strategic structured approach is evident in all activities undertaken. – James Gulliver
---
Rob Edmonds - I've been really impressed with how quickly Rob has found his feet in Kayleigh's team. Having looked at some of his work, you'd never know he's only been in the team a few weeks! – Josh Ralph
---
Chris Raby – I have been really impressed with Chris' attention to detail and his ambition to do the best for the customer's needs ahead of today's system Go Live. He has shown some great initiative with a large client, and has really immersed himself into their business to ensure his work is always going to achieve the best and most efficient outcome for them. – Josh Ralph
---
James Mackay – Going above and beyond with looking after his key projects. Making sure we deliver on our values and acting in our clients best interests at all times. – James Gulliver
---
Lewie Carton - Lewie has work hard to not only advance his Digital Marketing understanding, but ensuring he is using his new found knowledge into improving his client accounts performance, taking into consideration their objective and how best to achieve these. As a result he's managed to please our toughest customer… Netmatters! – Lydia Whitney
---
Chris & Samantha - I'd like to nominate Chris Raby and Samantha Lupton. A recent go live project has been handle very well from the whole team. Chris has gotten very involved with the customer and has applied the knowledge gained to the system in a very thoughtful manner. Samantha has also managed to assist in the launch amongst several other deadlines for very large projects. Well done both, keep up the great work! – Adam Greer
---
Daniel Burton - Constantly gets positive feedback from clients with the great service he is providing to clients. Daniel is also doing a great job in helping his colleagues and happy to take on more work. Great work Daniel! – Robert George.
---
We like to show our appreciation to all nominees of this month's Notables award! A huge congratulations to all of those nominated for August, keep up the brilliant standard of work! The Notable Employee Scheme is just one of a range of benefits here at Netmatters, available to all employees.

If you would like to be a part of our fantastic team and be in the running for some extra treats each month, view our open job vacancies today; we're always on the scout for intelligent, motivated individuals to join our ever-increasing team! You can always contact us via the form below, or ring us on 01603 515007 today.