Posted by Netmatters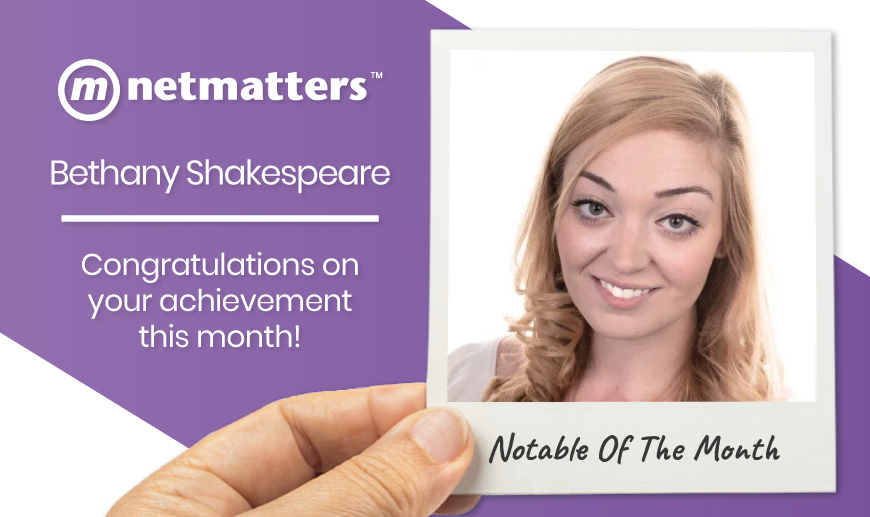 Every month we celebrate the most notable of employees here at Netmatters. Each department head is asked to nominate individuals they feel have gone above and beyond in the previous month. We have continued to see some fantastic examples of notable worthy behaviour again this month with staff doing their utmost to continue to deliver at every turn.

We saw some fantastic work in August and particularly from our most notable of employees who has had an amazing 2021 so far. This month we celebrate a team member who continues to progress recruitment for the company, as well as being a team player going above and beyond on a regular basis.
The Most Notable of Notable Employees
Bethany Shakespeare
A continued effort with progressing recruitment for the company, which is manic. She is a team player and goes above and beyond on a regular basis. She is growing into the HR role enhancing how that department works and bringing her own style to the process. She is making everyone feel welcome, checking in on new recruits and being available to all staff to answer any questions/queries. Excellent work Bethany, you are a star! - Chris Gulliver
Congratulations on your achievement Bethany!

This month's other notable employees are:
Pete Holmes - has stepped up to tricky issues with a Sage Integration, including liaising with the Sage Provider and customer when other developers were not available for assistance. – Simon Wright

---
Michael Grimshaw - Michael has been doing some great work as technical lead on his projects recently and is really bringing the team that are working on them along in the process. – Tom Lancaster
---
Emily Mackley - Emily has been doing some stellar work with her projects lately, keeping customers updated and engaged and ensuring work is being delivered in a timely fashion. – Tom Lancaster
---
Zach Gilbert - Zach has been helping out with some work in another pod over the last few weeks and has done a great job helping out the team and delivering his part of the work. – Tom Lancaster

---
Mark Reilly – doing a great job building a dynamic New Business team. Imparting wisdom and bringing the team along with him. Lots of passion and enthusiasm, well done. – James Gulliver
---
Joe Trower – tenaciously approaching the Brobdingnagian task of developing Netmatters Telecom into a stand-alone sector. – James Gulliver
---
James Mackay – special mention is due for the development of a sweet piece of tech to help us better support our digital customers. Ask him about it as its very cool. – James Gulliver
---
Elliot Norman – Elliot has really hit the ground running since joining the Netmatters team with him receiving praise from a client in his first week! – Lydia Whitney

---
Alex Jones – a pure problem solver, incredibly proactive and helpful, incredibly knowledgeable on his sector, an absolute asset to the team! - Elliott Peacock

---
Mark Reilly – really bringing the team along, seeing more consistent results spread across the wider team, good results from good management. - Elliott Peacock

---
Bethany Shakespeare – doing a stellar job in one of the most diverse and challenging roles, managing the fast-paced recruitment of a growing business with alacrity. – Elliott Peacock
---
Matt Hurst – taking on the new Pod Leader role, a solid pair of hands always exceeding expectations, a joy to work with. - Elliott Peacock
---
Bradley Sexton - always putting his hand up to help resolve clients issues providing exceptional customer service. Bradley is always at the top of calls made and received ensuring he is updating clients about the status of his task. – Robert George
---
Elliot Tarling - a real team player. Always about to help if needed, offering to help resolve issues outside of normal hours. A real asset to the team. – Robert George
---
Leon Burnham - really stepping up to the plate in managing the team and taking on more responsibility whilst proving the best advice to clients on their IT infrastructure. – Robert George

---
Cory Rogers - not only has he been providing customers with excellent service and being promoted to 2nd Line. He also pushed past the Scorpion Disco and made it to The Last Dab! Hero. – Adam Greer

---
Maxwell Jermy - stepping up and taking on work outside of his comfort zone to help meet customer deadlines. – Simon Wright
We would like to show our appreciation to all nominees of this month's Notables award! A huge congratulations to all of those nominated for August, keep up the brilliant standard of work! The Notable Employee Scheme is just one of a range of benefits here at Netmatters, available to all employees.

If you would like to be a part of our fantastic team and be in the running for some extra treats each month, view our open job vacancies today; We're always on the lookout for intelligent, motivated individuals to join our ever-increasing team! You can always contact us via the form below, or ring us on 01603 704020 today.