August 2020 Notable Employee

Posted by Netmatters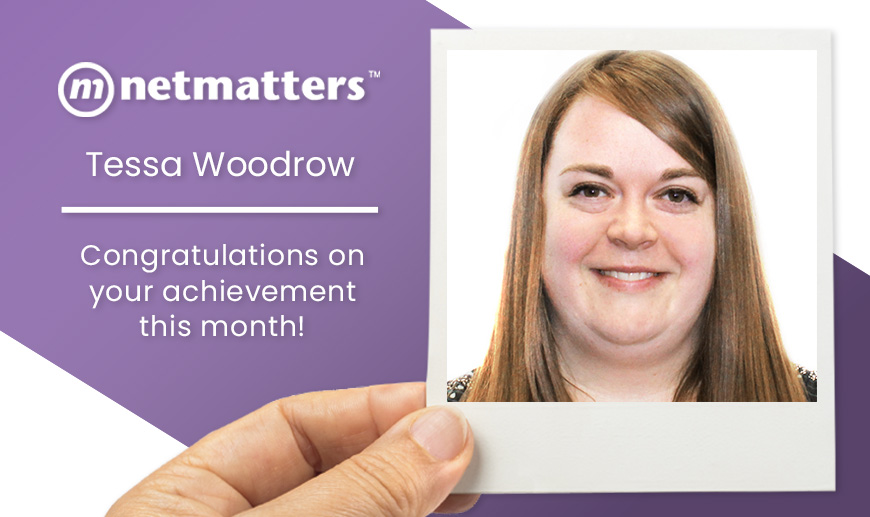 Every month we award one member of staff the "Notable of Notable Employees". This award is given to a single employee who has gone above and beyond during the previous month. They have exceeded expectations in their day to day role or have been influential in the company's success.
Every department manager is asked to nominate an employee from their department, who they feel has done exceptionally well during the course of the previous month. Each one of these employees is then considered as a candidate for this award. As the world begins to return to some kind of normality, our team all continue to adapt and deliver at the very highest levels. As ever, our notable nominees have stood out from the crowd and gone above and beyond.
Our Notable of Notables in August wears many hats and has received nominations based on the work she does under more than one of them! This month's Notable of Notables is awarded to Tessa Woodrow!
The Most Notable of Notable Employees
Tessa Woodrow
"Threefold nomination this month; firstly for being instrumental in us winning the prestigious Princess Royal Training Award, secondly for getting the grant funded "Innovative Projects" project off the ground and, last but not least, continuing to manage web & Scion projects with alacrity. (not sure what she does after lunch though ????) well done!" - James Gulliver
"Doing an amazing job running the very testing TVC project, very high quality work in demanding circumstances that continue to surpass client expectations." – Elliott Peacock
This month's other notable nominees:
Dieter Harper – Doing an excellent job. – Chris Gulliver.
---
Ruth Edwards – Ruth has been working hard and is really starting to shine. Keep it up Ruth! – Chris Gulliver
---
Elliot Tarling – Working at a higher level now and owning the tasks that are assigned to him. – Chris Gulliver
---
Matt Hurst – Matt has been incredibly helpful on projects I've been covering and also in ensuring Craig settles in the PM role by being on hand for well given advice on the projects they work on together, he is also doing a fantastic job on the customer service delivery aspect and always looking to add value with suggestions or recommendations on work we're doing. – Tom Lancaster
---
Kayleigh Hall - Kayleigh has put in a tremendous amount of work to ensure a customer can hit their deadline. It was an amazing effort, well done Kayleigh! – Adam Greer
---
Robert Hitchcock - Robert is the silent assassin of the team, going about his business ensuring the best quality hour is provided to the client. Never one to jump up and down about the good work he does, Robert has developed to an all-round technician that is starting to take on more advanced work. In addition to this, Robert has also made himself available to help his peers so they are able to develop their skills and knowledge. – Robert George
---
Prince Iype - Although being with the company a short while, Prince has shown that he has fantastic customer service skills and always being the first to pick up the calls coming into the department along with bonding with his team mates. Really looking at seeing how he develops with us moving forward. – Robert George
---
Anesu Mutsau – Anesu has hit the ground running since coming back from furlough and has put the knowledge he's learnt from his training during this time into practice. Not only is he beginning to manage his own SEO clients, but he's providing valued support for the rest of the Digital team ensuring that the works we're completing for our clients are to the highest quality and help reach the clients overarching objectives. – Lydia Whitney
---
Jamie Sutherland & Joe Trower – both have found a terrific vein of form and have been surpassing their individual targets consistently, securing some really excellent quality and notable clients. – Elliott Peacock
---
Dieter Harper – putting in a hell of a shift, still hearing only exceptional feedback from him particularly on the ZSEA work. – Elliott Peacock
---
Kayleigh Hall – doing an amazing job running the very testing TVC project, very high quality work in demanding circumstances that continue to surpass client expectations. – Elliott Peacock
---
Ashley Ward – Putting in a solid diligent shift working on some very large projects with challenging deadlines – James Gulliver
---
James Mackay – Continuing to do a great job managing some very large projects. Positive feedback from two separate customers this week alone – James Gulliver
---
Aaron Cook – New starter bringing a positive attitude and really engaging with Netmatters. Positive feedback from a client in a tricky situation already, well done! – James Gulliver
---
Michael Grimshaw - Picking up and owning several out of hours issues, dealing with them effectively and keeping excellent communication with the team. Great work! - Simon Wright
---
Chris Raby - Working hard to pick up the slack for managing the squad, spinning a lot more plates than he's used to and keeping his head above the water. - Simon Wright
---
We would like to show our appreciation to all nominees of this month's Notables award! A huge congratulations to all of those nominated for August, keep up the brilliant standard of work! The Notable Employee Scheme is just one of a range of benefits here at Netmatters, available to all employees.
If you would like to be a part of our fantastic team and be in the running for some extra treats each month, view our open job vacancies today; We're always on the lookout for intelligent, motivated individuals to join our ever-increasing team! You can always contact us via the form below, or ring us on 01603 515007 today.