Posted by Netmatters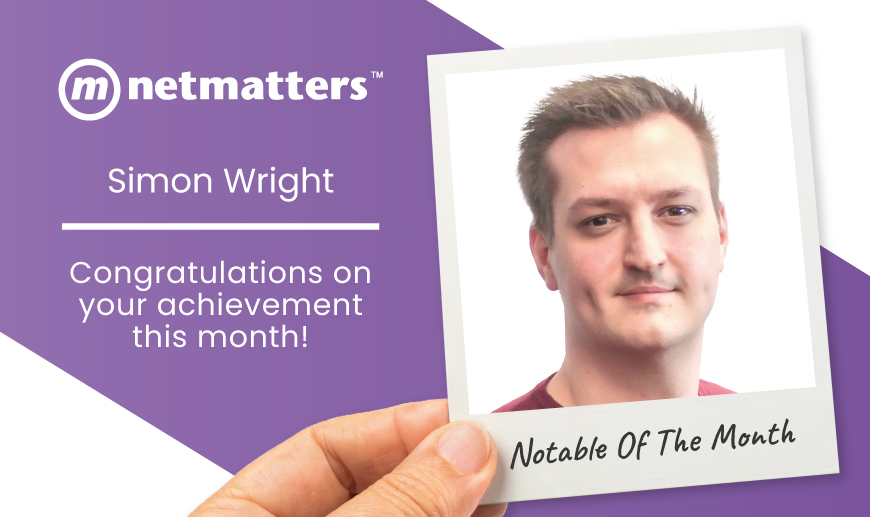 Recognition and celebration is always important within our team, which is why each month we take great pleasure in celebrating the success of our notable employees. At Netmatters, our teams are constantly and consistently exceeding our expectations, delivering fantastic results both internally and externally. So far this year we have seen some outstanding results across each department and the feedback that we gauge never goes amiss. Our employees are at the forefront of our business and recognising them for their hard work is crucial to our T.R.U.E Values.
With Mental Health Awareness Week taking place in the UK between the 9th – 15th of May, we believe recognition for going the extra mile is important. Throughout the week at Netmatters we will be encouraging the build of meaningful relationships and connections both within the workplace, and out. Each day we will be focusing on a different topic of discussion with the team by running events to aid the conversation.
Each month at Netmatters, we recognise and celebrate those individuals of each department who go above and beyond the call of duty. April was no different, see our April notables below:
Simon Wright
Doing a terrific job of managing a complex and intense switchover for a large client. Very challenging project but a good result was achieved - James Gulliver
Simon Wright and Adam Greer - They've both been pillars of support for me since I started here, and especially so over the last few weeks with the recent SAP launch. They're always there to help or assist in any way they can, and it is very very much appreciated. – Ashley Ward
Simon Wright and Ash Ward– Simon and Ash have been absolute machines getting through tasks in the lead up to the SAP launch project and overall just doing a fantastic job to help us deliver a very complex launch over the bank holiday weekend whilst minimizing issues. They both gave up their bank holiday weekends to ensure we did a fantastic job for the customer and as the project manager I saw first-hand what a brilliant job they did to ensure a steady transition over from NAV to SAP. Really well done chaps. – Tom Lancaster
Simon Wright & Ashley Ward – doing a terrific job of managing a complex and intense switchover for a large client. Very challenging project but a good result was achieved. – James Gulliver
Simon Wright, Keenan Teolis and Ash Ward - This Bank Holiday weekend saw the go live for a large client and their SAP system. The guys put in a tremendous amount of effort over the entire weekend, including working past 1am on the Friday to make sure it went as smoothly as possible. The customer has been really happy with the response from the team and the launch was successful and saw their legacy system of 10 years turned off. Fantastic effort from all of them! – Adam Greer

Congratulations on your achievement this month Simon!
This month's other notable employees are:
Adam Jaggs – Adam is always really helpful. He works hard and has a strong work ethic, really sticking to the Netmatters TRUE Values. Setting up new employees can have its challenges working with new equipment, logins and various licences, but Adam is always on hand to quickly resolve these and ensure we have the best first impressions for anyone coming into Netmatters! – Bethany Shakespeare

---
Elliot Norman – Elliot's attention to detail to his client work and pod management is exceptional, and he continues to be a highly valued member of the Netmatters team. – Lydia Whitney

---
Alex Hall – hitting the ground running and delivering strong results with the promise of more to come. - James Gulliver

---
Gary Cullen – Working very hard to deliver consistently and above expectation. Well done - James Gulliver
---
Alex Jones – Being a force of positivity and getting projects progressed with no fuss or drama. - James Gulliver

---
Matt Reynolds - for his hard work on the Organisational Charts Project. Matt produced quality work within a short timeframe and despite there being frequent changes due to new staff members joining. – James Street

---
Rob Anthony - Rob has been super helpful in his role as Tech Lead; he has helped to explain things in a detailed and educational way to the developers assisting on the project. He has been extremely helpful in communicating with the PM and get required information to keep tasks moving and ensuring everyone is aware of what is required, and the customer is getting the work they desire. – Simon Wright

---
Ash Ward – Putting in serious hours over the bank holiday weekend for the SAP Go Live, keeping cool, calm and collected in the face of a very high-pressure go live. Thank you, Ash! – Simon Wright
---
Keenan Teolis – Every week impresses us with his knowledge, ability to turn his hand to anything, approach to new technology and work ethic. Really helped on the SAP project coming in partway through on tasks that had already been worked on. – Simon Wright

---
Remon Jansen of Lorkeers - hitting the ground running since moving over to client work, not afraid to ask questions and get stuck in! – Simon Wright

---
Michael Grimshaw & Josh Ralph – Grabbing hold of recruitment whilst I've been unavailable and owning it, keeping me in the loop and up to date. Great work guys, thank you. – Simon Wright

---
Adam Greer – Being an absolute hero over the weekend of the SAP go live. Making himself available for any issues, getting involved in late night coding sessions to get us over the line. Thank you, Adam. – Simon Wright

---
Ashley Readman-Thorley - For being a testing trooper the last month and accidentally revealing he has an accounting degree which has proven very useful testing Sage integrations– Simon Wright

---
Lewis Wilby - doing an incredible job of managing the very tricky projects and go lives– Simon Wright

---
Luke Keable - Doing a great job in balancing the ever-demanding process of stock management and the departments administrative duties. Luke has settled in well and got to grips with our admin system quickly and looks like he has been using it for years! – Robert George
---
Adam Jaggs - Mr Reliable! Never gets fazed, always happy to help and doing a great job. Approaches everything in a friendly manner along with developing his technical skills. - Robert George

---
Keenan Teolis – Keenan has also been absolutely instrumental in getting the SAP project in place and had volunteered to put in some serious overtime to help us deliver the project on time. - Tom Lancaster
---
Adam Greer – Adam worked really closely with Simon and Ash over the bank holiday weekend on the SAP project and worked to ensure everything was on track and had his steer from a technical perspective whenever required. - Tom Lancaster

---
Alex Hall – had an excellent start to life at NM, secured some excellent new business and really growing into the role. – Elliott Peacock
---
Lewis Wilby – a true asset to Netmatters, fantastic work ethic and never fails to deliver incredible value on every project he is involved in. – Elliott Peacock

---
Rebecca Brine – has adopted a really positive can do attitude and is overcoming problems with a real a real alacrity. – Elliott Peacock

We would like to show our appreciation to all the nominees of this month's Notables award! A huge congratulations to all of those nominated for April, keep up the brilliant standard of work! The Notable Employee Scheme is just one of a range of benefits here at Netmatters, available to all employees.

If you would like to be a part of our fantastic team and be in the running for some extra treats each month, view our open job vacancies today; We're always on the lookout for intelligent, motivated individuals to join our ever-growing team! You can always contact us via the form below, or ring us on 01603 704020 today.