April 2019 Notable Employees

Posted by Netmatters

The start of another month means only one thing here at Netmatters - announcing the winner of "Notable of Notable Employees" for April. This award is given to a single employee who has thrived in their day to day role or has been instrumental in the company's success during the previous month.
Every department manager is asked to nominate an employee from their department, who they feel has done exceptionally well during the course of the previous month. Each one of these employees is then considered as a candidate for this award.

The Notable of Notables is presented to a member of staff who has been been doing an excellent job all round working on a demanding project. This month's Notable of Notables is awarded to Faizel Desai.
The Most Notable of Notable Employees
Faizel Desai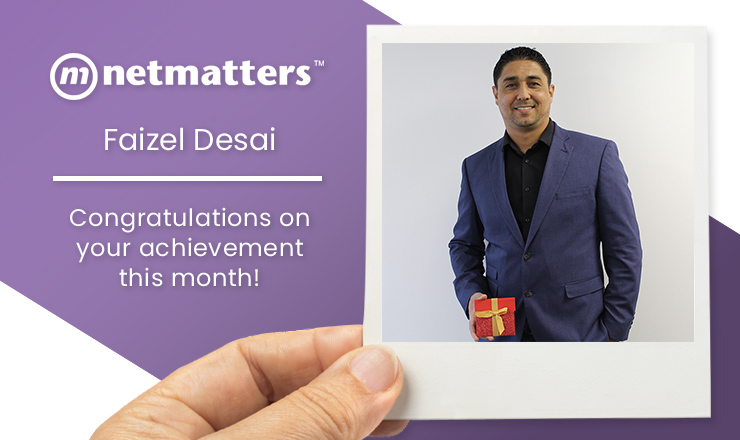 His performances over the last few months have been nothing short of inspirational. He is consistently delivering above his targets, managing and surpassing both revenue and Scion goals. He is a really positive force for Netmatters, gets involved and engaged with lots of extra-curricular activities and initiates, and is always striving to improve. True team player and an absolute work horse – Elliott Peacock
Frank Desai - 'Though his football skills are suspect, he has delivered some significant projects as of late and had been a mainstay of the business development team' – James Gulliver
This Month's Other Notable Employee Nominations:
Matt Hurst – For constantly giving exceptional customer service along with doing what is best for the client. Matt constantly gets great feedback from our clients in providing a great end to end experience for clients. – Rob George
---
Chris Waldie – Always happy to assist and train his colleague when they need assistance on project work which is outside of his POD. Chris has a great teamwork ethic and is always happy to stay to get the job done. - Rob George
---
Rob Gray – Good work on managing the bulk of the IT clients and helping with training. Fully embracing the new Estimate format which has been instrumental in developing some great leads. – James Gulliver
---
Lewis Wilby – I'd like to nominate Lewis Wilby. On top of his excellent development skills, he's shown a great talent in bringing junior developers along with him. Often asking their advice on ideas for designs, or showing them how to solve something he's recently come across. – Adam Greer
---
Sanchia Clinton & Holly Leech – Since joining the Digital team in mid-March they both deserve recognition for the fantastic efforts they've made to not only learn the way Netmatters works, but getting to understand our clients and their marketing objectives with both taking ownership of their works for client accounts. Well done & keep up the good work! – Lydia Whitney
---
Matt Hird - Doing a great job on Aston Shaw, greatly increasing the amount of leads they receive when compared to the previous year and making their director incredibly happy. - Jim Palmer
---
Abigail Brown - Is doing a fantastic job managing her accounts, communicating with them well and ensuring they are kept fully abreast of the currently plan of action on the account. – Jim Palmer
---
Peter Holmes – Really impressed with the way he has managed the recent RPC work within such a short timeframe. He's clearly been focused on the customers objectives, and has been a massive help to others working on the project. – Josh Ralph

---
Edmund Morron – I can literally throw anything at Ed and he'll give it his best. I've been really impressed with his approach to debugging some really complex processes within TPTracker recently. On top of this he's always keen to learn and won't just accept your answer without fully understanding it. – Josh Ralph
---
We like to show our appreciation to all nominees of this month's Notables award! A huge congratulations to all of those nominated for April, keep up the brilliant standard of work! The Notable Employee Scheme is just one of a range of benefits here at Netmatters, available to all employees.

If you would like to be a part of our fantastic team and be in the running for some extra treats each month, view our open job vacancies today; we're always on the scout for intelligent, motivated individuals to join our ever-increasing team! You can always contact us via the form below, or ring us on 01603 515007 today.