10 Top IT Tips to Keep Your Business Running Smoothly

Posted by Netmatters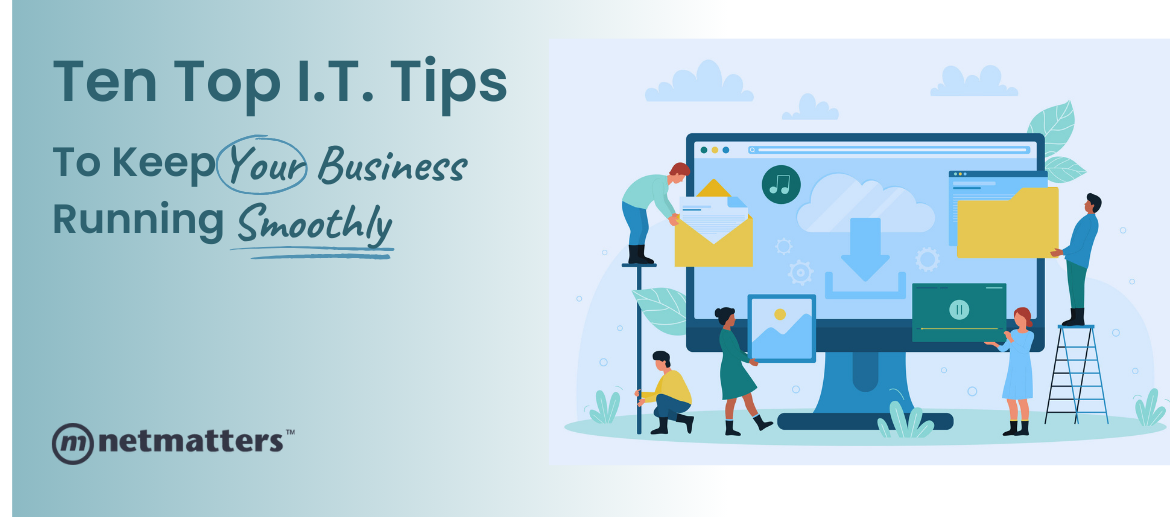 Be Prepared
Be ready for issues, as they will occur. Having a spare PC - completely run up and working perfectly - will prove vital for business continuity. This means turning it on once a week to ensure that any necessary updates are installed and are therefore not pending installation at the point of needing to be used; minimizing any unproductive working time. A business using 5 or more PCs should have this as standard. You will use it!
Don't Store Files Locally
Don't store files on a PC. Ensure all files are stored either in the cloud or on a centrally accessible server. This will help in the event of a machine failure, but is also a good measure to assist with the looming spectre of the new GDPR regulations, coming into force in May 2018.
Keep it Clean
Don't let staff install software that hasn't been pre-approved by your IT technician or team. It might seem like a small problem on the face of it, but unwitting employees can seriously damage your business by downloading vulnerable/unsecure software but are – at the very best – clogging up and consuming valuable memory.
Make Sure You Are Protected
Ensure you have a business grade antivirus solution and that you, or your IT provider, is running periodic scans on your network to establish and address prospective vulnerabilities.
Manage Your Power
Make sure all PCs and servers are surge protected. Power surges are very frequent and require control and management. Make sure your server has a UPS uninterruptible power supply so that - if power is lost - the server can shut down gracefully, limiting potential damaging data loss.
Have Offsite Backups
If you don't have offsite backups, you are immediate very vulnerable in having a critical event, that could – with ease - bankrupt your business. Netmatters will highlight this as a critical issue every time. Without this backup, a business doesn't have a fallback position on which they can rely and everything could be lost.
Don't Get Isolated
Have some connectivity redundancy; don't rely on one sole internet connection. Even if you have a leased line which has a service-level agreement in place - ensuring assured repair - your business could be out of communication for several hours. A good rule of thumb is to work out the cost of a 4 hour outage to your business and weigh this up against the cost of a second line. With the advancement of mobile networks and technology, 4G has become an affordable and viable option.
Plan for the Worst
The most likely reason that your premises can't be used is that there has been a loss of power or connectivity. Consider what you would do in the event of this and write it down. By simply considering this, you already in better shape. Some IT Support providers offer a Disaster Recovery Suite, (an empty fully provisioned office) that you can relocate your business to, in the event of disaster. Whilst you may think this won't happen to you, the number of existing Netmatters customers that have required use of our DR Suite facilities, is indicative of the risk of unexpected – and occasionally prolonged – business downtime.
Don't Under Invest
Trying to 'make do' with a failing piece of IT equipment to save money is always a false economy. The first cost is the wait time - the time you spend waiting for the slow device to load – and the second cost lies in its unreliability. It will always fail at the worst, most inconvenient, times. Then factor in the third cost; IT support during the period in which your hardware is continuing to fail. A rule of thumb is to plan to replace all of your consumable equipment on a 3.5 year change cycle. Work this cost out and set a monthly budget. Netmatters record all IT equipment for a client, calculating the lifespan and provide this budgetary figure for its clients to manage accordingly.
Have Expertise at Hand
Far too often, a business tries to close the proverbial 'stable door', after an avoidable incident has occurred. It's vital your business isn't put in this position. Make sure you have an expert in your corner as soon as possible. Depending on budgets, it's always good to have either a professional offering advice and keeping on top of your IT, or an outsourced agency overseeing all of your IT management. Your IT partner will be best placed to guide you in understanding whether or not your IT systems continue to meet your business requirements. Once you have someone to rely upon; make sure you listen! It's essential that you trust your chosen support partner, so consider this when hiring, and then ensure you take their advice on board or - at the very least - understand their motivation for making any suggestions.
We'd be happy to talk you through our process of fallback contingency plans, ongoing IT infrastructure management and bespoke support offerings.

If you'd like to discuss our services further, or require any additional guidance with maintaining seamless IT support strategies, then please contact us via the form below or ring us on 01603 515007 today.