What You Don't Know About SEO

Posted by Netmatters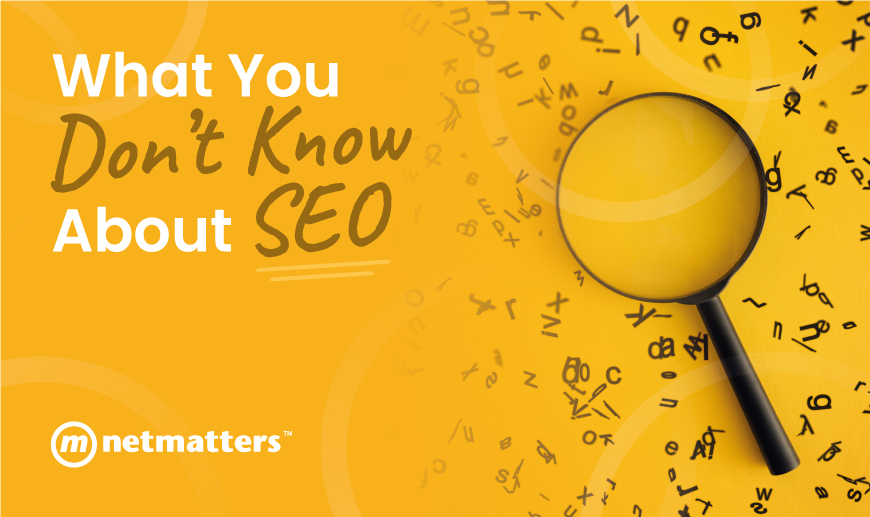 Technology. Competitors. Search Engine Algorithms.
These factors are all inevitably going to be ever changing - which is why it is vital for you to ensure that your Search Engine Optimisation adapts to these. SEO refers to the process of improving your online presence, also known as ranking, within search engines with the aim of being more visible to your in-market target audience.
Many businesses can feel limited on their SEO knowledge which is why it's worth thinking outside of the box in order to progress your organic traffic and turn these into conversions. Our team of experts have pulled together 5 pointers to help expand your knowledge of SEO. These will help you and your brand reap the benefits of the correct techniques for organic ranking.
First Things First, What Really Is SEO?
Well optimised SEO allows you to optimise your website to boost your ranking within search engines. The higher you rank the more visibility, authority, and traffic your site will garner - both with prospective and existing users. Search engines use things called bots or spiders to crawl millions of pages across the internet, collating all the information it finds and indexes these away. The top 4 big players in the search engine game, across the world, are: Google, Bing, Baidu and Yahoo!. According to numerous sources, Google alone accounts for more than 79% of total desktop search traffic.
Google, today, crawls on average 8.9 million pages each day – and increasing.
After the initial crawling, search engines will then use their (ever-changing!) algorithm to analyse the indexed pages. This will rank the order the pages appear in the search results for the user's query.
According to several studies, typically only 25% percent of users go to the second page of the search result. That's a whole 75% percent of users who will only click on a link from the first page. You may have the most amazing website and product/service, but if you are listed on page fourteen for the query – those 75% percent of people will never know of your existence.
Psychologically it is engrained into people that the higher the result on Google – the more credible the site must be. Just like people filtering through bread at the supermarket, because the one in the back is bound to have a longer expiry date… therefore it's not surprising that the first organic result in Google Search has an average click-through rate of between 26% and 32% of clicks.
"90.63% of pages get no organic search traffic from Google." (Ahrefs)
Black Hat vs White Hat SEO
You may have heard of the terms black hat and white hat when people refer to SEO practices, but what exactly does each mean?
Black hat SEO refers to a set of practices used for a website to gain results quickly and to rank higher within a search engine. These tactics and strategies are used by some marketers who want to manipulate the best practice techniques (white hat) to 'cheat' and create a shortcut for quick wins.
Search engine algorithms, for instance Google, are in place to provide users with the best possible results that are related to their searched query. By using black hat SEO techniques these websites are effectively stealing positions from more relevant sites which in turn creates a poor user experience.
Search Engines take black hat SEO tactics very seriously. Websites found to be using these tactics can be issued penalties, be wiped from search engines, or see metrics drop altogether. In addition to this, all the results created through these techniques are also very short lived, making them incredibly pointless to implement! So you need to be very aware of what the person or team responsible for your SEO is doing, as this could hinder your ranking opportunities.
Here are just a few examples of malpractice, black hat, SEO that should be avoided:
Hidden texts or links

Keyword stuffing

Pages with duplicate content

White hat SEO techniques on the other hand are the correct stance for all websites to take. These techniques allow search engines to correctly crawl your site for relevancy and focus on real user experience rather than for the purpose of bots. This ultimately creates a better user experience which is the aim of search engine algorithms – they want users to be presented with only the most relevant sites in order to help answer their query efficiently.
Here are just some examples of white hat SEO techniques that we at Netmatters work on to improve our client's ranking and visibility to their clients:
Improving site speeds
Only including relevant keywords
High quality content, including visuals
Helpful and relevant content
Device friendly both desktop, mobile, and tablet
Improving user experience through navigations and linking
Local SEO
Ever been in a position where you have searched the web for a service, and spent a lot of time on said company's site – to then find out that they are 200 miles away from you? Users want to know who is local to them. Local SEO allows for users to be geographically targeted, and this gives your business the opportunity to rank higher. "XYZ Service near me" is increasingly becoming more and more searched for an array of different products and services, from "Technician near me" to "Italian restaurants near me". Local SEO allows you to appear higher for users inputting these queries into their search.
With the increase in voice searches and the use of voice-controlled personal assistants such as Siri, Alexa, and Google Assistant – local SEO is vital to help you appear before your local competitors.
Organic Competition
SEO is not something that you can throw money at to increase your ranking. You can't buy it, but it can be earned. SEO is a form of organic search ranking different from paid such as PPC where you can pay more to try and outrank your competitors. Due to this it may take more time to see results, however in turn it provides more long-term stability and more relevant users – this will provide you with less bounce and exit rates as your site is relevant to the user's search, increasing your overall credibility.
Importance of Content, Length, and Quality
Search Engines focus primarily on the user, it uses its bots to crawl the most relevant content that communicates what a searcher wants and needs to know. Due to this, there is not an exact desired length that bots consider to be "the best" as each query varies.
If a user is searching for a query that warrants a quick answer then a shorter piece of content is best. If a user is searching for a query that warrants a longer more detailed answer, then a longer piece of content is best. There is not an ideal word count applicable for all pages in order to outsmart the bots.
In addition to this, adding unnecessary copy to a page does not create better authority. Extending copy for the sole purpose of increasing the word count does not benefit you nor your site in any way. Remember – search engines are only looking for the best relevant pages and websites that fit the users query and to increase user experience, not the factor of length!
Let Us Help You
At Netmatters we are leading experts in SEO, with over 100+ clients. Our Digital Marketing team works with a number of different clients across different industries. We adapt to your business needs and goals, working with you to ensure that these are met.
Whether your knowledge is extensive or few and far between, our experts can answer all your questions and show you how shifting your current techniques can obtain the results that you are looking for. If you are interested in our SEO services, get in touch with us by giving us a call on 01603 704020, or by filling out the form below. We would love to be part of your business' SEO journey and show you how you can benefit from this.