What You Can Do With Sharepoint

Posted by Netmatters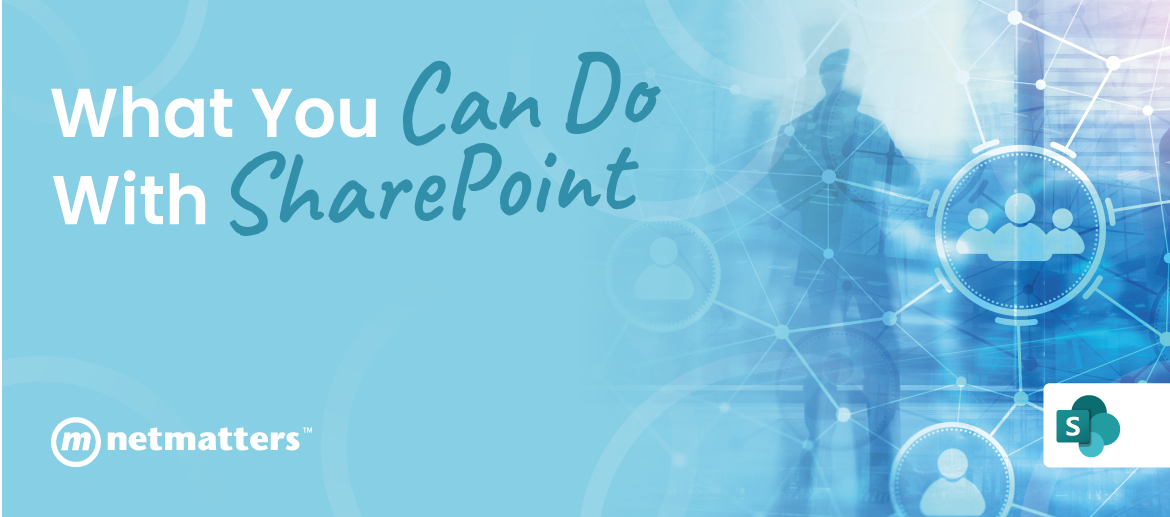 Microsoft SharePoint has become a popular tool for businesses across the UK to collaborate more effectively, improve efficiency and flexibility as well ensure tighter security controls. Businesses that embrace remote working are finding it especially helpful in terms of ensuring an increased level or compliance with regulations like GDPR (General Data Protection Regulation).
Netmatters are certified Microsoft partners who specialise not only on developing your business' intranet but also providing training so you can use this technology at maximum potential.
What is SharePoint?
SharePoint is a web-based platform that can be used for storing, organising and sharing information. It's an ideal solution if you're looking to establish company culture or pull together team projects with ease! In addition - because of its rich features set including customisable views & workflows--Sharepoint makes it easier than ever before possible being more productive in your job at any given time.

Why you should choose Sharepoint? - Collaboration and productivity
In today's workplace, collaboration is more important than ever. With the rise of technology, businesses are now able to connect with employees and customers all over the world. In order to be successful, businesses need to be able to work together seamlessly. That's where collaboration comes in. Collaboration is all about working together towards a common goal.
The COVID-19 pandemic has forced many businesses to allow their employees to work from home. While this arrangement has its benefits, it can also make collaboration more difficult. Thankfully, SharePoint is a tool that can help to overcome these challenges.
SharePoint is a versatile tool that can be used for a variety of purposes. One of its most useful functions is its ability to facilitate collaboration between team members. By creating a central repository for documents, files and communications, SharePoint makes it easy for team members to stay up-to-date on the latest developments. Along with their project managers that can quickly see which tasks are behind schedule and need to be prioritised.
In addition, the ability to share calendars and create searchable content makes it easier to coordinate different tasks. As a result, SharePoint is an essential tool for any team that wants to improve its collaboration and communication.
Personalisation & Integration
SharePoint offers a number of personalisation features that allow users to tailor the interface to their own needs. For example, users can change the layout of their SharePoint home page, as well as the colours and font styles used throughout the site. This personalisation makes SharePoint more user-friendly and ensures that users can easily find the information they need. In addition, personalisation can also help to improve productivity by making it easier for users to access the tools and information they need on a daily basis. As a result, personalisation is an important feature of SharePoint that can benefit both individuals and organisations.
One of the great things about SharePoint is its integration capabilities. It can be easily integrated with a wide variety of software applications, including CRM, ERP, and project management tools. This customisation can help to improve efficiency and productivity by allowing users to access all of the information they need from one central location. integration can also help to reduce redundancies and errors, as well as streamline processes. In short, integration is one of the key features that makes SharePoint so powerful and popular. When it comes to choosing a platform for your business, integration should be one of your top considerations.

Data Security
One of the main concerns when it comes to data sharing is data security. You don't have to worry about data security when using SharePoint. SharePoint has robust data encryption and cloud backup to keep your data safe and secure. All your documents and communications are secure. You can collaborate with other team members and share documents inside or outside your organisation without any worries. SharePoint is a secure platform that you can trust with your data.
In Summary
If you're looking for a way to store, organise and share work with your team, SharePoint may be the solution you're looking for. As a scalable platform, it can grow with your business and ensure that all of your needs are met. With years of experience in developing SharePoint solutions, Netmatters are the perfect partner to help you get the most out of this powerful software. Contact us today to boost your business' productivity.