Timeline To ISDN Switch Off - What Does This Mean To You?

Posted by Joe Trower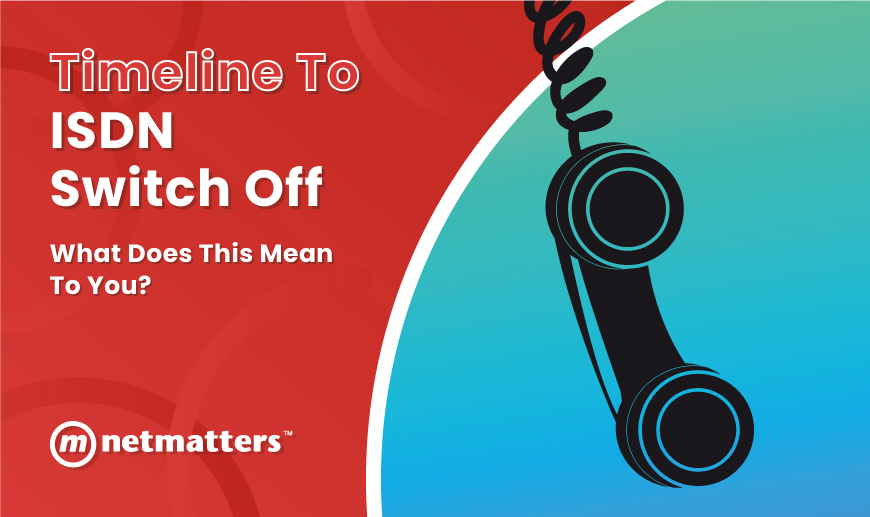 As with every other area of communications, the technology behind business-grade telecoms is changing. In 2017 BT announced that they planned to switch off the use of ISDN phone lines from December 2025. This means that if your business relies on ISDN phone lines then you need to start the wheels in motion to future proof your communications platform.
What is ISDN and what is it being replaced with?
ISDN stands for Integrated Services Digital Network and refers to the telephone network system that allows for both voice and data to be delivered over digital lines simultaneously. It was the first digital step of telecoms after landlines.
Your business may still use ISDN as part of its main telephone system, or you may use it as a back-up for example. It's estimated around 2 million businesses in the UK rely on ISDN for their phone systems. If you are one of them please read on for some guidance on what your next steps should be.
The plan is that ISDN will be replaced with VoIP (Voice over IP) technology. You will no longer need to worry about renting lines or fluctuating call charges; all you need is a decent internet connection.
What does this mean to me?
Many businesses have been moving towards internet-based solutions for their telecoms over the last few years anyway. During the pandemic in 2020, we saw a surge in businesses bringing forward their plans for their telecoms system to allow them to work remotely without loss of communication.
If, however, you are still relying on the technology of ISDN then we have some suggestions to help you make the transition – 2025 might feel like a long way away but the time will move quickly.
Research
You've already made a start by doing your research. Spend some time understanding the different options that are open to you, look into the different systems and speak to people about their experiences.
Make a plan
You are fortunate enough to have time to make a plan for the future of your business. Ideally, you will already have ideas in place about the type of growth you want to achieve and how you expect to be able to work by 2025, but if you don't here are a few questions you might want to ask yourself:
How big do I expect my workforce to grow over the next year to 5 years?
Where do I expect them to work (eg do you intend to carry on allowing some or all remote working)?
How do you want to be able to communicate with your staff and customers?
Once you've started to create a vision of what you want to achieve you can work backward to the system you need to implement.
One of the most attractive things about a VoIP system is that it can grow with you, without the need to rent new lines or worry about physical space.
Think about a budget
In the long run, it is likely that a VoIP system will be much better value for money, but there may be some up-front costs that you will need to budget for. This could include new handsets, software, consultancy services, and licenses.
You will need to ensure you are working your phone system into your budget before 2025 in order to make sure that you are ready to switch over to VoIP.
We can help you understand the sort of costs that you would be looking at.
You need to think about timescales for delivery in order to roll out your new telephone system efficiently and with minimal disruptions. This will need to include a variety of stages:
Information gathering – When we take on a project moving any size business over to VoIP we undertake a period of information gathering to allow us to put in place the best solution for your business. You should build this time into your plan to give you the best chance of a successful rollout.
Training – whilst the majority of VOIP systems are simple and easy to use, you should build in time to allow for a reasonable training scheme. You should also allow time for your staff to get fully comfortable with the platform if possible.
Once the planning has been done, the installation and actual rollout of the software won't take too long. We can carry out the switchover project quickly and have you up and running with minimal disruption.
The more time you have to plan your switchover the better all around. The process can be carried out more quickly if necessary, but our experience has shown that taking the time to plan the rollout and installation process will pay dividends in the long run.
Next Steps
If we've piqued your interest and you would like to start the ball rolling for your own switch to VoIP then contact our expert team who can help you to start putting a plan into place now for your business.