September 2020 Notable Employee

Posted by Netmatters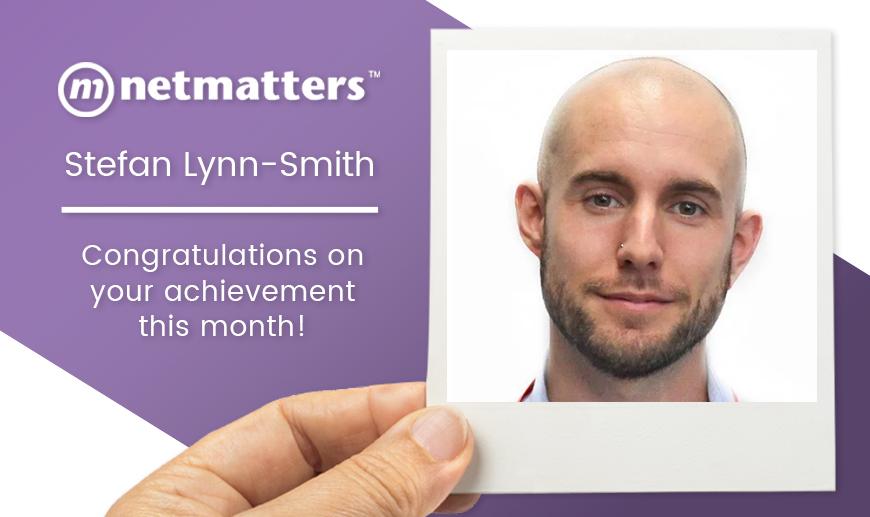 The highlight of every month here at Netmatters is the announcement of the "Notable of Notable Employees". This award is given to a single employee who has gone above and beyond during the previous month. They have exceeded expectations in their day to day role or have been influential in the company's success.
Every department manager is asked to nominate an employee from their department, who they feel has done exceptionally well during the course of the previous month. Each one of these employees is then considered as a candidate for this award. As the world begins to return to some kind of normality, our team all continue to adapt and deliver at the very highest levels. As ever, our notable nominees have stood out from the crowd and gone above and beyond.
Our Notable of Notables in September has stepped up to help on one of the bigger Netmatters IT projects, our own admin system, and has done so with thought and consideration. This month's Notable of Notables is awarded to Stef Lynn-Smith!
The Most Notable of Notable Employees
Stef Lynn-Smith
"I've been impressed with the approach Stef has been taking as he's started work on the admin system. He has a great attitude and isn't afraid to jump on the phone and ask questions when he's unsure of something. Tasks are being closed out to a great standard, this will massively help us roll out more features to all departments. Nice work Stef!" – Adam Greer
Stef Lynn-Smith - Continues to take things in his stride. Asks well thought out questions when he needs to and generally doing a great job. – Simon Wright

This month's other notable nominees:
Drew Halls - Being an invaluable team member, helping across departments on various issues. Drew is never afraid to throw his all into a problem to find a solution. A really great asset to the entire business. – Simon Wright
---
Jamie Thurston - A quiet hero. Makes no fuss and picks up project work with a considered and logical approach – always happy to lend a hand even when he's had little exposure to a project. – Simon Wright
---
Craig Ward – Craig is settling in really quickly to the role and is approaching new challenges in the role with a fantastic attitude. – Tom Lancaster
---
Chris Raby – Chris has been doing some great work as technical lead on some large projects and ensuring they are running smoothly, additionally he is taking to the pod leader role very well and ensuring things are pointing in the right direction. – Tom Lancaster
---
Jamie Thurston – Certainly one of our unsung heroes in the web team, whenever his name comes up it's always with positivity! A solid and reliable member of the team who's been doing great work consistently. – Adam Greer
---
Aaron Cook - Aaron has settled in really well since joining and is showing a real attention to detail in his work along with providing exceptional customer service and value to clients. Receiving great feedback from clients already! Well done. – Robert George
---
Craig Ward - Faces challenges head on with a great "can do" attitude. There are a lot of moving parts with IT Projects and a lot to learn on technologies, however Craig has been taking things on board really well. – Robert George
---
Matthew Harrop - Over the past month I've seen Matthew really excel in buying into our objectives, tackling client issues head on and taking on-board any feedback that is forthcoming. Matt has also had the arduous task of managing one of our most complex clients IT Support and IP Project packages. (That's Netmatters!) With our ever changing landscape of our requirement, Matthew is doing a great job of managing the workload with the POD and bringing the package under control. – Robert George
---
Emily Mackley – managing some very large and complicated projects to a consistently high standard. Fair to say she has some challenging project to manage, and is really gripping these to ensure we are surpassing the clients expectations. It's also worth noting how composed she is when being handed delicate or problematic situations, and how pragmatically she deals with these to obtain a positive resolve – great work! – Elliott Peacock
---
Jim Palmer – Has done a sterling job steering the recovery of the Digital Marketing department, and now stands in a terrific position for further growth with some very notable opportunities coming to fruition or on the horizon.– Elliott Peacock
---
Rebecca Reynolds – has been instrumental in some recent new client onboardings and I have heard nothing but glowing feedback about both her attitude and quality of work.– Elliott Peacock
---
Kati Leeson – doing a good job and being a positive contributor to the business as a whole. Lots of suggestions to ideas@ which is great to see. – James Gulliver
---
Jamie Sutherland – doing an excellent job securing new IT business and managing clients. Responding well to feedback and keeping a very professional and positive attitude at all times. - James Gulliver
---
Mark Reilly – really growing into his new role, rising to the challenges and embracing feedback with alacrity. - James Gulliver
---
Lewie Carton – continuing to deliver for his clients and showing continuous growth in ability and understanding of business in general. Always responds to urgent requests with a "leave it with me" that has now become synonymous with "consider it done" in my mind. - James Gulliver
---
Charlotte Gubbin - Continued ownership of ISO 27001 management and providing good ideas into the mix on how to improve the ISO process and awareness. – Chris Gulliver
---
Matthew Chapman - Continuation of his no nonsense approach to IT, solid and reliable feedback from Matt for our internal IT and that of our esteemed clients. –Chris Gulliver
---
Adam Burns - Continued ownership of the Automation Process - continued feedback and good ideas being brought to bear. – Chris Gulliver
---
Matt Hurst - Every interaction with Matt always leaves me feeling he is a consummate professional. – Chris Gulliver
---
Elliott Tarling- ET is showing his commitment to what we are trying to do, his confidence is building in all areas and he is providing good support to his new team members. – Chris Gulliver
---
Dieter Harper - Doing an excellent job for his clients and providing help and support to other team members. – Chris Gulliver
---
Chris Waldie - Excellent contributor in terms of shaping our Telecoms offering, always well thought-out suggestions and ideas. – Chris Gulliver
---
We would like to show our appreciation to all nominees of this month's Notables award! A huge congratulations to all of those nominated for September, keep up the brilliant standard of work! The Notable Employee Scheme is just one of a range of benefits here at Netmatters, available to all employees.
If you would like to be a part of our fantastic team and be in the running for some extra treats each month, view our open job vacancies today; We're always on the lookout for intelligent, motivated individuals to join our ever-increasing team! You can always contact us via the form below, or ring us on 01603 515007 today.