Posted by Netmatters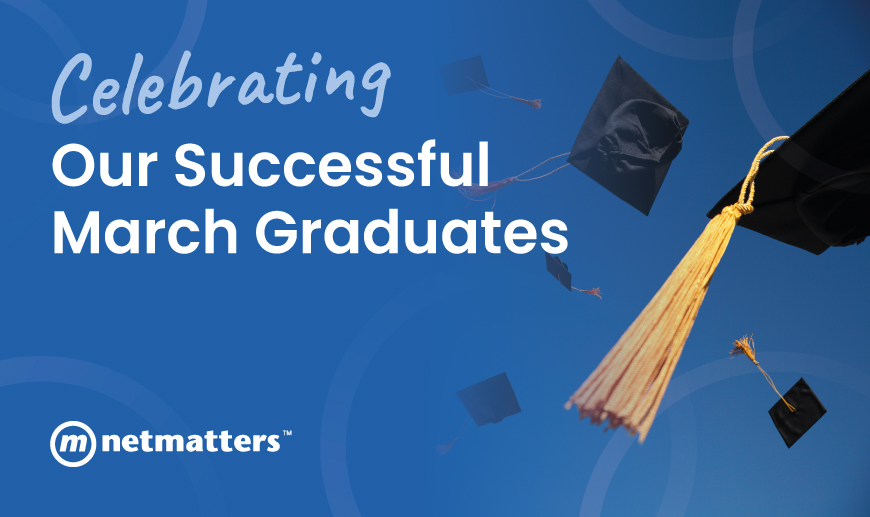 At Netmatters we found that there was a growing gap in the tech industry for talented individuals. We took this as a positive and looked to create opportunities for aspiring web developers, digital marketers, and IT technicians to develop their training and work towards career goals through our SCS scheme. Recently, we've been spotted at careers fairs up and down the East of England in search of our newest trainees to join the SCS scheme.
The Scion Coalition Scheme is a quality professional development training program that we have continued to develop over the years. We aim to teach both important technical skills, as well as the skills needed to work well in a professional environment. Best of all, you can be fully qualified in as little as three months!
Once the course has been completed, the next step is finding new employment opportunities both with Netmatters or with other leading companies.
Each month we look to celebrate those who have completed their training with us, and throughout March our talented individuals have graduated from the Scion Scheme, and we wanted to congratulate each of our Scions in today's article.
Our Newest Graduates...
Joseph Bowman
After training with us for 14 months, Joseph has persevered with his training and landed an amazing new employment opportunity at Quickfire Digital. After a long period of hard work, we're thrilled for Joseph that he has landed this great job!
---
Jack Weston
We are so thrilled for Jack, he has worked very hard over the past year and completely deserves this new position at Edison House Group! We wish him all the best.
---
Alex Cannon
We are very pleased to welcome Alex to the Netmatters team after he has successfully completed the Scion scheme. Wonderful work!
Congratulations to you all, and we wish you the best of luck in your careers!
We are always looking for new Scions to join the team here at Netmatters. If you are looking for a training opportunity to lead on to top-level careers in tech, then you can find out more about the scheme here. We offer hands-on training opportunities, in Digital Marketing, IT Tech, and Web Development. Training with us can lead to some fantastic opportunities with other leading companies or you may even land a job with us!
For all questions relating to the Scion Coalition Scheme, contact Netmatters today. Call us on 01603 704020 to speak to an expert member of the team. Alternatively, you can contact us on the form below.