SCS Graduates December 2021

Posted by Netmatters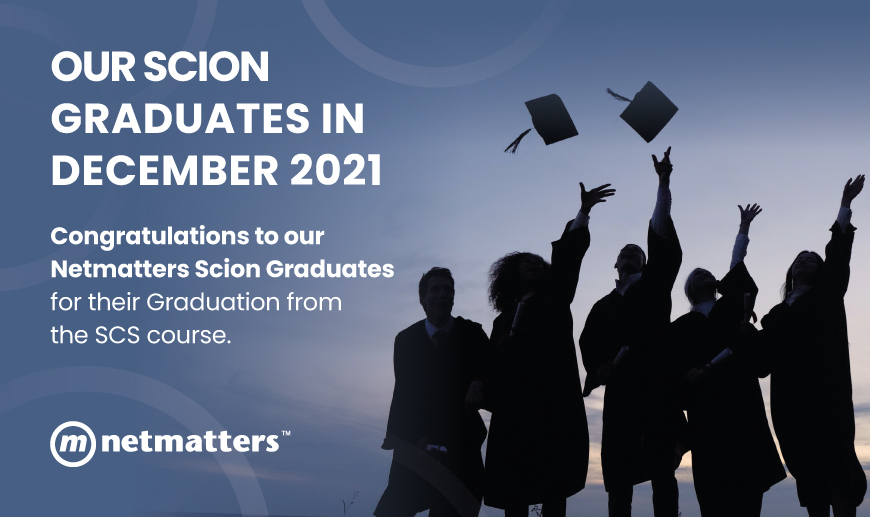 As we close off the final month for what has been an exceptional year for our Scion Coalition Scheme, we always recognise, appreciate and support those who have graduated from their course. This year has seen some fantastic members of the team join Netmatters and expand their digital skills in all varieties of experience. Reaching major milestones throughout 2021 within the SCS scheme, we can't wait to share the success of future graduates in the New Year too.

Opening the door to new career opportunities within web development, digital marketing and IT, Netmatters is always looking to help guide future experts to establish their careers with the best kickstart. Beyond learning the tricks of the trade, SCS graduates become highly experienced in working within a professional environment, and working alongside the fantastic team here at Netmatters.
We have been lucky enough to have some real key assets join our Scion department across the year. Join us in celebrating the success of our SCS graduates from December 2021.
Our Recent Graduates...

---
Samira Begum
Samira has been a delight to have on the course, we're so pleased for her that all her hard work has paid off after her 8 months here at Netmatters, and she has found this exciting new role at Paragon Pictures. We wish her all the best.
---
David Every

We're so pleased for David to be starting out his new career with a fantastic local company - Fountain Partnership. He has worked very hard over the last year to develop his skills and will be a great asset to their team.
---
Otis Moorman
We're so pleased for Otis who will be starting his new career at Treasure Data after all his hard work on the course. He has consistently demonstrated his skills over the last 12 months and we're sure he'll be an asset to them.
---
Harry Welchman
Harry has been working with ATS for a few months now on a part-time basis and is consistently impressing. We're especially proud of this one as he has gone to work under one of our previous Scions, also named Harry, who has done so well at the company he is working for, he was promoted and was looking for a Junior Developer within his department. He reached back out to us when looking to recruit and found the perfect fit in Harry.
---
James Binding

We're extremely pleased to welcome James to the Netmatters team, he consistently impressed on the course and is now doing some great work for one of our largest clients.
Congratulations to you all, and we wish you the best of luck in your careers!
Are you interested in helping us grow the next generation of tech talent? Click here to find out more.
For all questions relating to the Scion Coalition Scheme, contact Netmatters today. Call us on 01603 704020 to speak to an expert member of the team. Alternatively, you can contact us on the form below.