October 2020 Notable Employee

Posted by Netmatters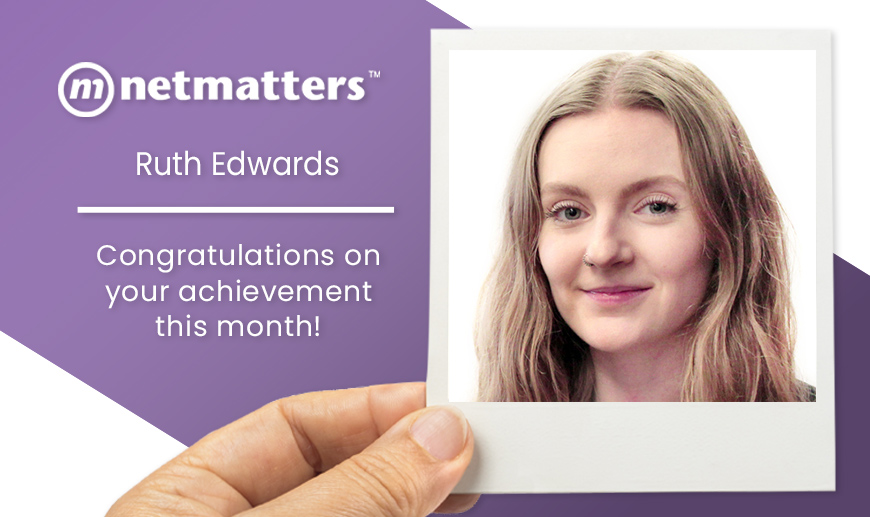 The highlight of every month here at Netmatters is the announcement of the "Notable of Notable Employees". This award is given to a single employee who has gone above and beyond during the previous month. They have exceeded expectations in their day to day role or have been influential in the company's success.
Every department manager is asked to nominate an employee from their department, who they feel has done exceptionally well during the course of the previous month. Each one of these employees is then considered as a candidate for this award. As we enter the second phase of lockdown our exceptional team continue to adapt to their situation with their usual positive attitude. As ever, our notable nominees have done this and more, going above and beyond.
Our Notable of Notable nominees provides a calm approach to everything she does and is always helpful, cheerful and consistently delivers exceptional work.
The Most Notable of Notable Employees
Ruth Edwards!
Never have to ask Ruth to do things twice. Always open to take on advice and more complex work. Ruth is always providing calm and coherent advice to the clients. – Robert George
Ruth Edwards - Ruth has been super helpful with any projects I've been discussing with her recently and is always keen to take on new project work and learn new things. – Tom Lancaster
This month's other notable nominees:
Michael Grimshaw - I'd like to nominate Michael Grimshaw! Mike is another member of the web team that often flies under the radar. He's a thoughtful, reliable and dedicated developer. Often going above and beyond to help in more areas of the business and learn new technologies. Another of our unsung heroes, keep it up Mike! – Adam Greer
---
Drew Halls & Peter Holmes - Drew and Peter have absolutely smashed through a very large piece of work in a very short turnaround time whilst ensuring we still stick to our processes and standards for work. – Tom Lancaster
---
Jack Chambers – Since joining the Digital team Jack's wasted no time getting stuck into client accounts and assisting the wider team, as well as ensuring all work is completed to a high standard to drive results. – Lydia Whitney
---
Matthew Harrop - Matt is managing the NM Internal IT Support & IT projects packages, he has a good grip on what's going on and is feeding back to staff on process. Good review meetings, has a handle on time utilisation and looks like we are making real progress in managing the Project(s). – Chris Gulliver
---
Bethany Shakespeare – Going above and beyond to manage recruitment alongside her very varied role to the extent of rearranging days off to manage the new starters process. – James Gulliver
---
Jim Palmer – Delivering a very strong performance in digital marketing business development. - James Gulliver
---
Charlotte Gubbin – Managing payments efficiently, delivering a record low in terms of overdue money in this month - James Gulliver
---
Rebecca Reynolds – Doing a fantastic job with award submissions and content writing - James Gulliver
---
Jack Ottley – Jack has turned a corner recently in ensuring the technical output of his work is where it is required. If unsure, he is seeking the correct advice and doing the correct thing for the client. – Robert George
---
Jamie Slater – Taking on more responsibility in the POD and Tech lead role for new clients. Recently had a perfect score for his IT Report for a new client that has recently come on-board which sets us on a great path moving forward with them. – Robert George
---
Jamie Thurston – Jamie has stepped in to help with the final stages of a large project, including cancelling his holiday and working extra hours to contribute further. His involvement has been vital in getting the project completed on time (especially with some last minute curveballs thrown in for good measure!). You never know he's here, but he definitely gets the job done! – Simon Wright

---
Ash Ward – Ash has done an excellent job of deputizing on team leader duties to cover Chris' annual leave and to free him up to concentrate on completing a large project, all whilst also keeping his other clients ticking along and maintaining an excellent beard. – Simon Wright
---
Luke Youngman - Taking on and owning any tasks thrown his way, including picking up a lot of tasks to help take the strain off Kayleigh, and doing some cool stuff with sheds – putting in a lot of effort that isn't going unnoticed! – Simon Wright
---
We would like to show our appreciation to all nominees of this month's Notables award! A huge congratulations to all of those nominated for October, keep up the brilliant standard of work! The Notable Employee Scheme is just one of a range of benefits here at Netmatters, available to all employees.
If you would like to be a part of our fantastic team and be in the running for some extra treats each month, view our open job vacancies today; We're always on the lookout for intelligent, motivated individuals to join our ever-increasing team! You can always contact us via the form below, or ring us on 01603 515007 today.