Posted by Netmatters
3rd October 2023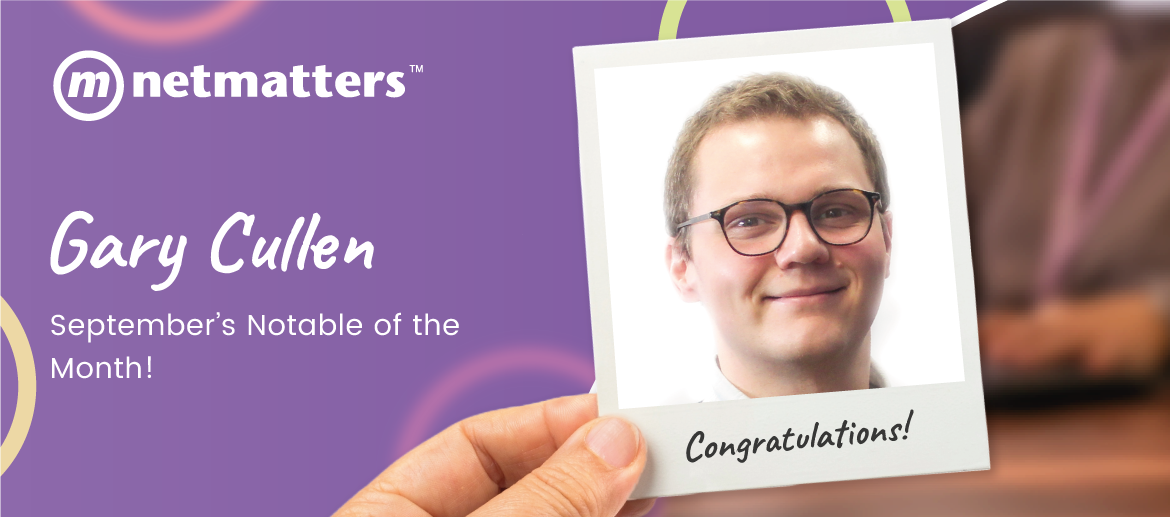 Celebrating the achievements and dedication of our staff, at Netmatters, we put aside some time each month to highlight the accomplishments of our teams and the attentive hard work of the individuals that choose to go the extra mile.
As a company that fosters a culture of growth and achievement, we take pleasure in delving into the outstanding performance of our teams, with special mentions awarded to those individuals who are championing our T.R.U.E values and are committed to delivering the best possible service for our clients.
This September has seen a plethora of dedicated work seen from across the company, but to start this month's notables, we would like to say a special congratulations to...
A Special Congratulations to Gary Cullen
"Gary has secured our largest website pitch to date, winning the rebuild of East Anglian Air Ambulance. This win really shows that we can win some incredible web projects. Well done Gary, an amazing win!" - Jim Palmer
"Exceptional work on the East Anglian Air Ambulance website tender and pitch. This is a significant win for the business and builds upon the ongoing relationship with East Anglian Air Ambulance - a well-respected and prominent local organisation. Gary is a team player, happy to help and deputises for other team members on a regular basis. Great work Gary!" – Chris Gulliver
Introducing Our September Notables
Mark Reilly - Mark has managed his team through a notoriously difficult summer season whilst retaining solid numbers of quality leads. He has made it possible so that him and his team to react very quickly to feedback and is always willing to try a new approach. He is constantly refining his approach which results in excellent conversion rates, and he is quick to pass on any useful tips to his team. – Tessa Dempsey
---
Josh Kimble - Always willing to assist and always demonstrating a positive attitude, Josh has been fantastic in assisting Telecoms with a customer-wide SIM swap. – Alex Jones
---
Rebecca Brine – Rebecca has been doing a great job managing some complex projects recently, ensuring things are running smoothly within the teams and working with customers to ensure they're getting the maximum benefit from their projects by ensuring we have a clear pipeline of prioritised work. – Tom Lancaster
---
Joshua Gladman & Mark Harrison – For improvement in overall performance and working hard - James Gulliver
---
Aaron Cook – Always dependable, Aaron is a safe pair of hands with a challenging workload. Keep up the good work! – James Gulliver
---
Rebecca Moore – For being effective within her role and always having a positive attitude. - James Gulliver
---
Callum Laxon - IT has had two new Project Managers start in the last month and both have been taken under the wing of Callum to get used to the role. Whilst Callum has been completing his responsibilities, he has also taken on overflow from the previous members of staff as well as training the two new team members and doing a fantastic job on all fronts. Super job Callum! – Matt Hurst
---
Matt Chapman – For his diligent work ensuring our ISO measures are taken to mitigate all risks – James Street
---
Amanda Sharp – Amanda is growing as an IT technician and expanding into her role. Amanda's customer service is excellent, both internally and externally, and she is always quick to share any improvements she might see or ideas she has! I've been impressed with her work on the new starter IT laptop setups and onboarding side of things recently and she's always a pleasure to speak with too! – Bethany Shakespeare
---
Sophie Maxam & Callum Laxon - For helping to pick up the additional work from other PMs on top of their workload and doing so with a positive attitude. – Robert George
---
Jamie Slater - Excellent positive feedback from both clients and internal team members for showing his commitment to the Technical Lead role, demonstrating a clear dedication to understanding the client's needs and their business, Jamie always ensures to deliver the utmost professionalism. All of which gives a real positive message to the client. – Robert George
---
Harry Lynch - Always receives positive feedback from clients, Harry works to understand the client's needs to then explains the work in a clear and concise manner, always going the extra mile with the customer support side of the role. – Robert George
---
Will Thompson & Jake Rackham - Moving across to new roles within Netmatters, both Will and Jake have learned a completely new workflow process and are tackling this head on in a positive manner, bringing a breath of fresh air into the department. – Robert George
---
Steven Hardy – Although only with us for a short period of time, Steven has had a positive impact and is regularly being given glowing feedback from members of various teams. Always willing to get involved in new and existing projects and helping anyone who asks – he has quickly become an exceptional member of the team. – Simon Wright
---
Kayleigh Hall – Consistently willing to step in and assist when needed, has a great attitude and is keen to provide feedback to help us collectively grow. – Simon Wright
---
Celebrating Your Achievements
A huge congratulations to every September notable – Keep striving for excellence and champion the Netmatters T.R.U.E values!
If you would like to be a part of our fantastic team and be in the running for some extra treats through our notable employee scheme each month, view our open job vacancies today, discover our benefits, and join a team that champions excellence and get rewarded for your efforts.
We are always on the lookout for intelligent and motivated individuals to join our ever-increasing team! Contact us today on 01603 704020, or fill in the form below and start your journey with Netmatters.