Rob Becomes a Netmatters Director

Posted by Netmatters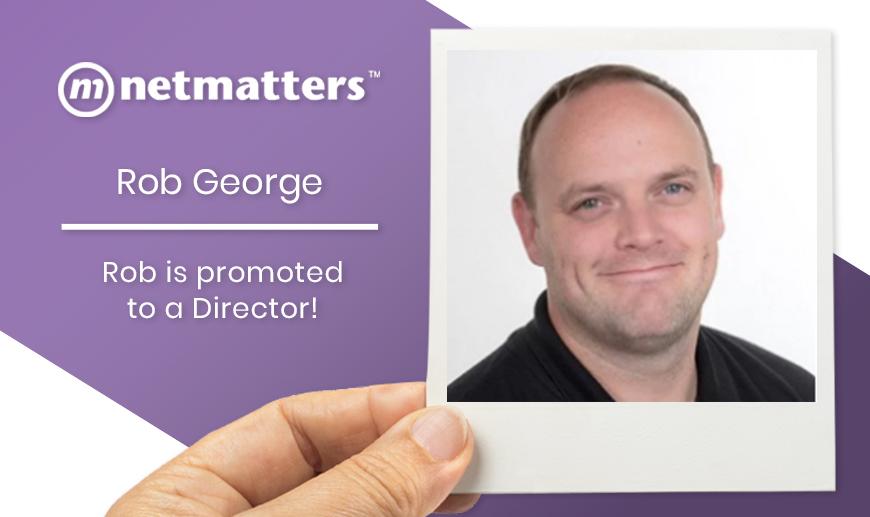 Netmatters is constantly evolving and day-by-day it continues to grow in every aspect. Despite a tough year for the world, we have continued that growth and, with this in mind, it is with great pleasure that we announce we have appointed a new director.

Robert George has been promoted to our IT Service Director! Formerly a Service Manager, a promotion has earned Rob a new title within the company.
Rob has proved himself as a very capable member of the team and has helped shape our IT service delivery over the last 4 years. His new role will see him take on more responsibility and help ensure we continue to deliver excellent service for all our customers. - James Gulliver. Managing Director
Rob originally joined Netmatters as a Business Development executive. It quickly became evident that Rob couldn't sell chips to a starving man so we redeployed him to the position of Service Manager, where his particular skill set was more suited. During his time in this role, Rob successfully helped improve standards as the department has evolved and grown. He has been a true advocate for Netmatters and a stalwart supporter of leading by example.
It's been exciting to see how Netmatters has grown over the past few years and how the team has evolved. I am incredibly proud to be offered the opportunity of becoming a Director at Netmatters and I look forward to being a part of the business moving forwards. - Rob George, IT Service Director
We are continuously looking to grow the company with a strategy that will help empower all employees and lead them to have successful careers within Netmatters. Using innovation, technology, creativity, and vision our team continues to improve in skills and numbers, resulting in the delivery of positive results for all of our clients.
Our services that we provide as an overall company covers various technology business needs and solutions such as, Website Development, Software Development, Digital Marketing, IT Support, Telecoms. If you are interested in any of these services, please do get in contact via the form below, or by ringing 01603 704020.