Posted by Netmatters
8th November 2023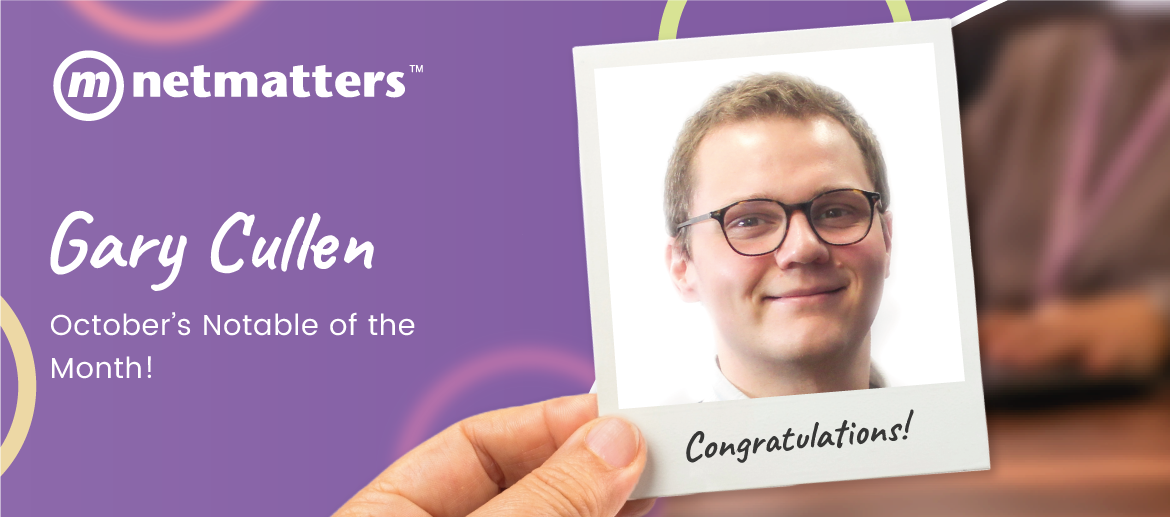 At Netmatters, we highly value the dedication and accomplishments of our staff. That is why each and every month, every department takes time to acknowledge and commend the exceptional efforts of individuals who have gone the extra mile to deliver top-quality work and provide the best possible services to our clients.

We hold our T.R.U.E values as the foundation of our business culture, and this October has seen each department continue to excel, surpassing expectations through the diligent efforts of individuals and their collaborative teamwork.
As a company that promotes an ethos of learning, adapting, and achievement, we take pleasure in reflecting on the month's accomplishments and celebrating the successes of both our teams and individuals. Our goal is to ensure that every employee receives the recognition they rightfully deserve.
To begin this month's notables, we start with a special congratulations to ...
A Special Congratulations to Gary Cullen
"Gary has delivered notably above and beyond targets and expectations, and does so with a really positive can-do attitude. Gary takes feedback incredibly well and always strives to do best by clients with everything he does" - Elliott Peacock
"Brilliant efforts regarding all his recent wins, Gary is managing the sales process masterfully, consistently winning the right type of work. Excellent work Gary!" - Chris Gulliver
"Gary is a website machine!" - Adam Greer
Introducing Our October Notables
Rebecca Sibanda – Rebecca has taken on the project management of the Netmatters Digital Marketing account, and she is doing a fantastic job. She's maximising efficiencies by making sure we're sticking to our agreed actions each month and is doing a great job of balancing the demands of multiple stakeholders. She is a real asset! – Tessa Dempsey
---
Sophie Maxam - Sophie always has a positive attitude, always looks to provide our customers exceptional service, and ensures any projects being implemented is run efficiently. Embodying the T.R.U.E values, Sophie is always willing to go above and beyond in assisting other team members where possible - keep up the good work – Alex Jones
---
Jamie Sutherland – Embracing change (including removal of moustache), Jamie takes feedback incredibly well and is always looking to improve his performance. A trademark characteristic, Jamie performs to a high standard and always focuses on workflow. – James Gulliver
---
James Street - James has performed well in his role, methodically moving diverse projects forward with alacrity. – James Gulliver
---
Alex Jones – Really taking ownership of the department, Alex provides speedy and informative information and assistance to team members across the business and consistently goes the extra mile for clients. - Elliott Peacock
---
Dieter Harper - Throughout October there have been several new server projects for pods outside of Dieter's deputies, and without fail, Dieter has always made himself available to not just assist but to up-skill and train the technicians needing assistance. This ensures a continual increase in knowledge for the department and consistent improvements to our infrastructure offerings. Keep it up, Dieter! – Matt Hurst
---
Faizel Desai & Kayleigh Hall – For their hard work and dedication to the Scion Scheme that has allowed Netmatters to receive the Princess Royal Training Award for 2023 – James Street
---
Jessica Rout – Having only joined just over a week ago, Jess is already proving to be a wonderful member of the team with her bright and cheerful manner. Glad to have you in the team Jess! – James Street
---
Steven Hardy - Applies his vast knowledge to every task expertly and delivers a quality experience to everyone involved. – Simon Wright
---
Scott Hellings - For his continued work and ownership of the Astrea Bioseparations Power BI project. Scott always shows great initiative in the solutions he offers to Astrea– Simon Wright
---
Scott Covey – Dedicated to going above and beyond to learn and progress his knowledge, Scott spent a Saturday onsite to learn – Chris Waldie
---
Adam Jaggs – Diligently picking up the automation backup role and getting involved immediately – Chris Waldie
---
Rebecca Moore – Providing a great HR resource to the company and tirelessly working on recruitment – Chris Waldie
---
Adam Jaggs – Adam continues to go above and beyond with helping to resolve any IT problems, ensuring a speedy turnaround on new starters, projects, and first days to ensure a great first impression. Adam is always happy to help and does so with a positive can-do attitude! A real asset to Netmatters and his POD! – Bethany Shakespeare
---
James Street - great effort in running the ISO audits/assessments, and of course for passing with flying colours! Managing a wide range of activities within the business; becoming a master in juggling a number of projects simultaneously. James, I am recognising you for your ability to run with whatever is asked of you and for consistently moving things forward. Your activity puts the company in a better position than it was the week before. – Chris Gulliver
---
Dieter Harper - Receiving positive feedback from his peers on how he is helping his colleagues in his role as POD leader and Product Specialist – Robert George
---
Jake Rackham – Gripped everything he is working on, showing real diligence in his role, and passing referrals across to Account Managers. – Robert George
---
Jamie Slater – Done a great job in picking up Technical Lead roles for TEX Group and Safe STS, ensuring there is a smooth transition for the client and demonstrating their account is gripped from a technical perspective. – Robert George
---
Tomas Leigh – Taken over Clover as Tech Lead showing a steady pair of hands, communicating well to the client on their recommendations and showing he has a good knowledge of the client's infrastructure. – Robert George
---
Sam Driver – He always clearly explains things along with helping to provide solutions around the admin system which are longer-term resolutions. – Robert George
---
Celebrating Your Achievements
A huge congratulations to every single October notable. Keep up the excellent work and demonstrating the T.R.U.E Netmatters values!
If you would like to be a part of our fantastic team and be in the running for some extra treats through our notable employee scheme each month, view our open job vacancies today, discover our benefits, and join a team that champions excellence and get rewarded for your efforts.
We are always on the lookout for intelligent and motivated individuals to join our ever-increasing team! Contact us today on 01603 704020, or fill in the form below and start your journey with Netmatters.