Posted by Netmatters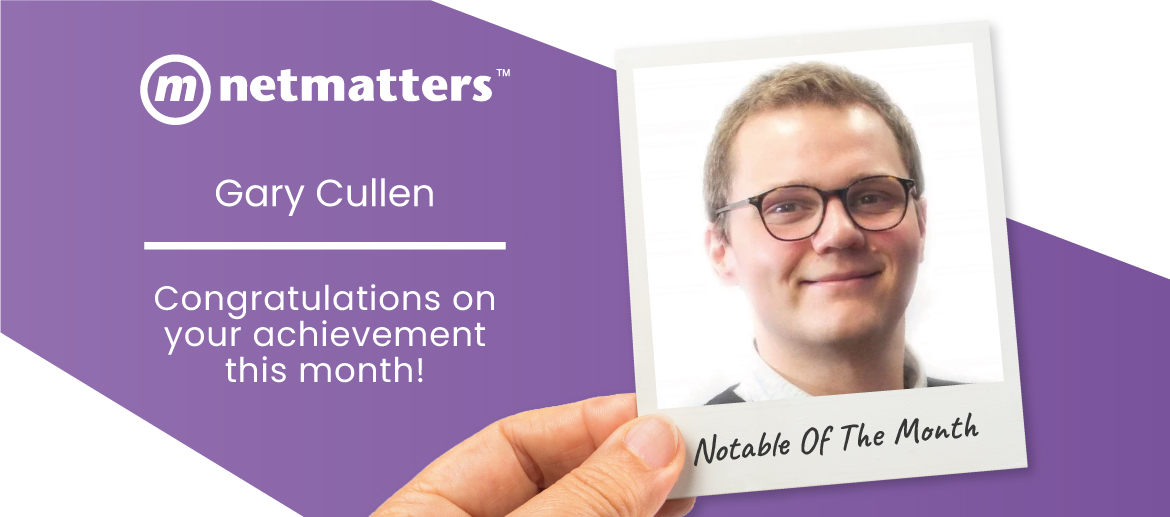 Each month, various departments recognise those employees who have excelled in their work and helped Netmatters deliver excellent service to our clients. Our T.R.U.E values are how we started as a company, and we continue to strive to uphold these values as we grow. October was another busy month for Netmatters, with some great contributions from team members along the way.
Our teams have continued to meet and exceed our expectations, driving results both internally and externally. As a company, we love to celebrate each success to ensure that every employee gets the recognition they deserve.
Congratulations Gary Cullen
Has secured some fantastic new projects of late. Really developed into a key member of the team – takes feedback incredibly well and this shows in his month-on-month progressions and improvements. –Elliott Peacock
Gary has been smashing it out of the park recently with some incredible wins across both digital and web. His account management is fantastic, and he always has his client's best interest at heart. It's looking like digital will hit its 30 hours aggregate target for the year, the first time we have done this, with Gary contributing greatly to this. Keep it up! – Jim Palmer
Our October 2022 Notables
Drew Halls – Drew has taken the lead on our hosting platforms for several months now and had done a fantastic job bringing the packages back into line and optimising our workflow. Most recently Drew was wholly responsible for some very key repair work on our server platform and handled the entire project flawlessly. The downtime was well scheduled out of hours and what could have been a difficult situation was handled very well. Fantastic work Drew! – Adam Greer

---
Joe Trower - Joe is always happy to help with a smile and a helpful attitude. No question too big, Joe's grasp and knowledge of our systems and products is always admirable. – Millie Pankhurst
---
Elliott Peacock – Staying positive and working through challenging times with alacrity – James Gulliver
---
Rebecca Moore – Settling in nicely to her new role. Always positive and effective, well done. – James Gulliver
---
Aaron Cook – Solid performance as always. Working well within telecoms to deliver great service in an efficient manner. – James Gulliver

---
Ben Revell – Ben has recently taken the role of SEM Lead for several accounts and is doing a great job of building a strong relationships with his clients. He takes feedback well and never has to be told the same thing twice, a sign of someone who is going to go far. Keep it up Ben! – Jim Palmer

---
Jasmin Rusted – Jasmin is doing a great job as a squad leader ensuring we have a clear escalation path. She is managing new starters and coming up with good suggestions on how we can improve. Keep it up! – Jim Palmer

---
Elliot Norman – I think it's fair to say Elliot got thrown into the deep end with GA4. Working alongside Gary, Samantha, and James, he is doing a great job of rolling this out for our digital and non-digital clients. – Jim Palmer

---
Patrick Whiteside – A very knowledgeable and helpful tech! Patrick is always positive, bright, and ready to get stuck in! He has seamlessly made himself a valuable member of the team! - Bethany Shakespeare

---
Peter Holmes - has stepped up over the last few months taking on more responsibility and complicated tasks, freeing up others in the team. Pete has taken all this in his stride and has been smashing all his tasks out of the park. Even getting praise for the work he has produced for a customer not known for dishing out praise easily. Keep it up! – Simon Wright

---
Rob Edmonds - has done a fantastic job taking over a large customer project, and spearheading some new development which looks to be coming in ahead of a tight deadline. He's also been an excellent resource for the junior developers in the pod, on call to help whenever needed. – Simon Wright

---
Liam Spence - Passed probation with flying colours. I know when a task is being given to him to work on that it's in a solid pair of hands who will always work to the client's best interests - Robert George
---
Sophie Maxman- Completing a great job with the project management for Hales Group, working really well with multiple POD to get the IT auditing completed in line with tight deadlines and geographical constraints. – Robert George

---
Amanda Sharp - Glowing reviews from sites like Briar chemicals, where her ownership of the work and help to new starters has led to an uptick in work and potential retainers for other parts of the business due to the quality. Hugely impressed – Robert George
---
Sam Driver - He is a superstar with the work he has completed on the admin system, he has a great understanding of the system, and asks a lot of questions regarding the wider scope of changes that are being implemented. Great guy to work with. - Chris Gulliver

---
Courtney Noel - Great addition to the team, gets stuff done! Happy to take on new work and approaches everything in a methodical fashion. - Chris Gulliver

---
A huge congratulations to all of those nominated for our October notables - keep up the brilliant standard of work! The Notable Employee Scheme is just one of a range of benefits here at Netmatters, available to all employees.

If you would like to be a part of our fantastic team and be in the running for some extra treats each month, view our open job vacancies today. We're currently on the lookout for intelligent, motivated individuals to join our ever-growing team!
You can always contact us via the form below, or ring us on 01603 704020 today.