Kayleigh Hall's Inspiring Journey: Winner of the Unsung Hero Award

Posted by Netmatters
10th November 2023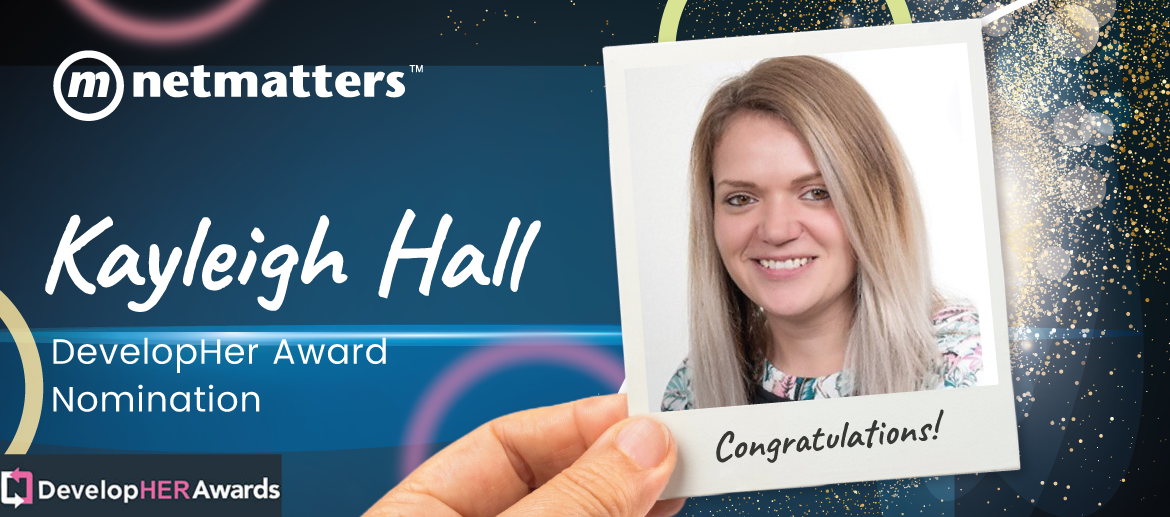 Here at Netmatters, we're thrilled to announce that our very own Kayleigh Hall has won the Unsung Hero Award, hosted by DevelopHER Awards!
A fantastic achievement that highlights the outstanding hard work that Kayleigh delivers every single day, we are thrilled to see a dedicated member of our team progress from a well-deserved nomination to championing the prestigious Unsung Hero Award as the winner!
"To say I'm proud of myself is an understatement! Being shortlisted at the DevelopHER Awards is an amazing achievement in itself. However, winning the Unsung Hero award is like reaching cloud 9. Sharing the stage with so many inspirational women was an incredible feeling, and the awards do an outstanding job of inspiring the next generation of women in tech. I'd like to express my gratitude to everyone involved and celebrate all the women who, all too often, downplay their achievements."- Kayleigh Hall
As a non-profit awards ceremony, DevelopHER Awards recognises and celebrate talented women working in the technology sector. With roaring success, the event has expanded its reach to cover Norwich, Ipswich, and Cambridge, making a significant impact across East Anglia.
As a committed sponsor of this esteemed event and strong advocate for equal opportunities in the workplace, Netmatters are proud to celebrate the profiles and achievements of women. Partnering with DevelopHER Awards, we believe in the importance to promote the profiles of accomplished women as role models, helping to inspire others to pursue similar paths.
Celebrating Women in Tech: The DevelopHER Awards Ceremony
The Unsung Hero Award specifically honours the most inspirational and talented women within the tech sector. Kayleigh's victory is a testament to her dedication and remarkable work.
Always striving to go beyond her daily responsibilities, Kayleigh's active participation in the Netmatters Scion program has seen her mentor numerous young adults to become specialists in Web Development, Digital Marketing, and IT Support.
A true inspiration, it is characteristic of Kayleigh to cheer for everyone apart from herself, and so it is with great honour – and with a smile on our face - that we get the opportunity to show off her incredible talents and celebrate her unwavering dedication to both her work and her team.
"Kayleigh's achievement is a testament to her outstanding contributions to our team and the broader tech community. Her commitment to mentorship, coupled with her exceptional technical skills, exemplifies the values we hold dear at Netmatters. We're immensely proud to have her as part of our team and for her exceptional work within the Scion training scheme. A true hero - congratulations, Kayleigh, on this remarkable achievement!"- James Gulliver
As the Developer Manager for our Scion training scheme, Kayleigh's mentorship extends beyond her exceptional technical skills. She brings a unique and personal approach to everything she does, directing her efforts towards both task accomplishment and ensuring everyone involved feels confident and happy with the results.
Playing a pivotal role in mentoring, Kayleigh has assisted each student in our developer training course, personally leading over 100 unemployed individuals into jobs as developers. She has achieved this by meticulously reviewing each piece of code they produce, ensuring it meets the highest industry standards.
Mentor, technical resource, pod leader, therapist, recruitment consultant, and branding guru – there isn't much Kayleigh can't turn her hand too. Embodying the Netmatters T.R.U.E Values, Kayleigh's commitment to the holistic development of her students is wholly inspirational - a true Hero – and well-deserved winner of the DevelopHER Award.
Advancing Diversity in the World of Technology
Here at Netmatters, we would like to say a massive thank you DevelopHER for their incredible work in raising awareness of female role models and equal opportunities within the technology industry.
We are excited to announce the expansion of the Scion Scheme across the entire UK (United Kingdom). Netmatters is proud to be at the forefront of initiatives that empower individuals and promote diversity within the technology sector. If you are interested in applying for this transformative program, please visit our Scion Scheme and get in touch today!