Posted by Netmatters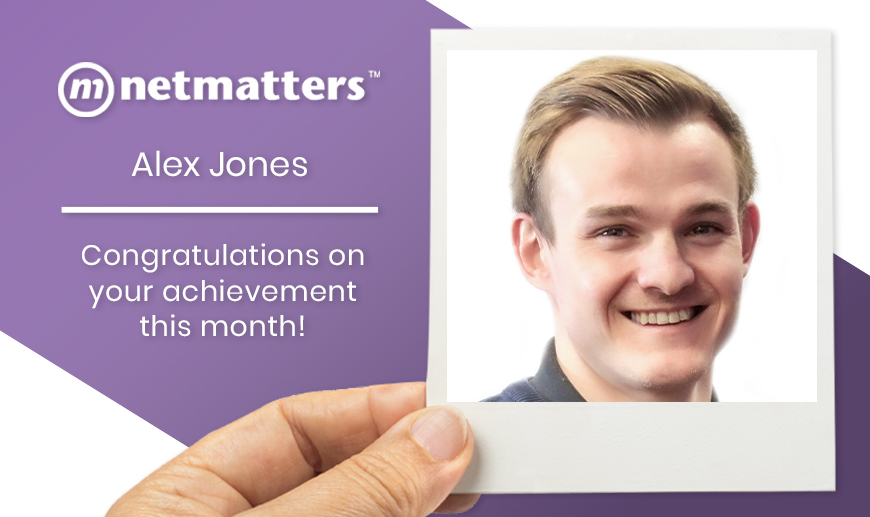 Every month we celebrate the most notable of employees here at Netmatters. Each department head is asked to nominate individuals they feel have gone above and beyond in the previous month. We have continued to see some fantastic examples of notable worthy behaviour again this month with staff doing their utmost to continue to deliver at every turn.
April was a good month for Netmatters and a particularly fantastic month for our Most Notable of Notable Employees, our Telecoms Project Manager.
The Most Notable of Notable Employees
Alex Jones
Alex Jones: Doing a sensational job in improving the delivery and efficiency across both telecoms and connectivity, seeing some really positive results, and hearing great things. – Elliott Peacock
Alex Jones: Very mindful about the commercials around the Telecoms projects, highlighting and implementing improvements and showing a great team ethic. – Rob George
Alex Jones: Alex is really going above and beyond with the telecoms projects he's managing, along with taking real ownership of the product and working closely with the team to make iterative improvements to our processes, he will smash down any obstacle he's coming up against on a project - be that calling another provider every hour until we get what we need or driving out missing plug converters for an install on his lunch break. Keep up the good work Alex! – Tom Lancaster
---
This month's other Notables are as follows:

Lewis Wilby & Stef Lynn-Smith: Great job on a recent go live earlier this month, the customer is really happy. – Simon Wright
---
Luke Youngman: Been doing great work on the CGI images for a customer. We are now using 4 computer-generated images on their website created by Luke. – Simon Wright
---
Maxwell Jermy: Has been delivering great work, the customer is very happy - a great addition to the team. – Simon Wright
---
Jamie Thurston: Being a champion as usual. He handles everything thrown at him with practically no input required. – Simon Wright
---
Jake Seaman: Settling into the team really well and taking on board our best practices and the work being allocated to him. – Rob George
---
Andrew Hogarth: Andrew's skill set is developing really well since joining Netmatters. Chucked him in the deep end to resolve tasks for the client which he had no knowledge of, but he approached it methodically, sensibly and done a fantastic job in helping to resolve the client's issues. Didn't fuss, just got on with the job in hand. – Rob George
---
Bethany Shakespeare: Great job managing the transition to her new role of HR Co-Ordinator for the Company. We are getting extremely busy in this area with some carry forward from 2020 and the ever-expanding Scion Scheme, Bethany is holding this all together as well as assisting with the transition from the role(s) she previously occupied. She is busy but in control and it's most excellent to now have a dedicated HR point of contact for the company (lots of positive feedback on this already). – Chris Gulliver
---
Charlotte Brooks - Has progressed her AAT exams and qualifications (awaiting the most recent results, but quietly confident she has smashed it). Charlotte continues to be relentless in her approach and can take the full glory for some exceptional figures in finance this month. Great work Charlotte, keep up the good work. – Chris Gulliver
---
Millie Pankhurst - Working hard with training our newest recruit to the team and her own transition to Maternity leave. There is a lot to do but Millie has been focused on what's needed in priority order. Millie has been solely in charge of managing the training and the updating of processes/procedures to make onboarding easier. – Chris Gulliver
---
The Whole Administrative Team - Lots of change with managing Coronavirus protocols, more team members returning to the office, the Gym/showers opening, and generally maintaining standards around the place in terms of ISO/security/cleanliness not to mention parking or assisting our newest team member and helping her to settle into the team! – Chris Gulliver
---
Jamie Sutherland – has had some excellent wins of late, and really stepping up within his role, showing a real desire to grow and improve and seeing some positive results off the back of it – keep it up! - Elliott Peacock
---
Tessa & Kayleigh – This power team is achieving some absolutely amazing results with the Scion Scheme. The success rate of those completing the course is so high that it keeps the whole Scheme's credibility to an absolute maximum. They are able to overcome a lot of challenges and still be smiling. Amazing work, couldn't be prouder. – James Gulliver
---
Rebecca Reynolds - Rebecca has taken the lead on internal marketing and is ushering in a new era of improved quality and increased strategic thinking that is already bearing fruit. Well Done. – James Gulliver
---
Anesu Mutsau – Anesu has been managing his accounts flawlessly as well as assisting the rest of the team with account management, and ensuring works completed are to a high standard/putting forward quality recommendations. – Lydia Whitney
---
Luke Youngman – Luke has been doing an excellent job working and improving a new skillset for Netmatters. His work on new CGI images has come along in huge bounds. The latest image on the site looks fantastic and shows real attention to detail and pride in the work! Nicely done! – Adam Greer
---
Josh Ralph – Josh recently shipped a large sprint for one of our clients using a new approach to storing data. This new approach gives them a lot more redundancy in dealing with potential issues in data as well as a huge amount of flexibility in building reports. As we learn more about this approach we can look at how to roll this out to other clients. Josh is constantly searching for new methodologies that can help customers and I'm keen to see the results! – Adam Greer

---
We would like to show our appreciation to all nominees of this month's Notables award! A huge congratulations to all of those nominated for April, keep up the brilliant standard of work! The Notable Employee Scheme is just one of a range of benefits here at Netmatters, available to all employees.
If you would like to be a part of our fantastic team and be in the running for some extra treats each month, view our open job vacancies today; We're always on the lookout for intelligent, motivated individuals to join our ever-increasing team! You can always contact us via the form below, or ring us on 01603 704020 today.