July 2020 Notable Employee

Posted by Netmatters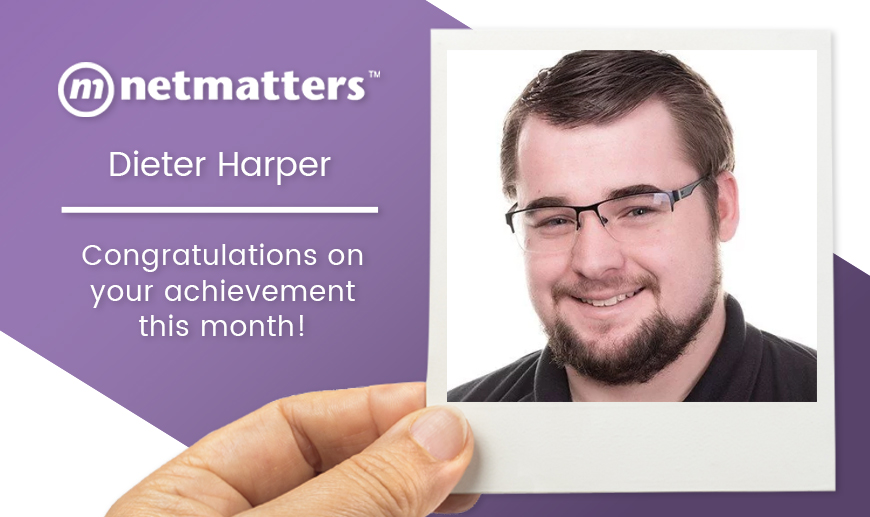 It's the beginning of August, which can mean only one thing – it's time to announce the winner of the "Notable of Notable Employees" for July 2020. This award is given to a single employee who has exceeded expectations in their day to day role, or has been influential in the company's success during the previous month.

Every department manager is asked to nominate an employee from their department, who they feel has done exceptionally well during the course of the previous month. Each one of these employees is then considered as a candidate for this award. No matter what is going on in the world, our team continue to work hard to deliver the best service to our customers with a smile on their face. As ever, our notable nominees have stood out from the crowd as going above and beyond.
The Notable of Notables is presented to a firm client favourite this month, we hear nothing but good feedback about him and he consistently delivers positive solutions with a smile. This month's Notable of Notables is awarded to Dieter Harper!
The Most Notable of Notable Employees
Dieter Harper
"I get nothing but great feedback from customers on Dieter – they love him, he is a pleasure to work with, and one of the most positive solutions providers I have ever come across." – Elliott Peacock
"Dieter has had a stellar July and is already looking set for another fantastic month in August! He's put in a huge amount of overtime and every time I hear about him it's so positive." - Adam Greer
This month's other notable nominees:
Jim Palmer - I'd like to nominate Jim Palmer. He's been doing an amazing job with the Digital pitches and the department as a whole has rebounded well after being the hardest hit. Excellent work Jim! – Adam Greer
---
Ruth Edwards - Ruth is doing a brilliant job in taking on more technical work within the team and actively looking for more responsibility as a Product Specialist. Ruth has become a valuable member of the POD and the department as a whole. - Robert George
---
James Mackay – Helping progress a grants claim for a large client. Good work! – James Gulliver
---
Mark Reilly – Doing a sterling job in his new role ensuring his team are able to deliver both quality and quantity! Excellent Job! – James Gulliver
---
Bethany Shakespeare – Managing an amazingly diverse job role and handling the COVID Secure risk assessments and return to work process – James Gulliver
---
Kayleigh Hall - Juggling a lot of plates, working huge hours to hit deadlines whilst also ensuring to bring along her Scions. – Simon Wright
---

Samuel Hopkinson - Taken a massive step up and something has clicked since his return from Furlough. Really great work. – Simon Wright
---
Henry Hardwell – Since returning to the office from furlough Henry has hit the ground running, working to get the development tasks we had on hold pushed through the gate. Alongside this he's also showed a conscious effort to understand what each of our clients current objectives are – ensuring all tasks he completes are working towards this goal. He's also our resident celebrity after appearing on BBC Suffolk's Breakfast show to promote the Scion programme alongside Tessa and Luke earlier this week. – Lydia Whitney
---
Bethany Shakespeare – doing an exceptional job managing the safe return of staff to the office, juggling a multitude of responsibilities in an ever-changing set of scenarios and legislations, all with a positive "can do" attitude. – Elliott Peacock
---
Samantha Lupton – her knowledge and handle of her projects is second to none, she stays close with clients, builds excellent rapport, and follows the process meticulously. – Elliott Peacock
---
Charlotte Gubbin - I'd like to nominate Charlotte Gubbin for notable this month, She has been doing a fantastic job of managing the departmental KPI's and settling outstanding invoices recently and has also been incredibly helpful with dealing with any invoicing relates questions or queries! - Tom Lancaster
---
We would like to show our appreciation to all nominees of this month's Notables award! A huge congratulations to all of those nominated for July, keep up the brilliant standard of work! The Notable Employee Scheme is just one of a range of benefits here at Netmatters, available to all employees.

If you would like to be a part of our fantastic team and be in the running for some extra treats each month, view our open job vacancies today; We're always on the lookout for intelligent, motivated individuals to join our ever-increasing team! You can always contact us via the form below, or ring us on 01603 515007 today.