Joe Trower is promoted to Commercial Head of Telecoms

Posted by Netmatters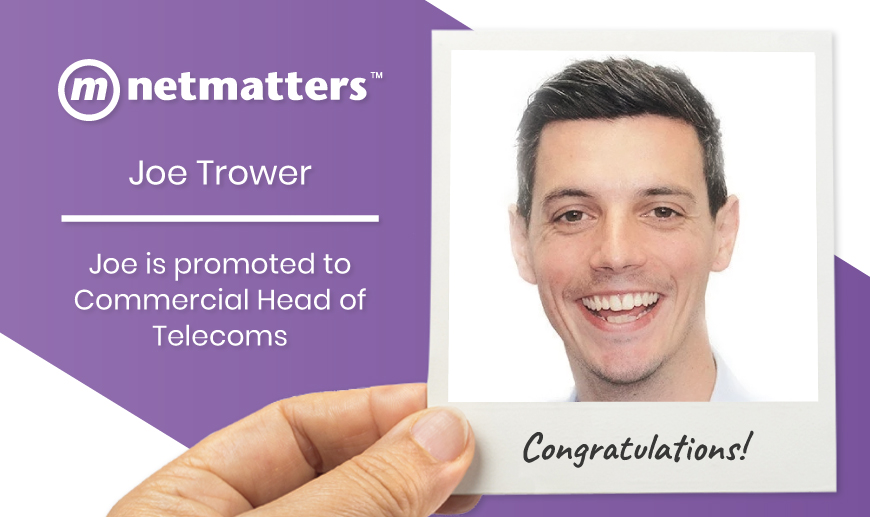 Here at Netmatters, we are continuing to grow and develop our business, and our people. We are proud of our track record of rewarding hard work and are pleased today to announce the promotion of Joe Trower to Commercial Head of Telecoms.
"We are thrilled to announce Joe's well-earned promotion to Commercial Head of Telecoms. Working with a close-knit team Joe has grown our telecoms offering significantly in his time with Netmatters and has delivered consistently - working tirelessly to deliver the best possible service to our telecoms customers." – Elliott Peacock, Director
Joe has been with Netmatters for almost two and a half years, in which time he has been a linchpin figure in the honing and crafting of both our telephony and connectivity options.
"I'm excited to further build on the substantial growth seen by the Telecoms service from Netmatters with my new appointment as Commercial Head of Telecoms.

Netmatters have been consistent in ensuring I've been provided every opportunity to develop both our Telecoms offering and as an individual.

The support provided by the Senior Management Team and the Telecoms Team alike has been second to none. Netmatters' culture has helped aid in ensuring I've been able to take advantage of the opportunities provided and I look forward to all future developments in my new role." - Joe Trower, Commercial Head of Telecoms
We would like to congratulate Joe for his hard work and commitment and wish him every success in his new role.
If you are looking to overhaul your business' telecoms solution then talk to us about how we can help you today. Contact Joe or one of the team on 01603 515007.