Jamie Sutherland is promoted to Commercial Head of IT

Posted by Netmatters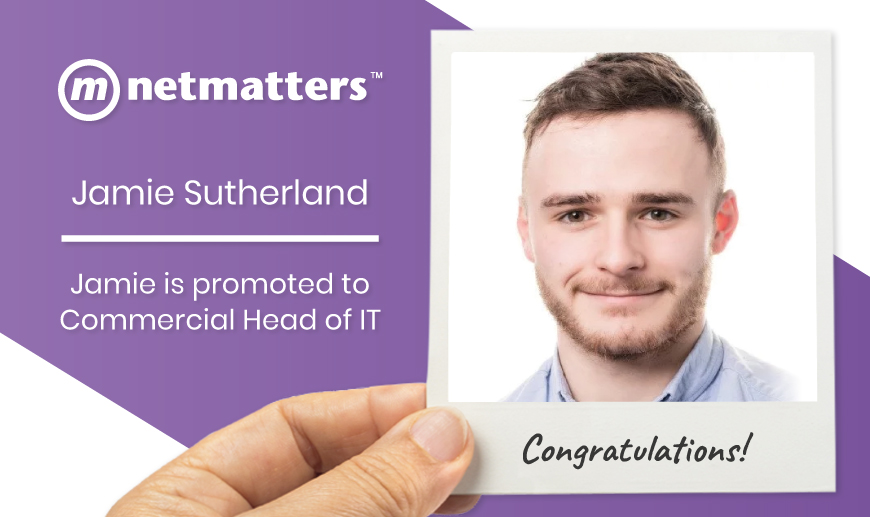 Here at Netmatters, we are continuing to grow and develop our business, and our people. We are proud of our track record of rewarding hard work and are pleased today to announce the promotion of Jamie Sutherland to Commercial Head of IT.
"Since joining us in 2018 Jamie has embraced life at Netmatters, taking our T.R.U.E values to heart and advocating for his clients at every possible turn. He consistently delivers a strong performance, going above and beyond to deliver the best value and service possible. It gives me the greatest pleasure to confirm his appointment to Commercial Head of IT as a testament to his hard work and resilience." – Elliott Peacock, Director
Jamie has been instrumental in the continued growth of the IT department, showcasing considerable resilience and perseveration throughout Covid by continuing to deliver strong performances month in month out. Personally, he has developed and progressed considerably since joining us back in 2018, and is a real champion for his clients, striving to help in ensuring they are getting the best value and service, aiding them in achieving their own business goals.

"Such a fantastic feeling to accept this new role within the team. Like everyone at Netmatters, I have learnt so much (very quickly) in my time here and it is great to get the opportunity to use what I have learnt to better help build what we have here. Plenty of things to be excited for on the horizon but the biggest one for me is in the cracking team we have here – looking forward to helping it grow!" - Jamie Sutherland, Commercial Head of IT
We would like to congratulate Jamie for his hard work and commitment and wish him every success in his new role.
We provide a wide range of services overall as a company. We can help with various technology business needs and solutions such as Website Development, Software Development, Digital Marketing, IT Support, Telecoms. If you are interested in any of these services, please do get in contact via the form below, or by ringing 01603 515007 .