Is Your Business Affected By The Closure Of BT's SIP Trunk Service?

Posted by Joe Trower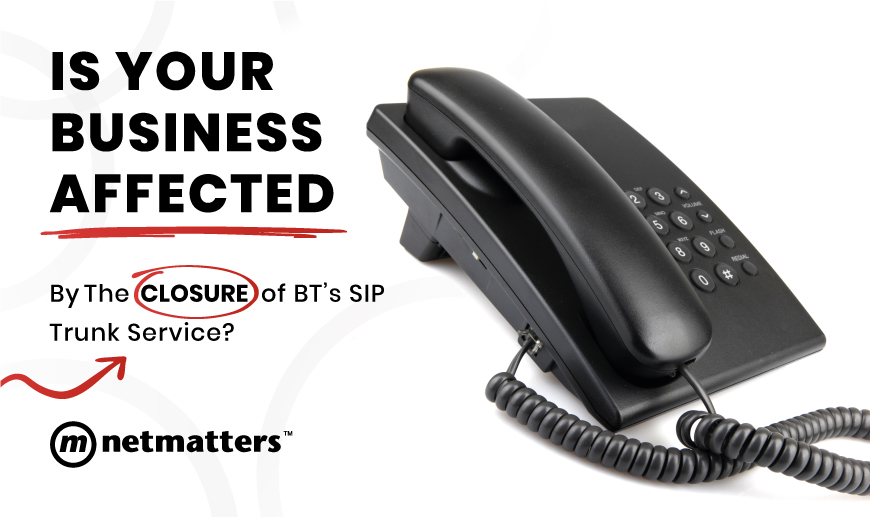 Have you recently had an email from BT informing you that they are closing their SIP Trunk Service?
We have recently been made aware that businesses who get their VOIP telephony through BT are receiving an email from BT Customer service confirming that the SIP Telephone connection services will be ending in November 2021.

If you have received this email now is the perfect opportunity to review your options when it comes to telephony. BT is suggesting that you migrate to their Cloud Voice Solution – however, as this change is going to bring your contract to an end prematurely why not take the opportunity to see what other options you have?

Netmatters 3CX telephone solution offers functionality and flexibility that isn't typical of business telephone systems such as the BT Solution.

Before committing to a new long-term contract with BT speak to one of our telecoms experts to find out how 3CX would bring benefits to your business:
Flexibility to suit your operating model
No hidden costs for sneaky add-ons
Expert support over the telephone
Scalability alongside your growing business
Mobile app functionality at no added cost
Contact us today to find out how we can help you make the move ahead of the SIP Trunk Service changing in November.