Milk and Two Sugars - Adding Another Service to Sofia

Posted by Netmatters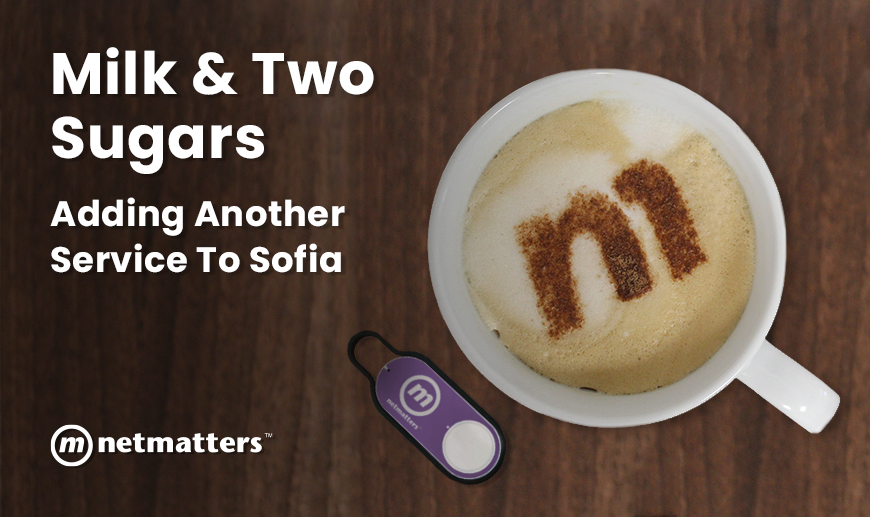 When you look at the day to day running of a business, often the same tasks come up repetitively, forcing your staff away from billable, constructive work and making them complete administrative duties. Whilst at the time, it may not seem like a big issue, we know first-hand the effect this has overall on the organisation.

If you're familiar with us, you'll know that we are champions for streamlining a business through automated processes and doing what we can to make sure that our staff are always on track to deliver an exceptional service to our customers.
Not sure what we're talking about? No problem, let us give you a quick explanation.
Sofia and her services:
Sofia is our AI and we would be lost without her. Since she was developed, Sofia operates in the background, sorting emails, creating tasks, managing outstanding payments and prioritising our client packages.

From the initial launch until now, we have continuously added reporting and analysis tools to her calibre to find errors, likely issues or even worrying trends to minimise problems within the business. Her abilities have grown in line with the business and her productivity allows us to maintain a centralised system that means we have been able to go completely paperless.

But what does Sofia have to do with tea and coffee we hear you ask!
Introducing our new dash buttons!
We are continuously looking for ways to improve our offerings and develop Sofia to deliver more for both our business and our customers. No matter the size of the task at hand, we always look for ways to make it quicker and more efficient so that our productivity levels continue to rise.
With that in mind, our latest addition to Sofia is by creating and syncing her up to dash buttons, used to provide refreshments to our customers when they come to the office.
This button sits in each of our meeting rooms and when pressed, fires a task into our receptionists list to come to said meeting room and take refreshment requests. These requests are then fulfilled and our customers are happy – without even having to leave the room!
Customer service is extremely important to us, so in developing this handy gadget the disruption to these meetings is minimal. This means that we can achieve all of the set out objectives for the meeting, ensuring every minute is productive.
Pretty cool huh?
What's next?
Whilst this may seem like a small addition to such an extensive system, every tool we add to Sofia makes her smarter, more effective and more productive – plus it makes us look pretty impressive!
As our business continues to grow, Sofia and her services will grow with it to make sure that we are seizing every opportunity possible to improve how we do things. The beauty of an AI that we've created is that we aren't restricted by development works and we can create a way for her to do whatever it is that we need.
How many off the shelf systems do you know that work like that?
If your business is looking for a bespoke system that is scalable, specific and suited to your needs, we encourage you to get in touch with our experts who can deliver you the perfect solution.