Industry News: Google Introduces New No Follow Rule

Posted by Netmatters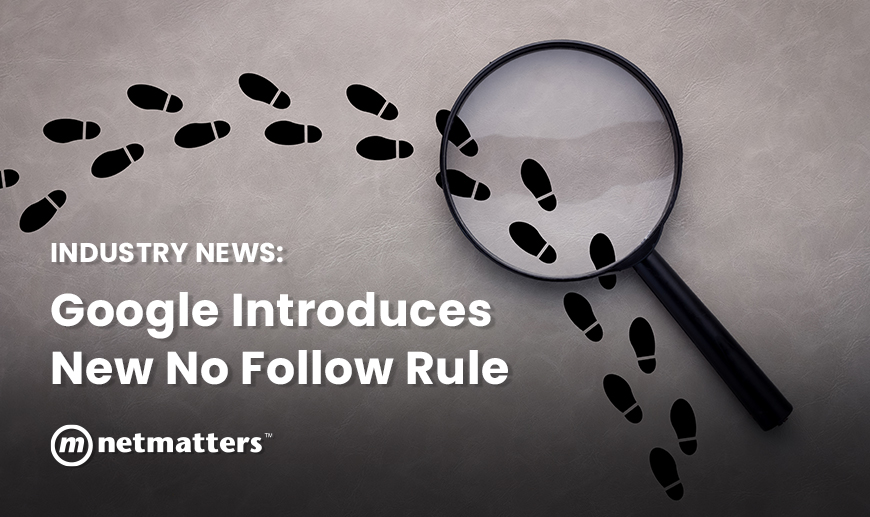 In a competitive digital industry, to get in front of the right people, you need to constantly evolve how you look at your digital marketing. What worked before, may need tweaks or adjustments month to month to actively reflect the changing landscape. These changes could be due to updates rolled out across the industry or because your objectives aren't being achieved. Understanding different factors that affect how you appear in front of your customers will allow you to make the necessary changes to keep your business thriving. The latest of which is the newest Google update.
No More No Follow
Google recently announced a major change to how Nofollow links are viewed and counted across every website. Although originally announced in 2005 to help deal with comment spam, the latest update announced on 10th September 2019 means the way Nofollow links are viewed has evolved significantly to keep up with the structure of the web.
Nofollow is an HTML attribute that is added to links. In the beginning, this attribute was a signal that the link could NOT be trusted and as a result, those links were not counted in ranking factors. The latest update means that the Nofollow acts more as a 'hint' to allow Google to determine if the link should be considered when ranking in search results pages.
There are now three ways to mark-up outbound links. These are:
rel="nofollow" – This will remain the same and is used when you want to link to another page but not pass any endorsement or ranking credit to said page.
rel="sponsored" – The sponsored attribute should be used to identify links that are for advertisement purposes, where sponsorship and compensation agreements are in place.
rel="ugc" – As the attribute for User Generated Content, this value is recommended for links within user generated content sites, for example forum posts and blog comments.
These specific attributes will allow Google to better understand and analyse each link within their algorithm before determining where it ranks your site.
What does it mean for your business?
If Search Engine Optimisation is not your area of expertise, all of what we've mentioned may seem relatively confusing. Don't panic, your website visibility is not about to drop off the face of Google forever.
Firstly, the good news is if you have any Nofollow links on your site, you don't now need to spend hours rectifying them. In Google's announcement, they made it clear that already existing links will be supported by the changes.
Something to note however, is that in March 2020, Nofollow attributes will also become a hint for crawling and indexing purposes. If you are using Nofollow links as a way to prevent a page from being indexed, Google now recommends alternative methods such as robots.txt and header Meta tags as a more robust way to manage this.
Secondly, although surrounded by a few negative opinions, it is worth considering that this new ranking process will actually delivery clarity on the links being used across your website. In implementing these new attributes, Google has instant verification of the nature of your links, the content they contain and how they were achieved. It will make way for spammy links to be removed whilst domain authority improves, sending the signal to your customer that your site can be trusted.
What We Think...
The new update has caused quite the stir among SEO professionals and the industry is now thriving with different opinions on how much of an impact this change will make on their website.
As with most digital marketing activity, it's important to consider each website individually and adapt your approach depending on the objectives of the business as a whole. Whilst there is no requirement to completely overhaul how link building is completed, this change definitely gives food for thought and should be considered moving forward.

In our opinion, we think that a strategic approach to how you attribute links is key. Whilst Google hasn't announced a massive impact overall on how links will be viewed from now on, it could only be a matter of time before they directly affect your SEO, so why not stay ahead of the game? We think adapting how you approach to link building now will give you plenty of time to understand the new regulations if further changes are made in the future.

Google updates do happen regularly and therefore it may feel like you are constantly climbing an SEO mountain whilst still trying to juggle the day to day operations of the business. It's our job to know all there is to know about SEO, meaning you don't have to worry about getting your website in front of your customers.
If you are looking to make your Search Engine Optimisation work harder following this announcement but you aren't sure where to start – get in touch with our expert team of marketers today to find out how we can help you.