How can I ensure a smooth transition if I switch IT support Providers?

Posted by Netmatters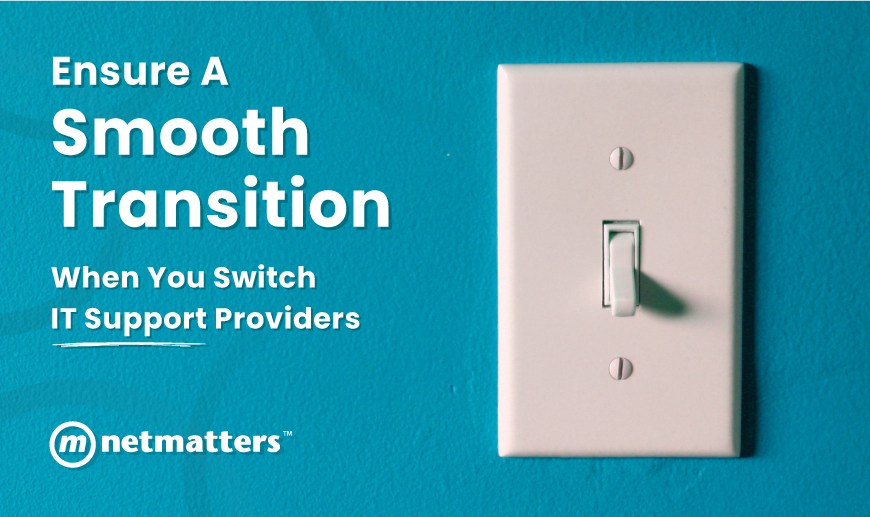 As with any contract for services, it is important that you are regularly reviewing your IT support contract to ensure your service is fitting your needs. If it isn't then you may want to consider switching to a new IT support provider.
For many businesses, it can be daunting to think about switching such a vital service. You don't want to be left without any help in an emergency. You don't want to lose vital information and getting used to a change in itself can be difficult.
However, there are a number of benefits to be had should you choose to switch provider, from reduced or simplified costs, better coverage, and communication, or even a more up-to-date offering. Switching IT providers doesn't need to be difficult however, and in fact, here at Netmatters we have a dedicated onboarding process to ensure that every switch over goes as smoothly as possible.
Here is how Netmatters help your move go as smoothly as possible:
Clear Communication
Our IT Support process is simple & effective. From the very beginning, we take your business needs and requirements into account.
The process to ensure a smooth transition from a current or previous IT support provider over to Netmatters starts with the initial conversations with your dedicated account manager. Communication, in any situation, will be incredibly important. When making the switch, it's vital that everyone is on board.
Transferring Knowledge
We review your current IT infrastructure, detailing everything from hardware to anti-virus to begin creating our strategic plan to address weaknesses and issues.
The initial conversations will confirm the specifics of your business and the IT infrastructure that supports it. We will confirm a number of things at this stage, including:
how your emails are hosted
what network security is already in place
whether you utilise Office 365
if you have a server at the heart of the network
whether this is cloud-based / on-site
We will then tailor our formal proposal using this information to help us meet your business's specific IT needs. We will consider how the infrastructure and services are currently managed and how best to transition this management over to Netmatters.
Onboarding Process
Our team of IT support experts work closely with you to plan, install and regularly upgrade your IT systems - ensuring you and your business remain secure online.
Following approval of your proposal, we initiate our onboarding process by allocating your IT support team. This will consist of:
technical lead
technical backups
project manager
These team members will be the primary contacts for IT support moving forward and they will quickly develop a thorough understanding of your IT setup and requirements.
Your technical lead will then complete our initial audit of your IT infrastructure, which is provided without cost for new retained IT customers. During this audit, any services that will be managed by us moving forward are confirmed, and the plan to transition the management of these services is discussed with you.
Services that are checked and a handover planned during onboarding include, but are not limited to the following:
Website domains
Anti-virus
Email filtering and protection
On-site and cloud-based data backups
Connectivity such as broadband or connections between sites
Microsoft Office 365 services
Email hosting
SharePoint or similar platforms for hosting data
Once we have completed the initial audit and the plan for transition is confirmed, we implement the actions required for the handover. We liaise with the previous provider on your behalf to gather all required information before formally transferring the services and updating you as the client if this transition will result in any changes to the service, or how it is billed moving forwards.
Following the audit and subsequent transition of services, we conclude our onboarding process by holding a meeting with your technical lead and project manager. During the meeting, we recap on the onboarding process as a whole, including the handover of services, and discuss our recommendations for improving your IT which is detailed in your first Netmatters IT report.
We regularly review your IT infrastructure to identify new requirements, provide professional ongoing support and work with you to continue to enhance your IT systems.
Our transition and onboarding process has been refined and honed over the years to give our customers the most confidence in their decision. If you are looking to switch IT providers and want the peace of mind of a well-structured transition process then contact us today to arrange a quote.