Posted by Netmatters

Slowly, but surely, it appears that Google are rolling out a much-publicised update to their presentation of title tag length; on their search engine results page. The containers can now handle 600 pixels, in length, a 17% increase on the previous restriction of 512 pixels. According to research carried out by Dr P. Myers, over at Moz, this equates to approximately 57 characters (an additional 2 characters) in length – at a practical confidence level of over 90%.
"In research, we might stick to a 95% or 99% confidence level (note: this isn't technically a confidence interval, but the rationale is similar), but I think 90% confidence is a decent practical level. If we factor in the " ...", that gives us about +2 characters. So, my recommendation is to keep your titles under 60 characters (57+2 = 59)".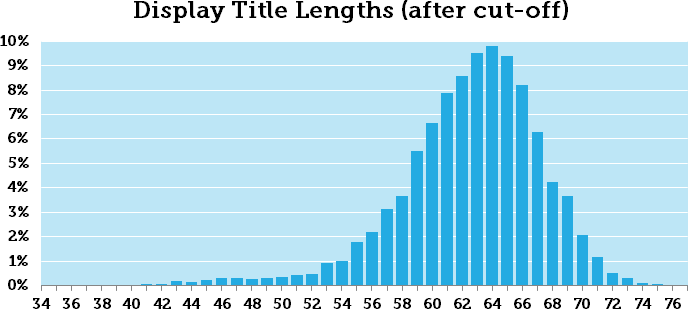 Image credit: Moz.
However, what happens next is anyones guess.
Would it be wise to revise you title tags, in line with these amends? Possibly, if you're currently massively under the restricted lengths and are, therefore, not capitalising on the 'pre-amend' restrictions for keyword placement. However – for the most part – the extra couple of characters are unlikely to make a vast sum of difference, especially if you've already got well-optimised title tag strategy in place across your site. Our advice, at this stage, would be a strict 'watching brief'. There's as much chance of Google rolling back these changes, as a live A/B test, as there are that they will cement these changes in place; in our opinion.
We'll be keeping an eye out for any developments from Google with regards to their findings and future title tag plans (if they're gracious enough to inform us, that is!) and will be continuing to run our own tests, against revised lengths, over the coming weeks and months.
*Any additional findings and developments will be published here, so be sure to come back soon!
If you're not sure whether or not your current title tag strategy is working at its optimum, for your site, we'd be happy to provide analysis and insight on current performance.
Contact us via the form below or ring us on 01603 515007 today.