Google: How Will The New Digital Services Tax (DST) Impact Your Business?

Posted by Netmatters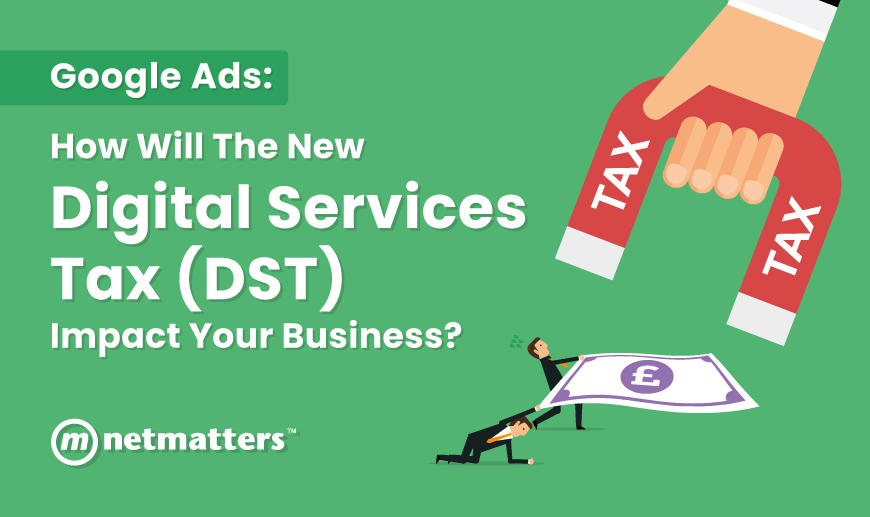 The Digital Services Tax (DST) came into effect in April 2020 for businesses providing a number of online services, under the legislation these are defined as:

Social media services
Search engines
Online marketplaces
On 1 September 2020, Google announced that they would be passing on their portion of the DST to advertisers from 1 November 2020. If you are carrying out any paid advertising through Google then you should have received an email from them explaining what would be happening.
In short, from 1 November 2020 if you are serving Google ads in the UK you are responsible for paying an additional 2% DST on the cost of the ads that you are serving.
What do you need to know?
In general, the information that you need, will be included in your email from Google, but it is worth just reiterating that now is a fantastic time to review your budget.
You should be regularly reviewing your budget anyway, but it is important that you are aware that the DST will be applied on top of your account budget and you should make the information known to your accounts team. It is also important to remember that the DST isn't accounted for in your cost per conversion – any reporting you do should consider this.
How can we help?
Google ads are still a fantastic way to get in front of the right audience for your business; the benefits gained from running a paid advertising campaign on google are vast, from increased traffic to a better understanding of the scope of your product.
Historically, many businesses start a PPC campaign and just leave it to run, which is a sure fire way to experience spiralling budgets and dwindling results.
Case study
We have many years of experience of managing successful PPC campaigns, one such success story is the work that we have carried out with Aston Shaw.
When we first took on Aston Shaw as a client, they were seeing a cost per conversion of £75. After working with us for a year, we have not only reduced the CPC to around £42, but we have also tripled the number of conversions received through their PPC campaign.
By contracting us to manage your account, we can ensure your PPC ads are an efficient use of your budget, we can manage them effectively throughout the month, providing insight into improvements etc.
There are a number of ways that we can improve your PPC campaigns and help improve your return on ad spend (ROAS) to negate the increase in tax. Out approach differs for each client, there really isn't a "one-size fits all" approach to PPC.
Examples of how we might be able to help include:
Targeting low volume but cheap keywords
Optimising ad copy to increase CTR
Running display campaigns for more impressions
Additionally, we can take an holistic approach to your digital marketing. There is more to great digital marketing than a PPC campaign. One of the fundamental ways that we will help you is to help with ranking your website for organic search as well as paid. Paid and organic search do go hand in hand and an ideal scenario is that over time we will be able to decrease paid ad spend anyway whilst maintaining Search Engine rankings. We will work with you to deliver increased organic results, thus allowing, should you wish, the reduction of your paid spend over time.
If you are looking for ways to improve the efficiency of your ad spend, looking for some advice for your Google Ads or are looking to begin a paid advertising campaign, contact us for a no obligation conversation by using the form below or by calling us on 01603 515007.