February 2020 Notable Employee

Posted by Netmatters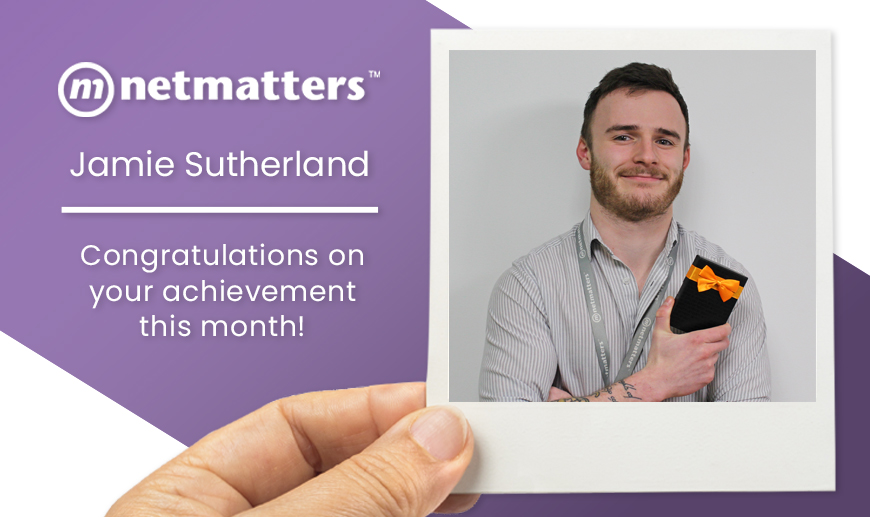 It's the beginning of March which means only one thing here at Netmatters - announcing the winner of "Notable of Notable Employees" for February 2020. This award is given to a single employee who has exceeded expectations in their day to day role or has been influential in the company's success during the previous month.

Every department manager is asked to nominate an employee from their department, who they feel has done exceptionally well during the course of the previous month. Each one of these employees is then considered as a candidate for this award.
The Notable of Notables is presented to a member of staff who has been been doing an excellent job all round working hard throughout. This month's Notable of Notables is awarded to Jamie Sutherland!
The Most Notable of Notable Employees
Jamie Sutherland!
Doing a fantastic job of securing more IT hours. - James Gulliver
Jamie Sutherland - 'The win rate for IT works speaks for itself. I've heard excellent feedback from his newly refined IT pitch and the results are looking very strong. Nice work Jamie! ' – Adam Greer
Well done Jamie for all of your hard work throughout February!
This Month's Other Notable Employee Nominations:
Anesu Mutsau- Since joining the team Anesu has worked on every one of our client accounts, which is no mean feat and ensured every task is completed to its maximum potential. He is also sure to put forward valuable recommendations on client accounts as and when he sees scope to improve their competitive edge - always bearing in mind the client's primary objectives – Lydia Whitney
---
Sophie McLaren –Since joining as the Digital Project Manager Sophie has been instrumental in managing all digital focused development tasks, reducing turn around times and helping manage client communications with regards to these works – as a result, becoming a valuable part of the SEO team – Lydia Whitney
---
Rob George - He's put in a tremendous amount of work recently in managing the service delivery and the results are coming through. The workflow in the department is getting more and more refined and this should continue as the year progresses. – Adam Greer
---
Jamie Sutherland – He has got the year off to a flying start! Commercial performance in IT is leading the way, new clients are being on boarded above agreed targets which is huge testament as he has virtually achieved this single handily. Jamie has been instrumental in assisting in the honing and improving of the IT offering, as well as taking constructive feedback to implement this! Exceptional work, keep it up! – Elliott Peacock
---
Chris Waldie – Going above and beyond and embracing new challenges. – James Gulliver
---
Thomas Fielding - I've been really impressed with the work Tom has been doing recently. He's working hard to understanding customer requirements and delivering high quality solutions. Also picking up new tech within the pod and completely owning it, whilst passing this knowledge on to others in the team. - Josh Ralph
---
Andrew Halls and Simon Wright - Both have been instrumental in resolving some out of hours hosting issues we had earlier last month, and have been working hard since to help improve the standards we are working towards with regards to our hosting setup and process. - Josh Ralph
---
Dave Mclean - Dave has been a massive help in progressing some issues we've been having on a Black Swan project. He's made himself available to answer questions and offer help both to us and a 3rd party to ensure a great experience for everyone involved. – Josh Ralph
---
We like to show our appreciation to all nominees of this month's Notables award! A huge congratulations to all of those nominated for February, keep up the brilliant standard of work! The Notable Employee Scheme is just one of a range of benefits here at Netmatters, available to all employees.

If you would like to be a part of our fantastic team and be in the running for some extra treats each month, view our open job vacancies today; we're always on the scout for intelligent, motivated individuals to join our ever-increasing team! You can always contact us via the form below, or ring us on 01603 515007 today.