Congratulations Hoyt on Graduating the SCS

Posted by Netmatters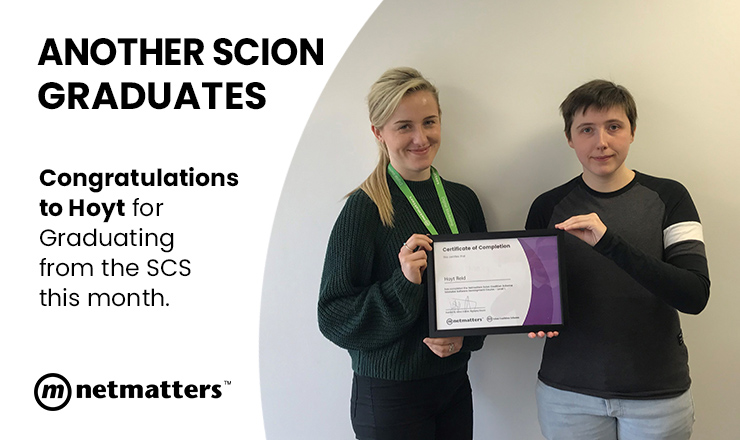 We are very happy to announce that after six months with Netmatters, Hoyt Reid has successfully graduated our Scion Coalition Scheme (SCS), and will soon be starting full-time as a web developer at Naked Element.
Since starting the SCS, we have seen many students graduate after approximately six months on the scheme, and Hoyt now joins them. SCS was created to bridge the gap in the local tech industry and create opportunities for aspiring web developers to progress in their training and, therefore career. That's why, the Scion Coalition Scheme is a professional development training program that teaches not only the technical skills needed but also how to work appropriately in a professional environment.
"I was inspired when I first heard about the Scion Collaition Scheme from Netmatters, as there is a real software engineering skills shortage in Norwich and Norfolk. Naked Element were very proud to have sponsored the scheme for a while and delighted that one of the Scions became keen to join us. We met with Hoyt on a couple of occasions while she was training, including when she spent a day with Naked Element and made a fantastic impression on the whole team. We were over the moon when Hoyt came to join us on a permanent basis and was able to start making a positive contribution within just a few days."– Paul Grenyer. CEO Naked Element
We remain thankful to all of our sponsors who have helped us grow the scheme in conjunction with the Department of Work and Pensions. Partnering with companies such as Naked Element continues to help us create new opportunities for people like Hoyt.
Over the past few months, we have seen Hoyt go from strength to strength in the SCS scheme. Proving to be a confident developer and an asset to any employer.
"Hoyt has grown in confidence as a developer and worked hard to prepare for a full-time career. This has been a highly rewarding experience not just for Hoyt, but for the whole team at Netmatters. We are proud to say that another young talent has graduated our SCS scheme." - Sam Stark. Scion Coalition Scheme Training Manager
We'd like to once again congratulate Hoyt and are extremely thankful for all of the dedication shown. We hope you join us in wishing Hoyt the best of luck.
Are you interested in helping us grow the next generation of tech talent? Our developers will be looking for a company where they reach their full potential and will be sure to make an impact in your organisation. Why not speak to us today about becoming a sponsor?
For all questions relating to the Scion Coalition Scheme, contact Netmatters today. Call us on 01603 515007 to speak to an expert member of the team. Alternatively, you can contact us on the form below.