ERP Software to create a unique powerhouse behind your business
Many businesses use a number of systems to manage their day to day activities more efficiently. Our developers ensure that these are all aligned with your business objectives and working together. This provides you with a clear picture of how your business is performing, no matter the size and nature of your business.
With our Enterprise Resource Planning (ERP) software solution Sysflow, you can integrate your core business tools and software together including CRM, inventory management and agile project management, job costing, job scheduling, tracking and quality management, every application you use and need is right at your fingertips in one simple, centrally managed hub.
Ensure that your staff are delivering high-quality customer service with the help of a ERP system, this helps you deliver goods to customers faster, improve productivity, and implement inventory control. Our solutions make it easier for sales and customer service staff to interact with your customers thus improving relationships with them.
Eliminating repetitive processes, ERP systems reduce the need for staff to manually enter information. Streamlining your business processes makes it more efficient for companies to collect data and reduces the risk of human errors.
Ultimately our ERP software solutions reduce your operating costs by ensuring you have maximum visibility across your business to control vital areas such as inventory control, production costs and marketing costs.
User Friendly
Whether you integrate one tool or five you can guarantee an easy to manage user-interface designed specifically to promote success.
Innovative
With its responsive design and intuitive functionality you can access Sysflow from the office or while you're on the road – all you need is an internet connection.
Greater Visibility
Bring all your tools into one central hub, this provides you a true overview on business performance including; sales, departmental KPIs and ROI.
At Netmatters, integration and automation is at the heart of every bespoke software development we produce.

See how we can create a custom ERP system solution built specifically for your business.
ERP Software You Can Integrate With Sysflow:
Sales Management Software (SMS)
Customer Relationship Management (CRM)
Supplier Resource Management (SRM)
Product Lifecycle Management (PLM)
Supply Chain Management (SCM)
Human Resources Management (HRM)
We can integrate your core business tools and software together in one, centrally managed hub. This is sure to simplify your business procedures, make your daily management much more efficient and streamline your operational activities, saving you time and money.
Contact us via our online form or call us today on 01603 515 007.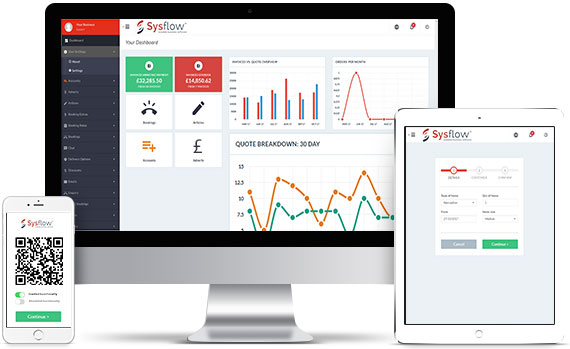 Gain greater visibility, identify opportunities sooner and report progress more efficiently than ever before with our ERP software solutions.
SALARY: £20k (based on experience) + Bonus per qualified appointment + Benefits Hours: 40...
Read More

Posted by Mark Reilly
20th January 2021
Netmatters is a rapidly growing full-service technology Agency offering software developm...
Read More

Posted by Bethany Shakespeare
18th January 2021
The Client: Co-Dunkall Ltd Based in East Anglia, Co-Dunkall Ltd has been one of the leading...
Read More

Posted by Netmatters Ltd
13th January 2021