Transforming a Business With Bespoke Software - 1st Choice Insulations Case Study

Posted by Netmatters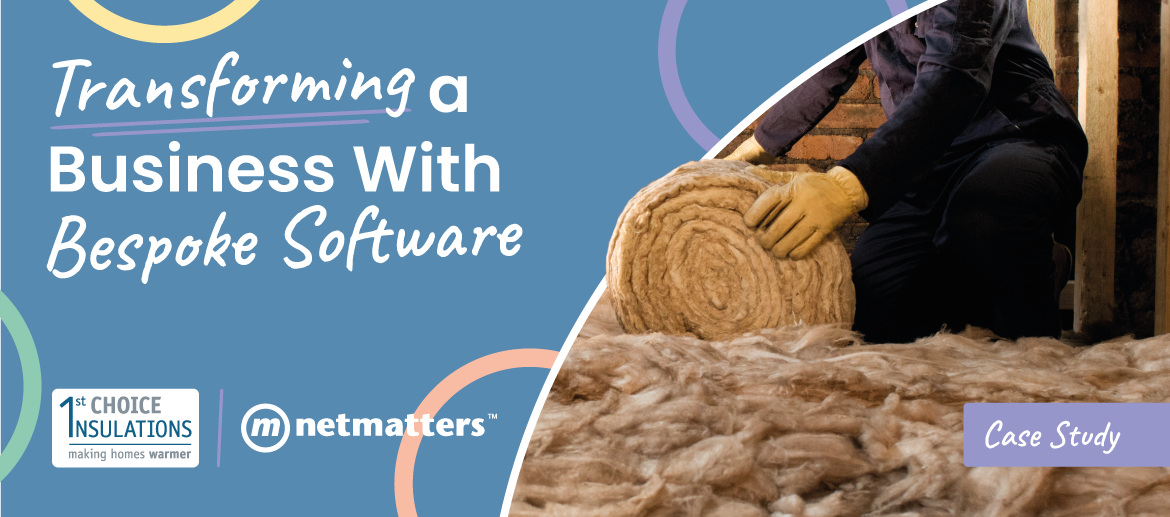 The Client
1st Choice Insulations are a leading insulation company providing a range of insulation and energy saving services to clients throughout East Anglia.
Withover 25 years' experience, they have completed in excess of 100,000 installations for homeowners, developers, architects, housing associations, and local authorities.

The company is committed to service excellence and customer satisfaction from start to finish on every project, with quality management system in place working towards ISO9001 and ISO14001 accreditations.
Requirements - What Was The Challenge?
1st Choice was rapidly growing and taking on increased work but was still relying manual data logging. This quickly became slow, outdated, and in many cases unsupportable as they were heavy reliant on large spreadsheets for storing records which were difficult to maintain and awkward to work with as a team.

Thus, keeping accurate records of projects and providing clients with progress updates took hours of work, often monopolising managers' time – taking them away from more profitable work for the business such as performance analyses.
Our task was thus to build a bespoke system to automate much of the legwork in these processes, ensuring that every project, and the relevant customer communications, could be managed as efficiently as possible.

What Was Our Solution?
We created a bespoke job management system that was designed specifically to improve the business' workflow, managing each stage of the project. The business management system now acts as a 'single point of truth for the work they undertake and can even automate tasks such as sending invoices or initial surveys.
This is integrated with custom scheduling software that adapts to how the client wants the project organized. Managers and trained installers can easily see what stage a project is at, and what steps are still needed for completion. Everything is automatically updated, whilst making it visibly clear if something has been missed.
Alongside this, we have integrated a bespoke reporting system that automates the long searching process managers previously had to undertake for their spreadsheets. This reporting software provides the exact information that is needed to solve problems and answer questions without the need for manual searching.
Finally, we created a customer portal where the client's customers can log in securely and view details of their ongoing work - all updated in real-time.
The Result
The client has noted that dozens of administrative hours have been saved thanks to the new bespoke system. Invoices no longer need to be manually handled, whilst the scheduling system means that staff members can easily identify what stage a project is at by just logging into the management system, streamlining key workflows. The client now has a lot more confidence taking on large amounts of new work as the business continues to grow, knowing that the system can continue to automate time-intensive processes and scale with their growing workloads.
The data reporting system not only saves significant managerial time manually reviewing records, but also massively improves the visibility of issues. As information is now far more available, issues can be spotted and addressed much quicker. Additionally, as the data is now all stored in one centralised location, opposed to across multiple spreadsheets, there is no longer a risk of employees using out of date spreadsheets or accidentally deleting important information. Thus, the overall reliability and security of their data has increased.
Moreover, the introduction of the customer portal has greatly improved the overall service experience, with customers reporting that they are impressed with the availability of the information on the portal. With customers now also being able to answer their own queries through the system, time spent liaising with customers has also decreased.

Netmatters' system – 1st Choice Portal – (1CP) has quite literally transformed 1st Choice Insulations from an archaic paper-based organisation to a business that can now handle enormous insulation contracts without employing extra admin-based staff. It has quite literally transformed the business - our clients can now log into our portal, look at their insulation programme in its entirety (reducing our email traffic by 75%), answer their own questions/queries, and even download surveys and quotes. - Chris Barber, Director
Future Work
We are continuing to help the client achieve a greater level of business automation and efficiency through the development of a tablet-based app which will allow surveyors to enter survey information directly into the system, opposed to on a paper form which then needs manually inputting.
If you are looking to streamline your business' workflows, Netmatters are here to help. With a large team of experienced developers that are proficient in most coding languages, we have a track record of delivering effective bespoke software solutions to drive business efficiency. Take a look at our projects for Black Swan Care Group and Warren Services for more examples.
Get in touch with one of our offices in Wymondham, Cambridge, or Great Yarmouth to book a free consultation with one of our experts.
As Netmatters marks its 15-year milestone, we reflect on the incredible journey of the past fifteen...
Read More

Posted by Netmatters
29th November 2023
Salary Range £26,000 - £34,000 (DOE) + Bonus Hours 40 hours per week, Mon - Fri Location Wymondham,...
Read More

Posted by Rebecca Moore
27th November 2023
Today we celebrate the remarkable achievements of Rebecca Brine as she takes centre stage, championi...
Read More

Posted by Netmatters
24th November 2023